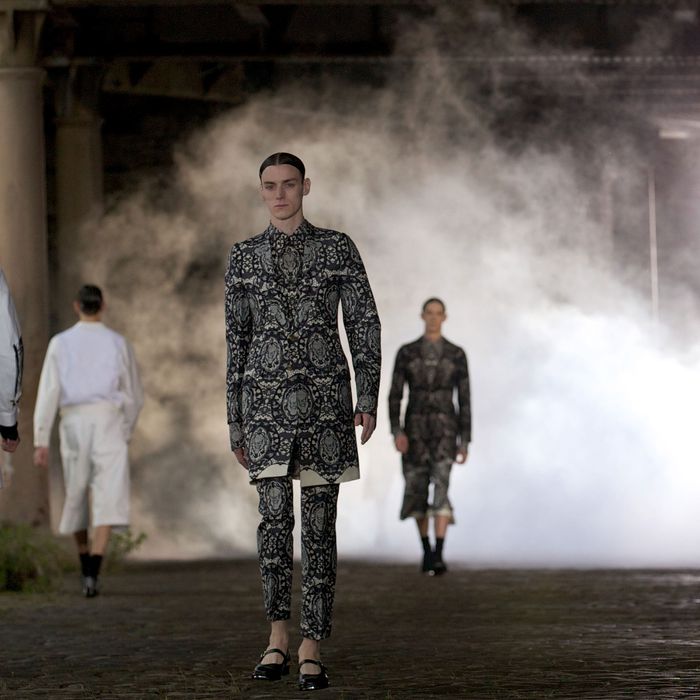 Photo: Andrew Cowie/AFP/Getty Images
LONDON — It wouldn't be an Alexander McQueen show without all the showmanship and theatricality associated with the late designer; no surprise to arrive at the address for this season's menswear show and find it to be a Victorian coal store. The "coal drops" were built in the 1850s as a place to transfer coal from rail wagons to road carts. They're soon to be turned into a fancy shopping district, but for today, the brick arches and dark cobblestones were strewn with weeds that grew over the edges of the runway. Organizers spent the hour before the show spraying the cobblestones with water to give them that gloomy, "rainy London" look. This is not something Londoners usually have to fake.
The models, appearing from a smoky backdrop to a soundtrack of violins and trains, looked equally haunting, with slicked-down hair in extreme center partings. The collection was all about sharp tailoring with regal, old-fashioned textures: black or white lace printed onto long jackets, along with billowing layers of faded cream silk. There were also frayed knits, spiderweb vests, and a beautiful poppy-covered embroidered suit. It all had the feeling of pride and melancholy, which made the location a perfect match.
The spell might never have been broken, if the Cut hadn't bumped into one of the models ten minutes after the show finished. He was back in his own clothes, standing in Kings Cross station, staring in total confusion at a map of the London Underground while commuters streamed around him. Just another lost tourist, if not for that serious McQueen hair.