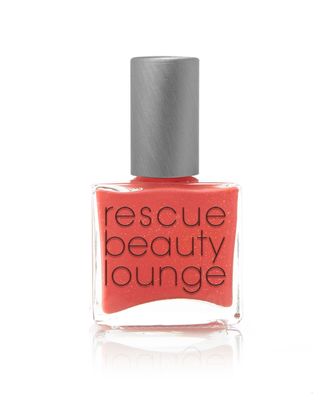 Since Ji Baek shuttered the doors a few years ago to her much-beloved Manhattan nail salon, Rescue Beauty Lounge, she's discovered a new life and presence on the Internet. She's the voice behind her e-commerce site's blog, where she muses about books on her night-table and favored fish recipes. It's also where she's discovered and become friends with the world of manicure/pedicure-obsessed nail bloggers. Her newest collection of six polishes, Bloggers 2.0, is dedicated to and inspired by these new friends.
Starting at noon today, you can pre-order one, two, a few, or all of the polishes during the 48-hour pre-order period on the Rescue Beauty Lounge site. Here's a breakdown of which color was inspired by which nail blogger:
Fashion Polish: A dark and stormy black that's shot through with gold and red glitter. It's like fireworks in a night sky.
Scrangie 2.0 : An olive-tinged oil slick that'll remind you of those oily stickers of yesteryear.
Liberty: A sweet, minty green inspired by none other than Lady Liberty.
Nails and Noms: A tangy orange with hints of periwinkle and pink shimmers. It has the happiness of a beachside cocktail, the kind that has lots of cherries, pineapples, and an umbrella.
Kellie Gonzo: This is a summer sunset in a bottle. It's a hazy pink with shades of glimmering gold blended in.
An Accidental Interloper: This bold, sleek metallic one is Ji's. It's the first silver to pass her very high standards and enter the RBL world.