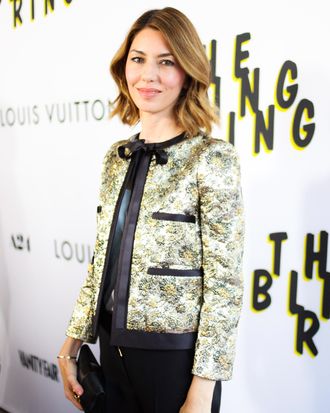 Photo: Aleks Kocev/BFAnyc.com
In an interview with Stylist, the Bling Ring director shared a glimpse of her life before she settled comfortably into her ultimate career in film. She always adored fashion (and even designed a T-shirt line that "wasn't high fashion" in her twenties). If it hadn't been for Jeffrey Eugenides's book The Virgin Suicides, which literally changed the course of her life, she would probably be sitting high up on a masthead at some fashion magazine, spreading her simple-yet-elegant style to the masses. Below, some choice quotes from Sofia about her teen years interning for Karl Lagerfeld in Paris (just one of the perks of having famous parents), her appreciation for magazines, and her experience on being a lady in the male-dominated film industry.
On why she chose film over magazines:
I never really planned to be a film director, I always liked magazines and wanted to be a magazine editor or an art director. I always liked the visual arts but I was always on the set and my dad was always talking to my brothers and I about film-making, trying to teach us about it. In my 20s when I read the book The Virgin Suicides, that was what made me want to direct a movie because I loved that book and felt protective of it and didn't want anyone to ruin the movie version. I wasn't looking for a project.
On dealing with any Hollywood sexism:
I haven't, because I do my own projects. But recently I was being considered for a big project and they wanted it to be really girly and feminine and romantic and they were talking to me and they ended up going for some older guy who'd made a war movie, so moments like that you're like, "Aaaaagh!" There's a boys' club and every now and then I encounter it but I haven't found it to be too frustrating as I've been able to do what I want to do.
On her Chanel internship:

I did! I was 15 or 16 and a friend of my parents worked there and they take a few girls every summer to do an internship. It was so exciting to go to Paris in the Eighties at the height of Chanel. I was in the design studio so I got to see Karl Largerfeld doing haute couture sketches for the final shows. It was incredible – he is so creative. I was getting coffee and doing intern stuff but just to be around him was amazing.
She went from fetching Lagerfeld coffee to sitting front row at his shows.