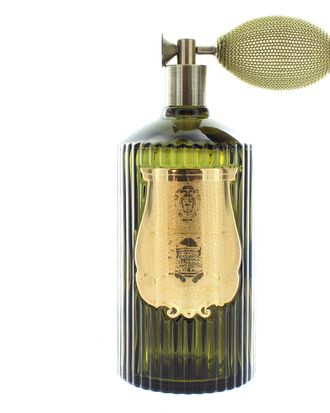 Photo: Courtesy of Cire Trudon
The ultradeluxe French candle company Cire Trudon has been scenting the air with their decadent candles since 1643. Various French nobles including Napoleon Bonaparte and Marie Antoinette were dedicated clients. And renowned francophile Sofia Coppola made sure to use them (you know, for historical accuracy) in Marie Antoinette. Now the company has taken six of their classics (Spiritus Sancti, Odalisque, La Marquise, Admirable, Abd el Kader, Ernesto) and bottled them up into an oversize, fancy-looking atomizer.
The Spray, priced at $190, holds nearly thirteen ounces of fragrant fluid in their signature hand-blown green glass bottle. A spritz or two will scent the air without being the only thing you can think about. It's the prettiest and priciest room spray you'll ever have — and never meant to be hidden away under the sink.