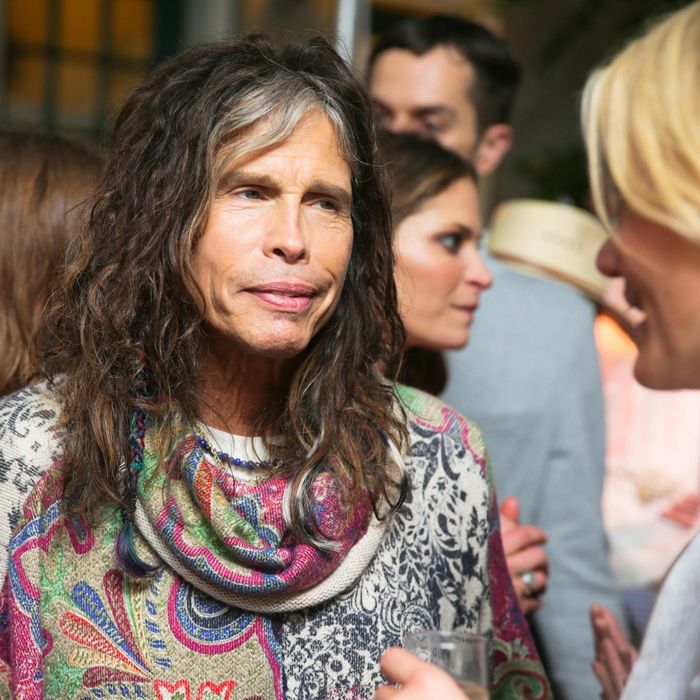 Steven Tyler.
Photo: David X Prutting/BFAnyc.com/BFA NYC
Despite a glut of celebrity guests like Amy Poehler, Kate Bosworth, and Naomi Watts at last night's Stella McCartney resort presentation, it was Aerosmith's Steven Tyler who held court in the cobblestone alley. When McCartney's models were released from the risers where they'd been standing on display, they gathered around the singer, ogling and taking cell-phone pictures while he chatted with Cameron Diaz. As soon as Diaz walked away, they pounced on him, draping themselves over his shoulders and posing for photos.
To be fair, Tyler did look soft and docile, wrapped in a pashmina shawl and wearing a Chiquita banana sticker on his hand. Once the model frenzy subsided, he took a moment to chat with the Cut, assisted by a mysterious handler in a fedora.
We tap Tyler on the shoulder. He turns, smiles, and strokes our cheeks with the back of his fingers.
The Cut: Your wrap looks cool. What is it?
Steven Tyler: Oh, this I got [to fedora guy] what is it called? Oh, it's pashmina, from Singapore… The band has never played there before, and we were down shopping and this was on a rack, of all things. Handmade pashmina, and it looks like me in that movie I just did. [Fedora man whispers in his ear again.] Thank you – he's my brain. I look like Nim Galuu in Epic.
What were the crowds like in Singapore?
We've never played there before, so it was a brand-new place for us to conquer. It was 17,000 people there. 90 degrees outdoors. Just great. So we were down there doing … [fedora man whispers in his ear] the Social Star Awards. [Laughs.] When you write this, be sure to say there was a guy behind me telling me my name! Yeah, my name is, uh – Steven Tyler, last time I remember.
Are you big on social media? Do you tweet, and that kind of stuff?
I look at it. I like to see what's trending. I like to see what's – I mean, there's some freaks. [Someone interrupts, points to the banana sticker on his hand, and says, "Chiquita, that's what it is!" Tyler turns to him and responds, "100 percent perfection. Why fuck with perfection?" He then turns back to me.] I do. Not all the time, but you know, I like to look. I like to keep up with what's going on, especially with Hikakin. He's a beatboxer. So we drag him out to do something with us, and this guy named Marquese Scott. But you know, just nuts, and I love it.
Have you been following this NSA story at all? That the NSA is tapping e-mails and phone calls?
Yeah, I have. I always thought that once they invented credit cards and so forth, that there was a whole hidden agenda. You can either be naïve and not think so, or you can smarten up and know that there is. And once there's a thing called the Internet, of course it can get tapped into. It just can. I always knew it could, so. Look how gorgeous she is. [He points to his daughter Liv, who is standing nearby in a black-and-white Stella McCartney suit.]
Liv Tyler: Yesterday we were in New Hampshire, and I was in overalls with no makeup on. [Today] my dad walked in and saw me and he was like, "Ah, wow! You look so different from yesterday!"
What were you doing in New Hampshire?
ST: We went fishing with [Liv's son/his grandson] Milo.
LT: Made breakfast.
ST: Oh, yeah. Made a fire.
LT: Watched movies. Went for long walks.
ST: Talked a lot.
Who's the better fisherman?
LT: Milo is the only fisherman. He caught two fish.
ST: He caught two rock bass. It was wonderful.
LT: He used these little fake rubber worms, and just threw them back in. He's only eight. It isn't serious yet.
And with that, both Tylers drifted back into the crowd of admirers.