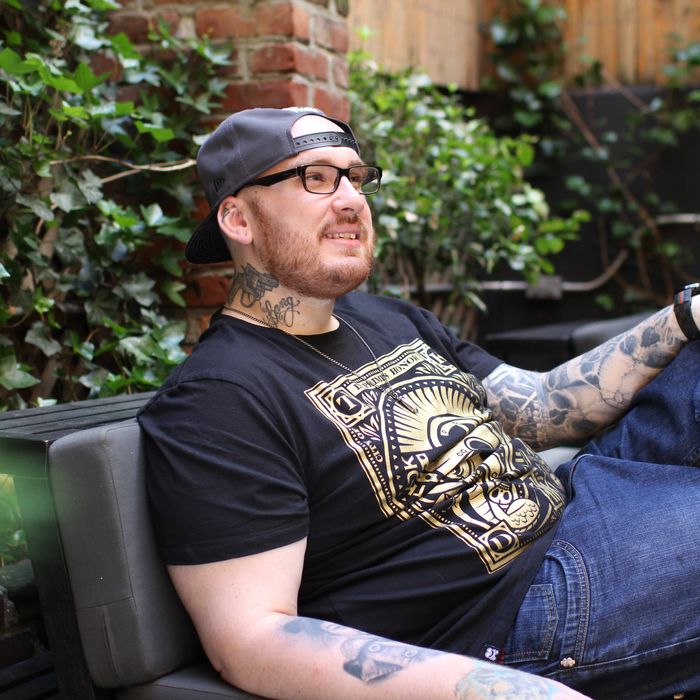 Keith McCurdy, known as Bang Bang (thanks to his double pistol neck art), bought his first tattoo machine when he was eighteen, moved to Manhattan was he was nineteen, and inked his first celebrity by twenty. It was Rihanna. No big deal.
His career started back in high school, when he wanted to do his own tattoos instead of paying for them. So he bought a rudimentary kit. He practiced on himself, friends and cousins. After a year of working out of his mom's kitchen and a tattoo parlor in a sketchy part of Delaware, he moved to New York and started working at a seedy joint on Sixth avenue and West 4th St. (next to a sex shop). He quickly left and found himself an apprenticeship under Paul Booth ("the godfather of tattoo art"). After a few years with Booth, some time in another East Village tattoo parlor (whose name he chooses to not divulge), Bang Bang recently opened his first shop on Clinton Street in the Lower East Side. Formerly a gallery space, the new studio has an underground room for ultimate privacy (in case there are celebrities, nudity, or both) and an outdoor area for clients to relax in or practice their golf putting — a sideways flower pot is your target.
The sleek space is unlike most gritty tattoo parlors (Allison Smith and Max Teicher from the Gagosian Gallery is curating the wall art) — yet another reason why Justin Bieber, Katy Perry, Rita Ora, Amar'e Stoudemire, Cara Delevigne, and other It People now flock to Bang Bang. "I always try to do work that is different than what any other tattoo artist is doing," he explains of his tattoo mentality, which tends to look more like actual art than doodles on skin.
The Cut sat down with Bang Bang to get his advice on a first time tattoo, discuss the longest tattoo he's ever drawn, and find out the one celebrity he'd like to permanently ink next.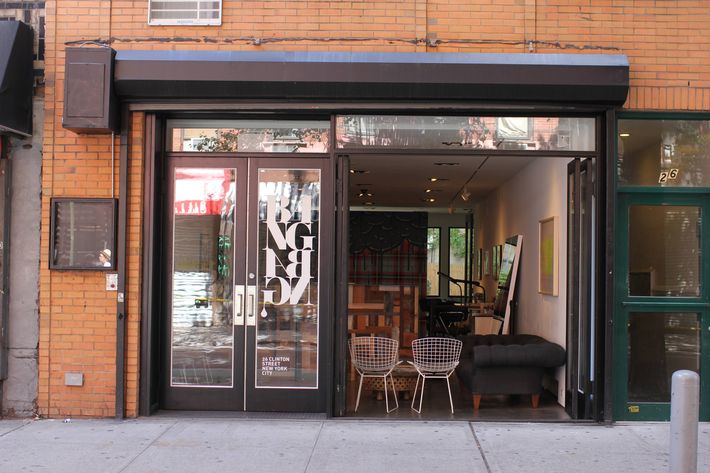 Who was your first celebrity?
Rihanna, she had seen a Freddy Krueger tattoo in my online portfolio I had done and was blown away by it. It was long before she was so famous. She was like eighteen. I did some Sanskrit on her side.
You say that your type of artistry is different from the typical tattoo. How would you describe that?
I don't make things that are busy, the flow and motion with the body is very important. A lot of people don't stick to that but I've learned a lot from Japanese tattooers, where it's all about the natural motion the body already has. It's all about contrast, and all about how it looks up close, but also how it looks from across the street.
What was the first tattoo you did on yourself?
I tattooed a Kanji [Japanese characters] on myself in my mom's kitchen, and I wrote the English word underneath it.
What was the first tattoo you ever did on somebody else?
I did a tribal dragon on my cousin that's still there and still looks pretty good. My two cousins have all of my first tattoos. The first three days that I tattooed I did about 20-24 hours of tattoos on my two cousins and myself in my mom's kitchen.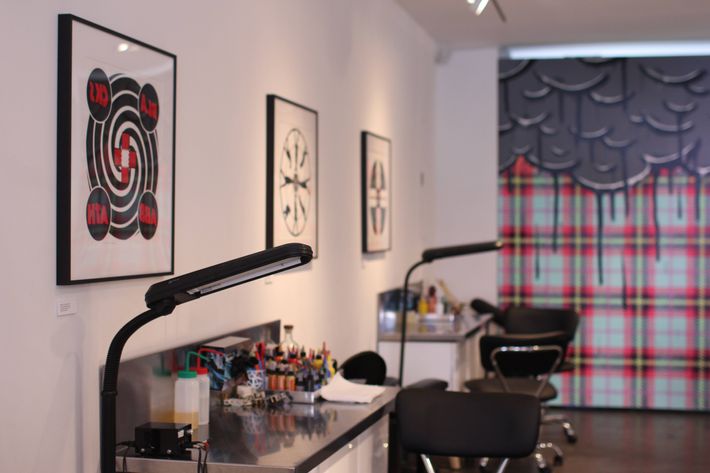 What's the longest single piece of art you've done?
I tattooed for ten hours and I felt so nauseous afterwards. I'll never do it again. I took breaks and I ate, but to focus for that long is just exhausting.
What was it?
It was a Hannya mask [Japanese theater masks], a really big Hannya mask. It was a sleeve and the guy drank like 25 beers during that time. He's a tattoo artist, so you can't tell a tattoo artist that he can't drink while he's getting a tattoo. He brought a 36-pack of beer and nearly killed it.
If you had a chance to give advice to a first time tattoo client what would it be?
Do a lot of research. Find someone who can do everything amazing. You find the person where everything you see they do amazes you. If you've never seen anything like it before, you're probably with the right guy. Then you meet them and see if they have the right vibe. Because you're going to sit with them for hours and you want to get along with them. So that's really important.
How about choosing the art?
Different artists work different ways. For me, I like direction. I like direction, but I don't like to be art directed. The subject is really all I need and then I can find the picture in my head. It's tough for me to recreate what other people have imagined and still have it be the best thing I can do. I find that it's better if I just get a subject.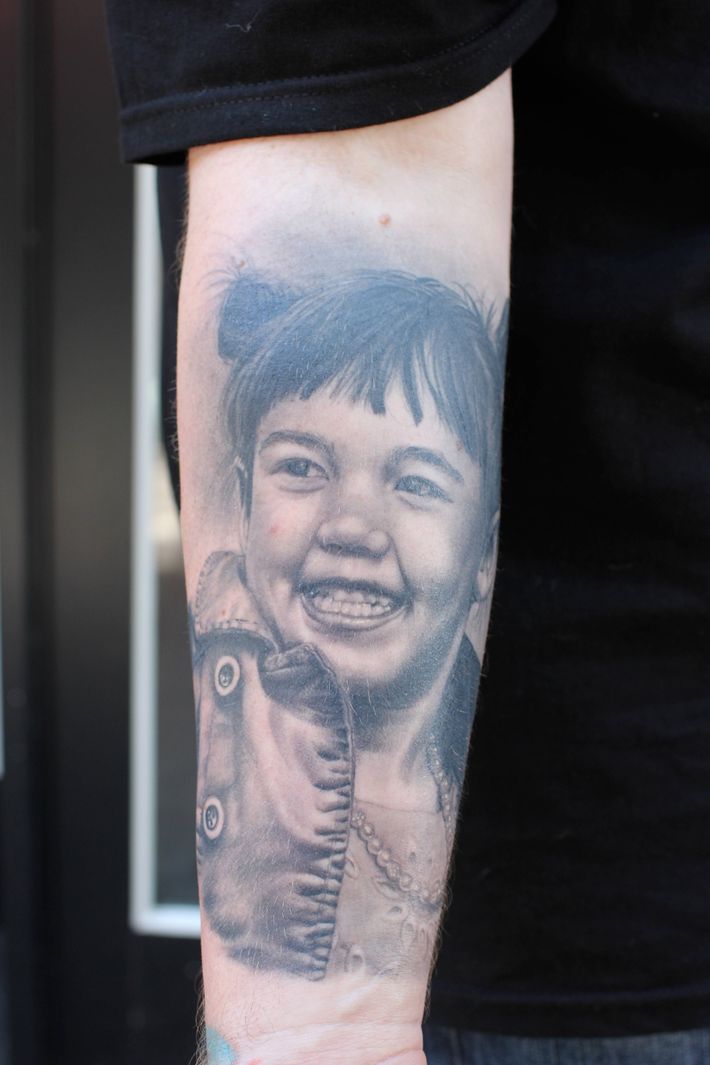 Where should you never get a tattoo?
If I say face, then people with face tattoos are going to get mad at me. But for me, I don't want a tattoo on my face. It just feels distracting; your face is what you have that really defines you.
What's your take on the color ink of tattoo?
I love color. It's so dynamic. There are things you can do with color that you just can't do with black and white. Separations you can add for your eye, because even though they might be the same tone on a gray scale, its blue and green so it totally separates for your eye, so it's so easy to catch things, where gray is a little tougher to pull contrast over large areas and let the eye see things.
How about skin tone?
Skin tone is really important. Not every ink works the same on every skin tone. Our pigments sit under your pigment, so it's kind of like your skin is Saran Wrap of any certain color, and whatever you put under is going to show through that. So we try to design it for skin tones.
What kind of music do you listen to?
It goes all over, from Adele to Wu Tang. We mix it up a lot, because you can get really bored. We put together our own mix of thousands and thousands of songs.
What's the craziest request you've ever received?
Sometimes people ask me to do strange subjects. So like a turtle flying with a fart trail, or something weird like that. So we get funny requests for tattoos sometimes. I've done a piggy bank flying. Chatter teeth, that was a funny one. A dog as Jesus.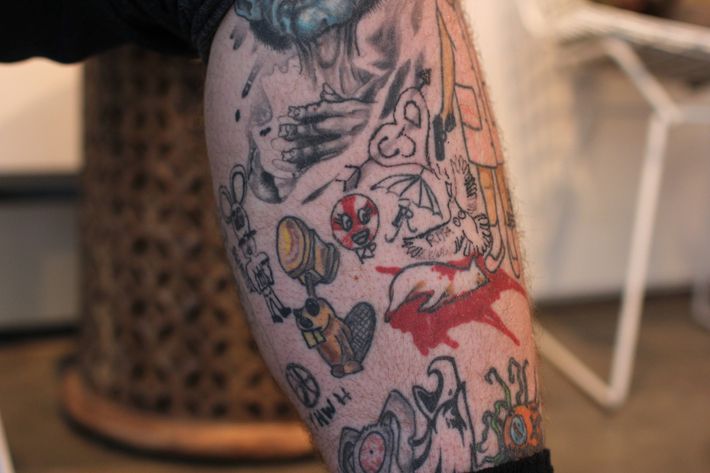 You let celebrities tattoo you, how did that come about?
That's kind of my deal. I'm like a needy fan and I need a 30 minute autograph. Let me show you my leg, not all of them are from celebs, but from people I wanted a tattoo from along the way. A twelve-year-old did the beaver, a sneaky beaver hiding a hammer behind his back. He was the son of my first tattoo teacher. Bieber did this one, a Swassy mouse. It's supposed to say "Swaggy" but it definitely says "Swassy." Amar'e Stoudemire did this one [basketball]. These are from Katy Perry [candy face with initials KP underneath], Cara Delevingne [heart with initials CJD], Rihanna [umbrella], Rita Ora, Baptiste, Chris Brown. The fireman's hat is from an EMT worker who helped save my mom, so I asked him to tattoo me.
Who did the best one?
I think Rihanna did my favorite one. It's a little umbrella with an "R."
If you could tattoo any celebrity next who would it be? What would you suggest he get?
Obama, an American Flag on his throat. He's awesome and I could totally see him getting tattooed.