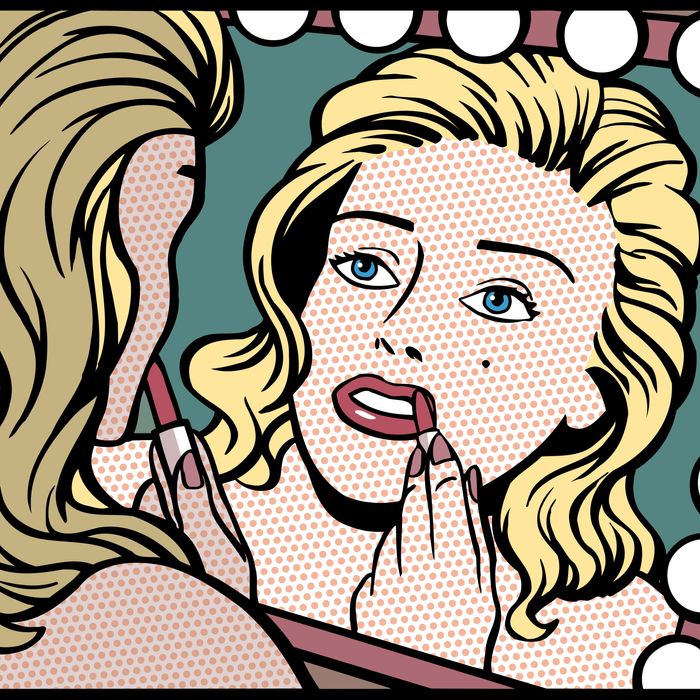 Achieving beauty perfection can sometimes be as easy as swiping on some lipstick; other times, it can be a total pain in the ass. Many cosmetically enhancing treatments and tricks come with baggage: Anyone who's come into contact with an eyelash curler knows that, at some point, you're going to accidentally clamp down on your eye lid. Or those who like dark nail polishes will sometimes have yellow-tinged nail beds following the removal process. And then there's the person who can't live without a spray tan session, which means not being able to shower for at least 24 hours post-spray. She has to live with the stink of DHA, the chemical tanning agent. But through all the sacrifices, we continue to torture ourselves (or those around us) in the name of beauty. These are the top ten beauty trade-offs we're consistently facing. All of us.
Waterproof Mascara
The upside: During the humid, summer months it keeps our peepers from looking like smudgy panda eyes.
The downside: Messiness. Having to add an extra step into our nightly routine with eye makeup remover made to specifically battle stubborn waterproof mascara remnants. All that eye-rubbing usually results in tiny flecks of mascara all over your face and a few sacrificed lashes.

Keratin Hair Treatments
The upside: Smoother, frizz-free hair that takes half the styling time.
The downside: Helmet-y-ness. And not being able to shower or rinse your chemical-filled tresses for 48 hours. Since it's already styled into a "coif," the treatment leaves you with immovable, sometimes pungent tresses.
Spray Tan
The upside: A glow that's free of sun damage.
The downside: Stinkiness. You can't shower for at least 24 hours post-treatment. Even though many are scent-free these days, you can still get a faint whiff of that nostril-tingling DHA. Plus, you'll have to spend that first day feeling sticky from the spray formula that's coated your body.
Hair Coloring
The upside: No greys. Brighter, multidimensional hair color.
The downside: Time. Money. Roots.
Hot Yoga
The upside: You lost half your weight in sweat and pushed out some bodily toxins along with it, all in the name of toned, sleek muscles. 
The downside: Breakouts. Blemishes are caused from the sweaty, salty skin that you won't get to properly wash until much later after class.*

Gel Manicures
The upside: Chip-free manicures that last for weeks.
The downside: The removal process. You'll struggle to get the polish off at home with your nails wrapped in acetone and tin foil. This never goes as well as when you go into the salon, but that requires going to the salon …

Lash Extensions
The upside: For weeks, you'll look like J. Lo. Plus, you won't have to wear mascara.
The downside: Maintenance. It takes extreme care to not rub your eyes during the duration of your extensions period. You also must comb them regularly to make sure they don't start tangling up and looking spidery.
Scented Body Lotion
The upside: It smells pretty and can be a fragrance substitute, especially during summer when we want a lighter scent.
The downside: Bug bites. You're essentially a walking, talking garden.
Dry Shampoo
The upside: You don't have to waste your time washing and styling your hair every day.
The downside: Laziness. You'll try and stretch that last blow-out for as long as you can, going days with spritzes and re-spritzes of dry shampoo. By week's end, your hair wouldn't lose its shape even if you stood behind a jet engine.

Shaving
The upside: It is more cost effective than waxing or lasering.
The downside: Razor burn. Nicks. Time wasted in the shower. Wait, why do we shave?
We know we didn't cover them all, so share your own in the comments below!
* This post has been updated throughout.