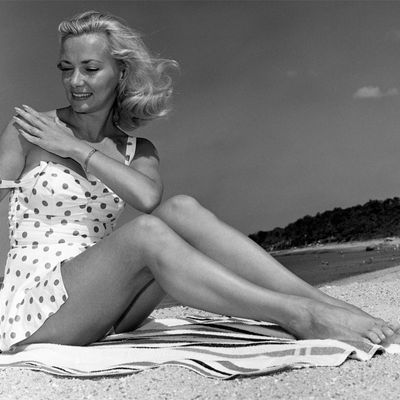 Welcome to sunscreen week at the Cut, where we provide you products reviews, tips, and news you'll need for better sun safety. But first, here's this: Protecting your skin from harmful UVA/UVB rays is the best beauty tip. Ever.
Natural, mineral sunscreens have the worst reputation in the SPF world. They're thick, overly creamy, and known to leave your skin looking ashy-white, since they're basically made of finely ground rocks. So, these zinc-based sun protectors are often left to collect dust on drugstore shelves while their chemical-based cousins with sleeker bottles and quick-absorbing formulas get all the attention. But chemicals can be toxic and, while studies are inconclusive about their possibly dangerous long-term effects, choosing natural, mineral SPFs will always be the absolute healthier route.
For those of you who are curious about the world of zinc and titanium oxides, but didn't know which hippie-endorsed product to choose, we've tested six from Whole Foods, the mecca for this sort of thing. Some are as chalky as you'd expect, but surprisingly none of them smell like coconut (which is usually a fragrant additive). Buyer beware, though: Like expensive organic produce, these creams can also veer into multiple dollar signs; many are not worth their price tag.
Beyond Coastal Active Sunscreen SPF 34
Chalky Residue: None.
When It Touches Water: Droplets will just bead off.
Finish on Skin: A bit sticky and tacky upon application, but it'll dry down into a smooth, matte finish.
Scent: Unscented.
Price: $10
Main Takeaway: Each bottle only holds 2.5 ounces of sunscreen, so you'll need a lot of these bottles for a beach vacation. At $10 a pop, just think you're helping a small business? 
Nature's Gate Sport Broad Spectrum SPF 30
Chalky Residue: Yes. Expect your skin to turn a shade of Elmer's glue white.
When It Touches Water: You'll towel off milky-white water droplets from your body.
Finish on Skin: Give it a few minutes to "dry" post-application and it'll have a matte, non-sticky finish.
Scent: Subtle. Typically sunscreen-y.
Price: $10
Main Takeaway:  It's like putting on a layer of protective-but-gooey armor on your skin.
All Terrain Terra Sport Broad Spectrum SPF 30 Lotion
Chalky Residue: Yes. This formula is even thicker than Nature's Gate and similar to trying to make a glue stick absorb into your skin; a bit gummy, too.
When It Touches Water: Will turn slimy-smooth.
Finish on Skin: Sticky, gluey, and uncomfortable.
Scent: Paste-y, almost like molding clay.
Price: $13
Main Takeaway: Know that you'll be cleaning out the nozzle, which will get gunked up with dried-up cream each time you need a squirt.
Badger "Active" Broad Spectrum SPF 30
Chalky Residue: Yes. You'll break into a sweat trying to rub the cream into your skin.
When It Touches Water: The already chalky residue will make you look like you've grown milky white manatee skin after a dip in the pool.
Finish on Skin: Slightly greasy.
Scent: Weird. Smells like wood chips.
Price: $16
Main Takeaway:  We liked the oversizeapplicator spout, which will ensure you apply an ample amount of sunscreen.
Kiss My Face Sunscreen Broad Spectrum SPF 40
Chalky Residue: None.
When It Touches Water: You'll look like you bathed in Kalua.
Finish on Skin: Smooth and matte.
Scent: Slightly minty.
Price: $13
Main Takeaway: The soft, mousselike formula makes it easier to rub into the skin.
Alba Botanica Natural Hawaiian Sunscreen SPF 45
Chalky Residue: None.
When It Touches Water: Will turn a little slimy.
Finish on Skin: Subtly gleaming.
Scent: It's labeled as having a "Revitalizing Green Tea" fragrance … which means it just smells nice in a floral tea kind of way.
Price: $10
Main Takeaway: This is the least "natural"-seeming sunscreen of them all, since the lotion absorbs seamlessly into the skin. The formula also feels comfortable and moisturizing. This could be your gateway to a more natural lifestyle. Maybe.