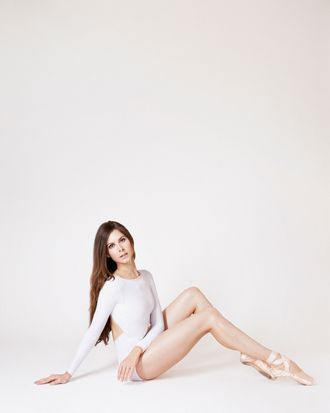 Photo: Courtesy of Ballet Beautiful
Mary Helen Bowers is the lithe, long-limbed ballerina who created the Ballet Beautiful workout series. Members of her Soho studio include the model set (Karen Elson, Lily Aldridge, Erin Heatherton) and a very tight membership-only crew. But even if you can't seem to gain access to an in-studio class, there are her excellent online live sessions and streaming video workouts (pre-uploaded by Bowers herself). The latest: her Custom Workout program, which helps you edit and tailor all of her exercises to your specific body needs. Each day you'll alternate between ab, butt, and leg exercises, as well as her classic Swan Arms sessions, which will leave your shoulders and limbs sore for days (even though it's only fifteen minutes long).
She applies this same change-it-up philosophy to her skin-care routine, which caters to her dry skin. "My approach in general is to take really great care of my skin, but I try not to overdo it and not use too many crazy products," she explains. "I just like to have a rotation [of products] because I think my skin looks better." The former New York City ballerina also believes in drinking tons of water and green tea with lemon, while trying to curb her coffee and chocolate urges when she can.
She uses the same routine morning and evening, just adding in SPF to her daily moisturizer when the sun's out.
Step 1: Cleanser
I sometimes wash my face at night with Cetaphil, which I like because it's a really gentle face wash. If I have on heavy makeup, I'll use an oil-based makeup remover (by Shu Uemura or Shiseido) that really pulls off makeup, like if I have on a "stage eye" with lashes or liquid eyeliner. They both take everything off and it doesn't pull at my lashes, particularly when I have on waterproof makeup. On a regular day, I don't wear a lot of eye makeup, so usually it's just Cetaphil to cleanse or even the Rose Cleansing Foam from Fresh when my skin is feeling a bit more dry. Sometimes I'll use a washcloth to cleanse for gentle exfoliation. I find that's better on the skin than using a heavy-duty scrub.
Step 2: Tone
After cleansing and taking off all my makeup, I'll follow up with the Tonic from La Mer. It balances my skin really well. There's also a really nice Rose Floral Toner from Fresh that I also like. These toners are less about cleaning the pores as they are about hydrating them after I wash.
Step 3: Serum
A few times a week, I use Eminence's Eight Greens, which is very organic and light on the skin. They also have Couperose-C serum — which I use on in-between days — that takes the wrinkles away a little bit more. I always have a beautiful, healthy glow after using that serum.
Step 4: Moisturize
Depending on how dry my skin is, I'll follow up with Marie Veronique's face oil or Fresh's Creme Ancienne, which I use when my skin is really dry because it's a heavy-duty cream. If I want something a little lighter, I'll use Dr. Hauschka's Rose Day cream. I'll go for things that are nourishing. A few times a week I'll put on La Roche-Posay's Active C Facial Moisturizer. That's probably my favorite cream. It clears up my skin a bit and provides more of an anti-wrinkle element.
Step 5: Eye Cream
The Creme Ancienne eye cream from Fresh is very moisturizing, but I also like Eminence's Wild Plum eye cream, which helps with wrinkles and circles. I'll alternate between the two depending on how dry my skin is.
Step 6: SPF (only in the mornings)
Marie Veronique has an oil-based SPF, the Moisturizing Face Screen SPF 30, that works really well when layered over a face oil (I never use it over a cream moisturizer). It's great for summertime and feels really nice on the skin. If I want to use a cream, I'll put on VMV Hypoallergenics Armada Face Cover 30. It's heavy-duty and you have to really rub it in because it's so thick, but I'm obsessive about sunscreen. I put it on my chest and neck as well because I think that's an area that gets really neglected. I'll also put sunscreen on my hands before I leave the house, usually something lighter like Kiss My Face. Even if it's snowing or raining, I'm always wearing sunscreen.

The Extras She Sometimes Adds In
Mask:
I love a mask because it's hard to get facials regularly. Avène has a hydrating Soothing Moisture mask that's just really easy to use. I'll put it on in the morning before a photo shoot or when I'm traveling, and your skin will absorb all of the cream. I also like Ren's papaya mask, which I use for its brightening effects.
Facial Steam:
If I have time, Dr. Hauschka has a facial steam that is really nice for the skin before you use a mask. You just boil some water, put some drops in the bowl, and then put your face over the bowl with a big towel over your head. The process can be a little time-consuming. I don't do it very often. I would love to do it once a week. Generally, when I want my skin glowing and looking really fresh, I'll use this product.