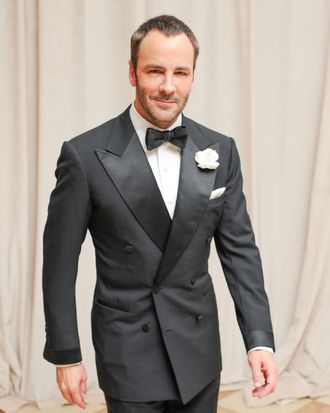 Tom Ford.
Photo: Billy Farrell/BFANYC.com/BFA NYC
True story: Many years ago, I had a part-time job at an Aveda salon. Over the course of my employment, several men came in to "buy shampoo" and then asked furtively if I could slip them a tube of cover-up at the register. I couldn't help but feel sorry for these guys, who were obviously embarrassed that they'd rather dab on a bit of concealer than suffer through the self-consciousness of a zit. I wished they could embrace their grooming preferences without shame.
Soon it may be easier for them to do so: Come fall, outspoken makeup-wearer Tom Ford will expand his label's cosmetic offerings to his own gender. WWD reports that he'll introduce "nine multifunctional skin-care and grooming products, including a face cleanser, moisturizer, eye treatment, purifying mud mask, concealer and bronzing gel."
Like women, most dudes probably look better with less makeup on. But if a little bit of (very expensive) concealer makes a guy feel more confident, then why not? Marc Jacobs's forthcoming beauty line also includes unisex products, so presumably there's been some market research that supports this. No arguments here: Equal-opportunity grooming is a good thing.