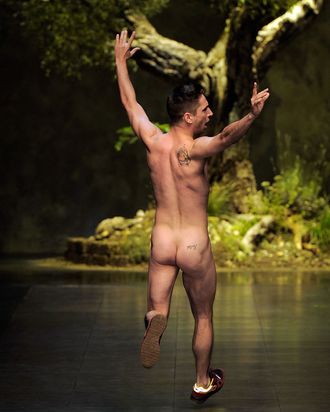 Photo: Catwalking/Getty Images
On Saturday in Milan, one man — who isn't even a model — managed to upstage all the hunky dudes strutting their muscular bodies: The jubilant streaker at Dolce & Gabbana's spring 2014 menswear show. While this nude gent (endowed with, uh, graceful arms) was previously unidentifiable, Fashionista uncovered the mystery man's identity. He's apparently just known as "Miky the Streaker" and he's affiliated with a German soccer blog called Dandy Diary. He "wears a suit and tie" on most days, as he works in sales, is in his mid-twenties, and lives in Berlin. According to Fashionista's Q&A with a Dandy Diary writer Jakob Haupt, we learned the following:
1. Dandy Diary is "probably the most-sued fashion blog in the world." It's currently fielding thirteen complaints in sums that amount to roughly $650,000.
2. The streaker stunt was conceived around six months ago and carefully planned for three months.
3.  The streaker got into the show using the name of a German fashion editor who the team correctly predicted would be on the guest list. Miky got in without showing an invitation or revealing an I.D. For the cameraman accompanying Miky, the team purchased a ticket from a random guest for around $260.
4. Miky's outfit of the day: KangaROOS running shoes, Tom Ford sunglasses, a blue trenchcoat by Weekday.
5. Below, enjoy the soccer-streaker mash-up from the glorious night, in which "Miky" sprints to freedom. (Note: He was released by security guards shortly after his exhilarating runway jog.)