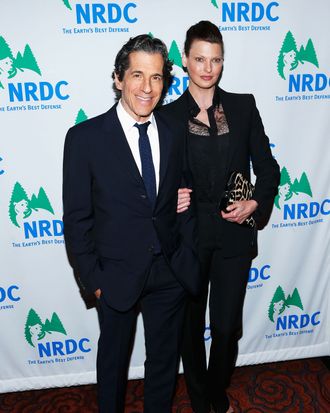 Peter Morton and Linda Evangelista.
Photo: Jemal Countess/Getty Images
Linda Evangelista has supposedly broken up with Hard Rock Café co-founder Peter Morton, her boyfriend of seven years, the Post reports. The couple began dating in 2006, when Evangelista was pregnant with Kering CEO François-Henri Pinault's child, although his paternity was not revealed until 2011, when Evangelista took Pinault to court for child support. (The settlement was never disclosed but is believed to be around $50,000 per month.) She and Morton did split once before, in 2010, but reconciled shortly thereafter.
This report comes just days after Evangelista presented Tim Blanks with the Media Award at the CFDAs, where she gamely chatted with plenty of reporters (including this one) and seemed totally charming and cheerful. The Post notes that she walked the CFDA red carpet by herself, but it's perfectly normal for celebrities to attend events without their significant others. Meanwhile, Vanity Fair revealed yesterday that she was the first person to visit John Galliano in rehab after his meltdown in 2011, which is neither here nor there but does make her look like a loyal person.