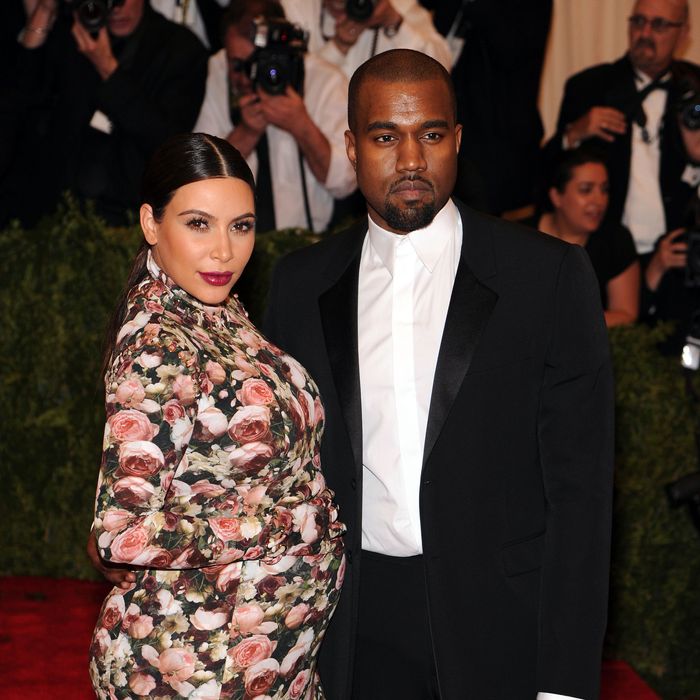 Photo: Jamie McCarthy/Getty Images
You know those rumors that Anna Wintour approved Kim Kardashian and Kanye West's baby name, North West? Now Vogue has openly endorsed it with an op-ed of sorts on their website by Dalton Conley, a professor at NYU and author of forthcoming book Parentology: Everything You Wanted to Know About the Science of Kids But Were Too Exhausted to Ask. In his introductory paragraph, Conley cites his personal preference for unusual names — his own two kids are named E (no period) and Yo Xing Heyno Augustus Eisner Alexander Weiser Knuckles. Take that, Kimye!
Accompanied by a photograph of white, blonde children in a nursery, one of whom is clutching a bunny, the essay assures us that North West is not really that weird a name, and indeed, is right in line with two cultural trends: unusual celebrity baby names (examples: Apple Martin, whom the author mistakenly calls Apple Paltrow, and Moon Unit Zappa) and "the rise of unique black names." Isn't it interesting that Vogue, of all publications, is the first one to point out the racism angle? It's also funny that there's no mention of oddly named Vogue-endorsed debutantes like Plum Sykes, or yesteryear's Ima Hogg. The takeaway: We can stop wringing our hands at the thought of little North being teased on the playground, at least for that reason.
But the most important part of this piece is that it's the first time Vogue has ever acknowledged Kim Kardashian's existence! Even when she made her splashy debut at the Met Gala last month, her pregnant belly swathed in a floral dress designed by the event's co-chair Riccardo Tisci, Vogue.com went to great lengths to crop her out of a picture of her date, Kanye West. Publishing an entire essay about Kim's baby's name signals a major turning point in her relationship to the publication, which has been contentious in the past — there was even a longstanding rumor that Anna Wintour had banned all Kardashians from Vogue events like the Met Gala.
So, now that Kim has gotten her first Vogue shout-out, what's next? Will the magazine deign to put her in a spread, or maybe even exclusively cover her and Kanye's wedding, when it eventually happens? Wintour has now sampled the Kool-Aid; this can only be the beginning.