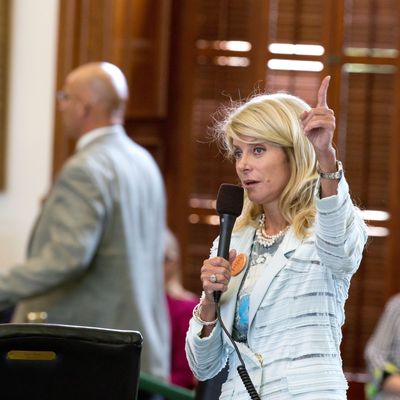 Photo: Bob Daemmrich/Corbis
A new abortion rights hero was anointed late last night, when Texas State Senator Wendy Davis filibustered a bill that would have closed all but five of the state's abortion clinics (a more sweeping version of the TRAP and gestation limit legislation restricting abortion access all over the country), for an impressive thirteen hours. She was not allowed to eat, drink, sit, use the bathroom, speak off-topic, or lean. Despite procedural protests from Republican senators, Davis delayed a vote long enough that the screaming protestors in the gallery could disrupt the session through the midnight deadline, as 160,000 people watched along on a YouTube live-stream. 
If Davis looked like a smooth operator up there — with her pink sneakers, coolly declining to hear senators's questions — it's because she's been butting heads with Texas's Republican leadership for years. In 2011, the New York Times published a Texas Tribune profile of Davis called "A Filibuster Creates an Overnight Celebrity," after she filibustered a school finance plan that would have left public schools $4 billion short.
A former Fort Worth City Council member, Davis has the kind of backstory Lifetime producers dream about.
She was raised in Richland Hills by a mother with a sixth-grade education who supported her four children by working at a Braum's ice cream shop. By 14, Ms. Davis was selling subscriptions to The Fort Worth Star-Telegram and working at an Orange Julius in a shopping-mall food court. By 19, she had gotten married and divorced and was living in a trailer park with her baby daughter. "We were," she said, "the working poor." Despite her circumstances, Ms. Davis finished high school, junior college and Texas Christian University, where she graduated first in her class. She remarried and had a second daughter. And she was admitted to Harvard Law, where she spent the next three years commuting between Boston and Fort Worth.
The Times says Davis has "fashion-icon status" but "has ruffled some feathers speaking out against an environment she says is often hostile to women." (She now has several thousand witnesses on this one.) Her outspokenness comes at a high political cost, too. Republicans redrew her district to make reelection all but impossible (it was later thrown out by a federal court), and the state's Republican leaders publicly wrote her 2011 filibuster off as ambitious, attention-seeking, and "false bravado." Governor Rick Perry called it "showboating," which was a lot, coming from a guy then denouncing gays while wearing a barn jacket. A mentally unstable man firebombed her office. Comparatively, it makes thirteen hours on her feet look like nothing.