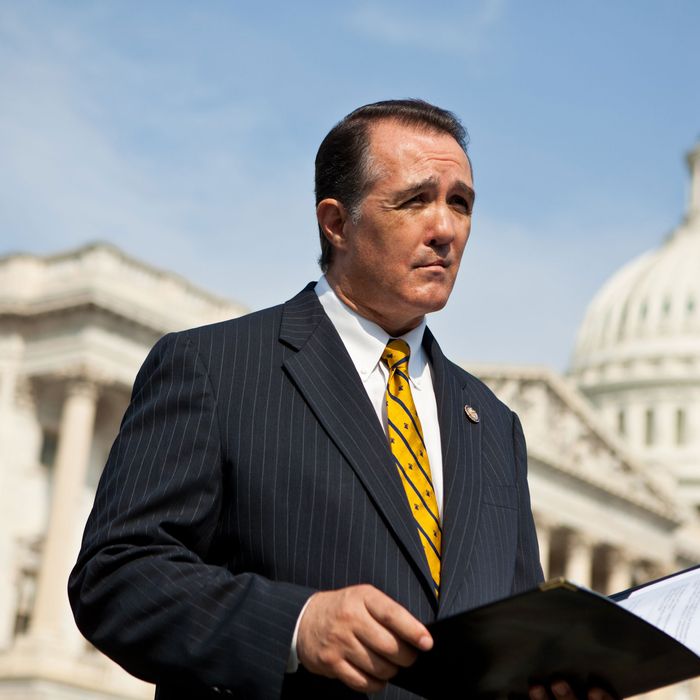 Photo: Brendan Hoffman/Getty Images
The Republican-led House Judiciary Committee approved Arizona representative Trent "Little Women" Franks's Pain-Capable Unborn Child Protection Act today, a bill inspired by the Kermit Gosnell case that would ban abortions after twenty weeks, when some studies suggest a fetus can feel pain. The committee hearing yielded June's first GOP rape gaffe, when Franks argued against Democrat-proposed exceptions for rape and incest. "The incidence of rape resulting in pregnancy are very low," the congressman said, echoing Todd Akin. He later clarified in a statement that he meant that late-term abortions of pregnancies resulting from rape are rare.
A similar bill recently failed in the House, but hypothetically speaking, what would be the effects of such legislation, which would limit women's Roe-protected right to an abortion until viability, or 24 weeks?
Conveniently, The New York Times Magazine has published a big story on just that. Today. It traces University of California San Francisco demographer Diana Green Foster's long-term study of abortion, the first to compare the effects of having an abortion to the effects of being denied an abortion, a.k.a. the "turnaways," most often because of gestational limits in state laws similar to the one Franks has proposed. It's not good: Turnaways had higher rates of hypertension and chronic pelvic pain and were three times more likely to end up below the federal poverty line two years later. Motherhood, Stephanie Coontz wrote in the New York Times this week, "is now a greater predictor of wage inequality than gender in the United States."