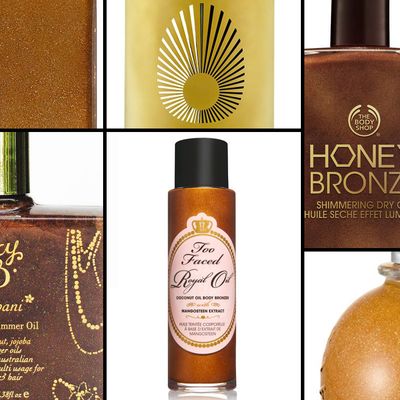 In the world of body oils, there's a fine line between glowing like Gisele emerging from the Brazilian surf and shimmering like a seventh-grader heading to a middle school dance. Achieving a "sun-kissed" look is the goal of many during the summer, and even in the months beyond — the right mixture of color and sparkle has the power to elevate a good tan, and even make pale skin look like it occasionally sees the sunlight. Living in Los Angeles, I'm expected to be gloriously tan pretty much 365 days of the year, mostly by my New York friends and colleagues. So perhaps it was the sight of my pasty legs during my last visit to our New York office that inspired beauty editor Christina Han to recommend that I try out a slew of bronzing products that would give me the essence of a California glow.
The self-tanners I've tried in the past delivered moderately successful to Lindsay Lohan-level orange results, but I'd never delved into the realm of body shimmers. I learned quickly that all bronzing oils are not created equal. For one thing, the size of each individual sparkle varies — yes, the size of that little speck of glitter within the goo — and bigger is always tackier. Surprisingly, bronzing oils, which appear frighteningly opaque in the bottle, almost like nail polish or metallic paint, actually appear mostly sheer once smeared onto the skin. Those little specks, however, are incredibly resilient: Sometimes, even after a shower, they'll remain firmly attached to my body. While you can apply it to any part of your body — some even recommended use in the hair and on the face — I liked it best on my legs. My goal: to find a bronzer with a subtle, classy sparkle, but without too much added color or an offensive odor.
I went to work testing ten different brands on my legs (it is shorts season, after all) to see which could give me glowing, healthy-looking gams that are worth a double-take — not because they looked like they'd been glitter-bombed, but because they looked damn good.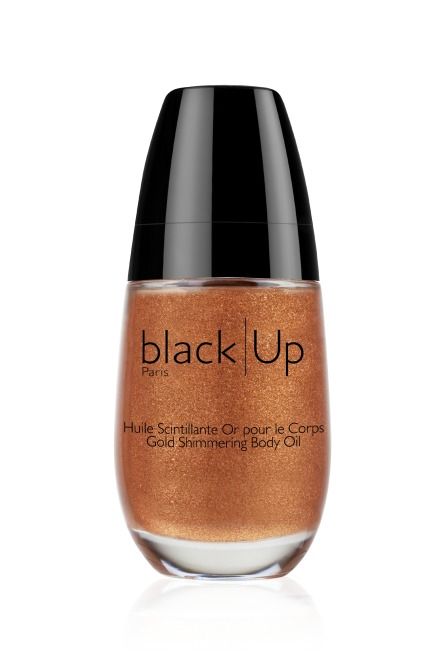 Not Recommended
This shimmering oil is shimmery. Like, Katy Perry joined the Spice Girls concert tour shimmery. The actual individual sparkles in this thing are bronze, not gold – which might not actually make a difference, but should tell you something about the size of the individual sparkle that the color is perceptible. It doesn't have much of a smell, which is nice, but the ratio of sparkle to skin is way too high to really be wearable. It's also the Krazy Glue of bronzing oils and will remain on you through several showers, valiantly glittering on. Black|Up Gold Shimmering Body Oil, $46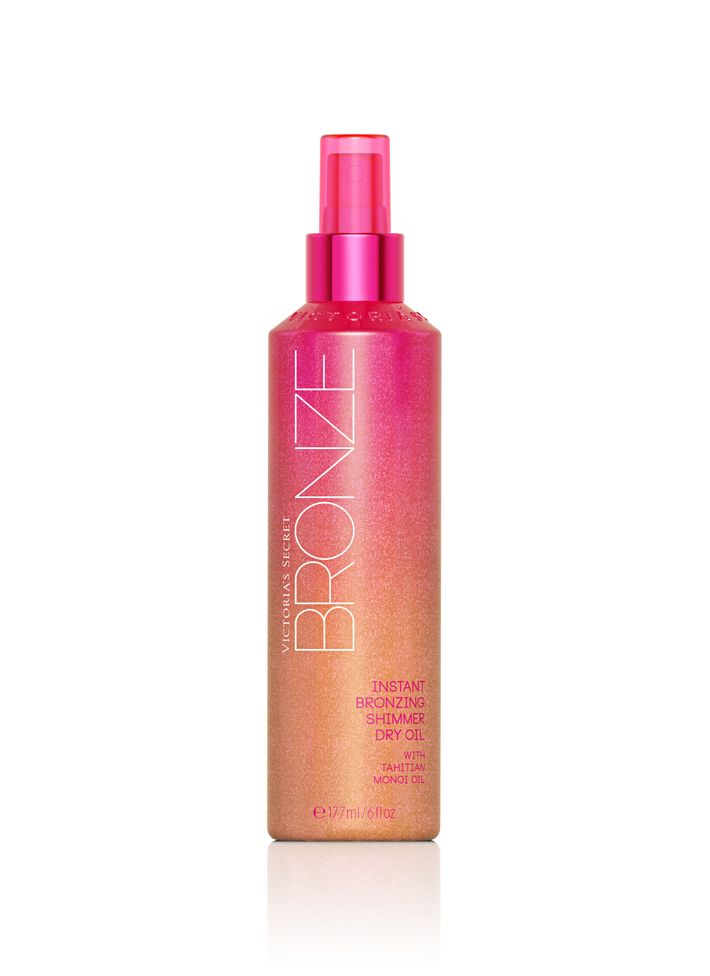 Not Recommended
I almost couldn't bring myself to try this one because of the smell. Like pineapple juice mixed with perfume, it's a very sweet, intense odor. Once it's rubbed in, the smell isn't quite so pungent (or it quickly numbs your nose), but it left my skin more slick than the other dry oils. This shimmer is made up of those more subtle, smaller sparkles, but it contains a lot of them, so you get a whole lot of bang for your spritz … which isn't necessarily a good thing. Victoria's Secret Instant Bronzing Shimmer Dry Oil, $15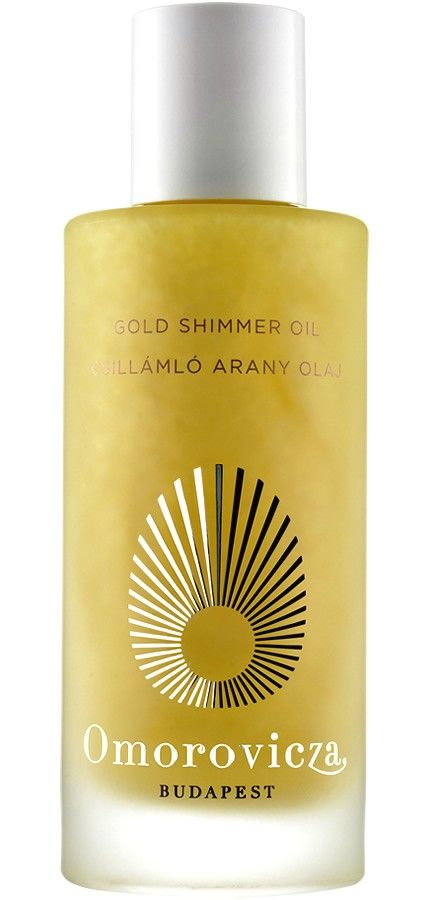 Not Recommended
This oil smells like the fanciest hotel lobby or a powder room in a European department store. It smells luxurious and leaves skin feeling soft, but it has no sign of that promising "gold shimmer" the name alludes to.  Omorovicza Gold Shimmer Oil, $80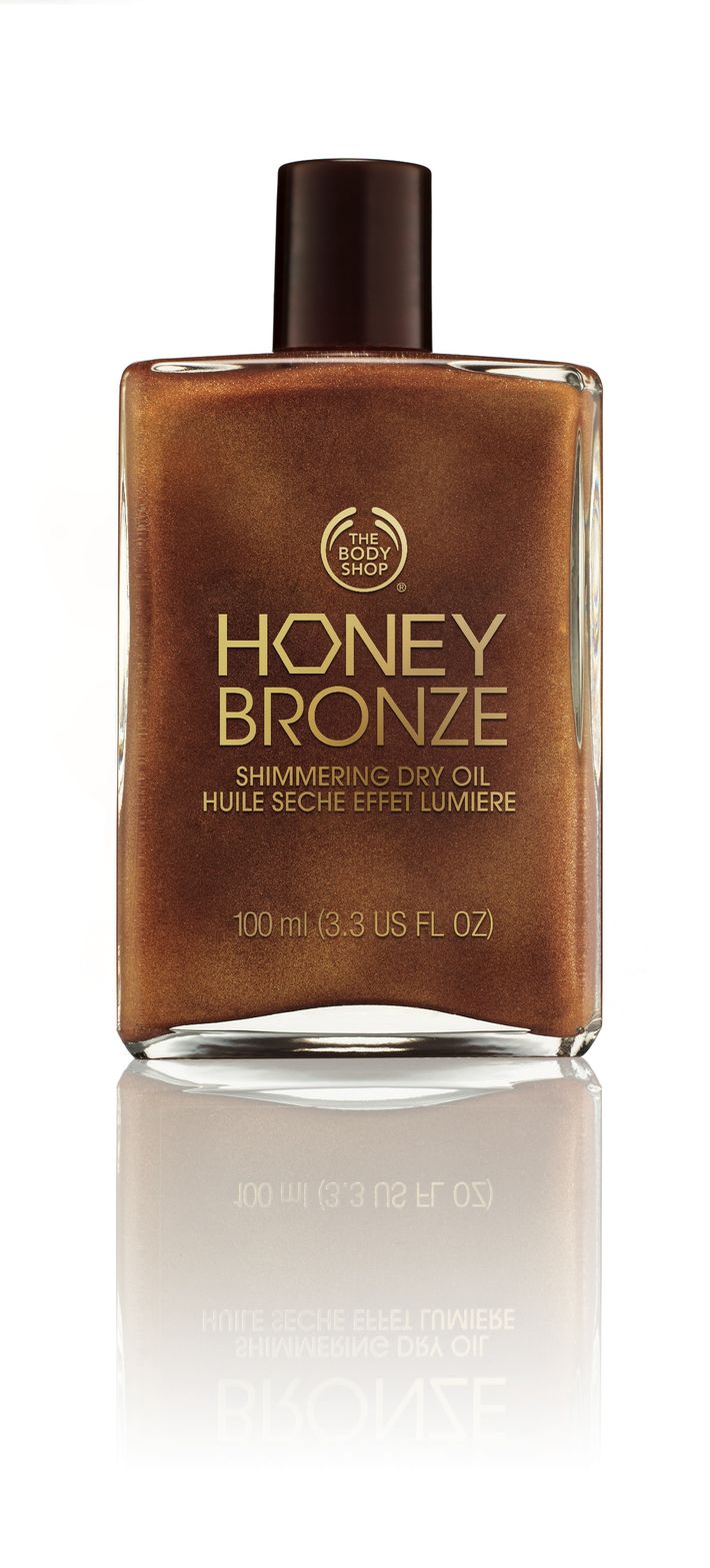 Not Recommended
Everyone knows what The Body Shop smells like – walking past one evokes a nostalgia for middle school and first crushes – and applying this shimmering dry oil to my body had the same effect. Colorless despite the liquid's deep caramel color and tastefully sparkly, this would be a good option if it wasn't for the long-lasting odor.  The Body Shop Honey Bronze Shimmering Dry Oil, $22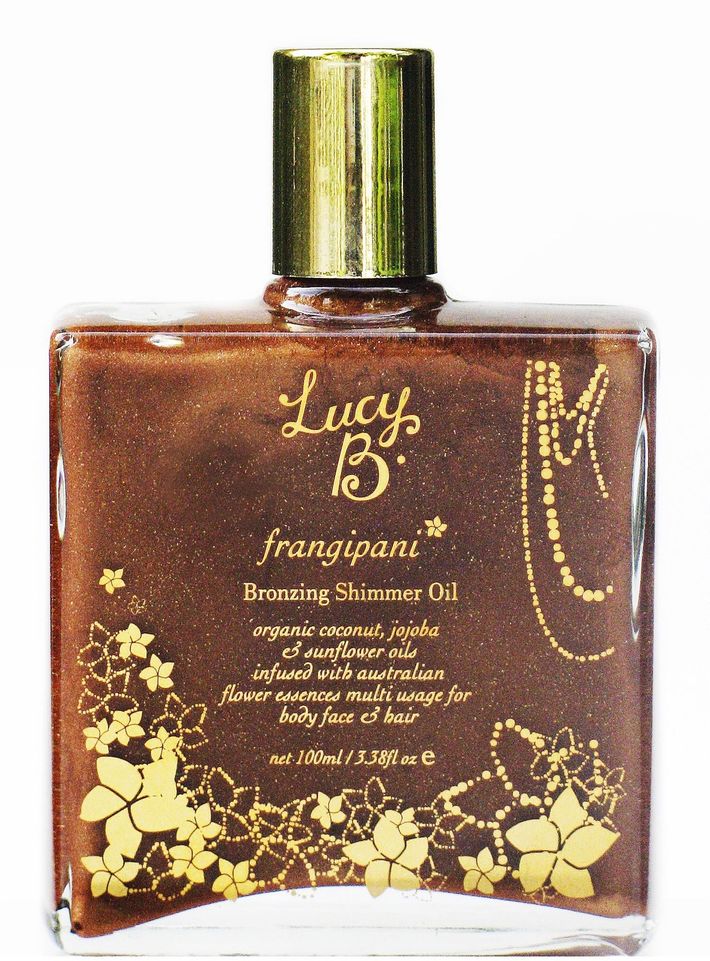 Not Recommended
Smelling faintly of grapeseed oil, this bronzing shimmer has a slight tinge to it, which can leave you with some streaks or noticeably bronzed patches if you're not careful.   Lucy B Organic Frangipani Bronzing Shimmer Oil, $48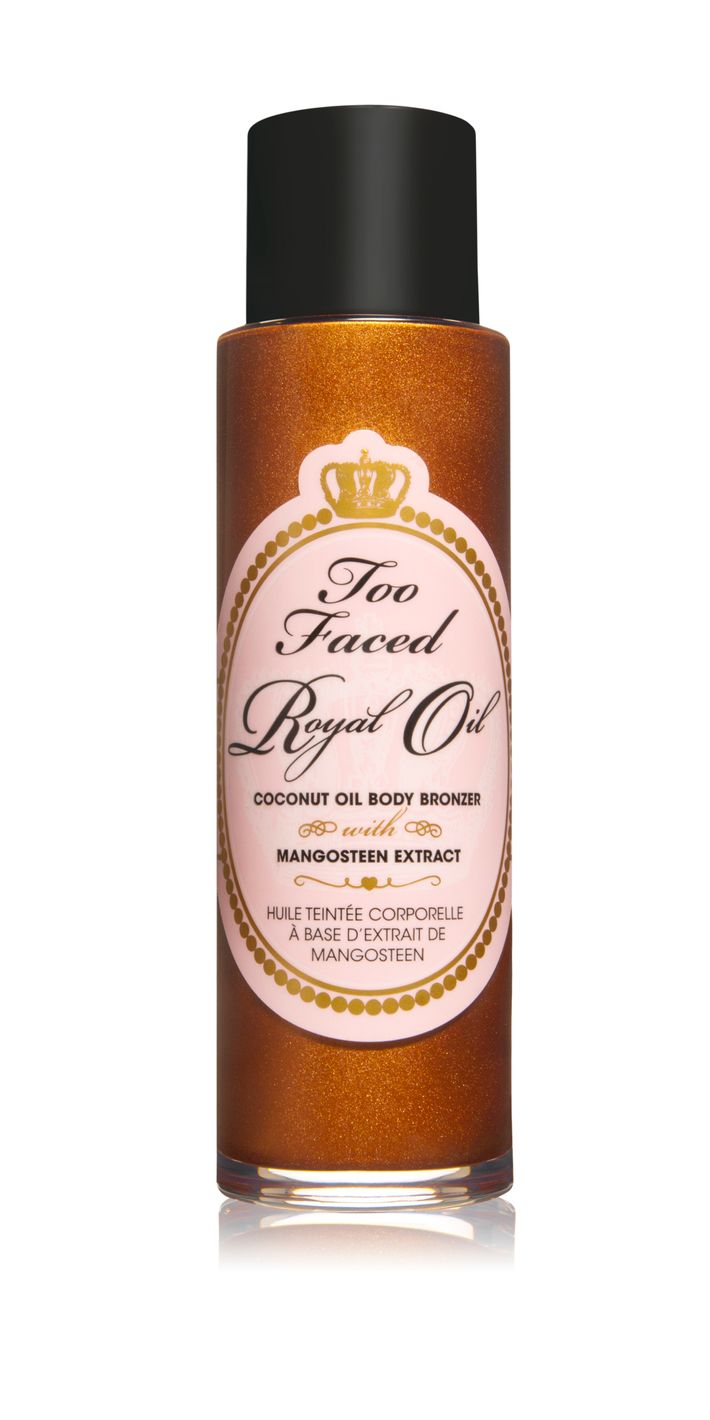 Recommended with Reservations
What came out of the bottle looking like bronze paint ended up looking nearly sheer when applied to the skin. Surprised I applied another layer and saw a slight change to my pale skin tone – it turned a very subtle shade of bronze. Thinking it was a dud, I forgot about it … until I went into the natural sunlight later that day and realized it looked like I'd had my way with Tinkerbell. While completely muted indoors, the body bronzer is incredibly sparkly and more noticeably tinted in natural sunlight. Because it contains coconut oil, the product left me smelling vaguely tropical, though not in an unpleasant way.   Too Faced Royal Oil, $35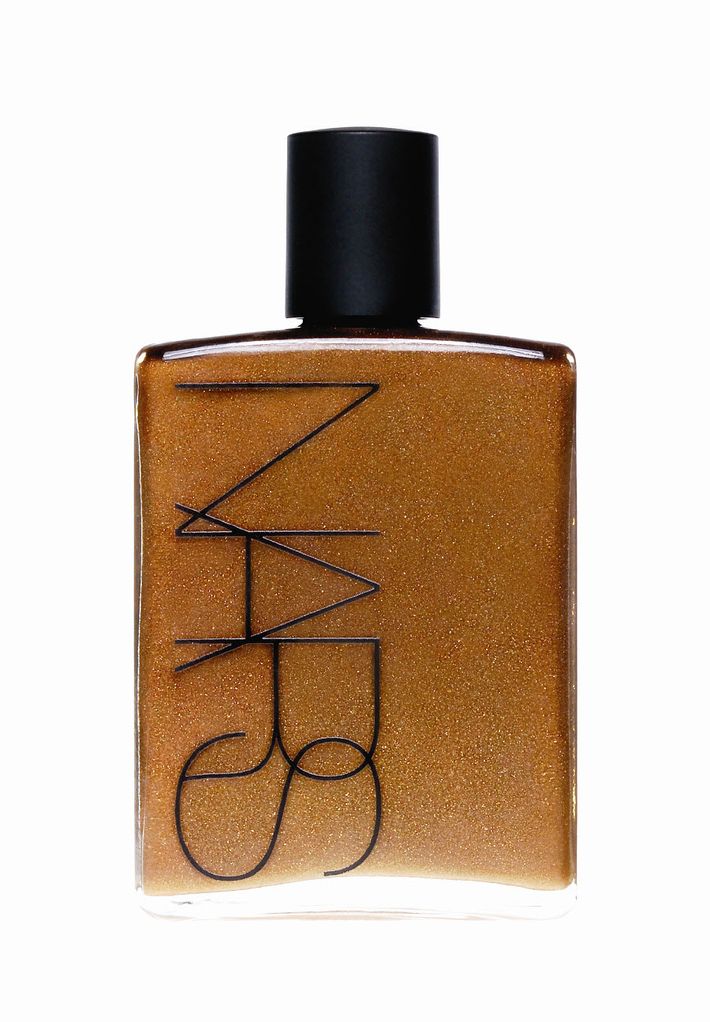 Recommended with Reservations
If you're totally new to this stuff, the Nars product is a good gateway oil – you can apply it and forget about it and then even make a trip to the grocery store and not be suddenly surprised that your legs are like a beacon of shine in the produce section. It delivers a soft glow with only a hint of sparkle – which is surprising considering that when the stuff comes out of the bottle it's dark and densely sparkly. The tiny specks – the smallest out of all the products I tried – seem almost to melt into the skin, barely visible, even in direct light, which gives the skin an understated sparkle, maybe a little too understated. If you're the sort who expects some serious shimmer as the bottled-up formula looks like it promises, it doesn't. Nars Body Glow, $59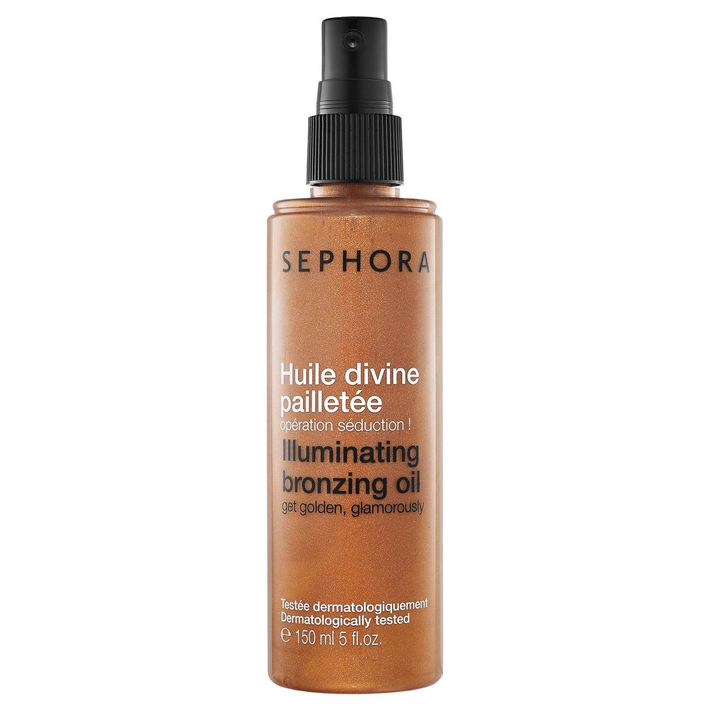 Recommended
This is one instance where the product looks scarier in the bottle than on the skin. Appearing orange and almost thick once shaken, I was scared it would leave me with that bronzed carrot look once applied to my pale skin. However, it goes on completely sheer, and contains little sparkles that sneakily make skin glow. Again, not visible indoors, the tiny glimmering bits need some sunlight to make them visible but once you're in natural light there is definitely shimmer action – for me it verged on over-sparkly, but once I realized that, applying it with a less-is-more attitude gave me the perfect amount of shine.   Sephora Illuminating Bronzing Oil, $14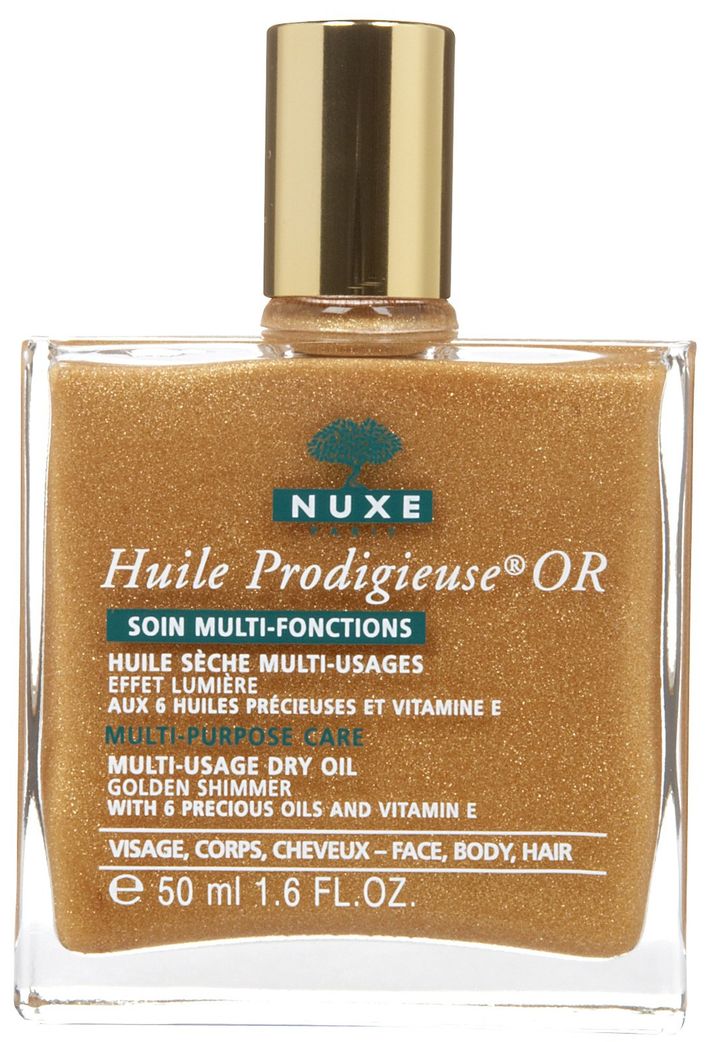 Highly Recommended
Said to be the Parisian woman's secret to acheiving an effortless glow, the Nuxe dry oil made my skin super soft, and gave it a gleam without leaving any oily residue. Though it contains magical mini sparkles that produce that ideal low-key shimmer, it definitely leaves a sheen on the skin. With a faint, indeterminable odor (does that double as je ne sais quoi?) it's a good choice to wear on a romantic date with atmospheric lighting, but not such a good choice to have on when meeting your boyfriend's grandmother. It's sexy, not cheesy, but defintely obvious enough that it makes a statement. NUXE Huile Prodigieuse OR, $58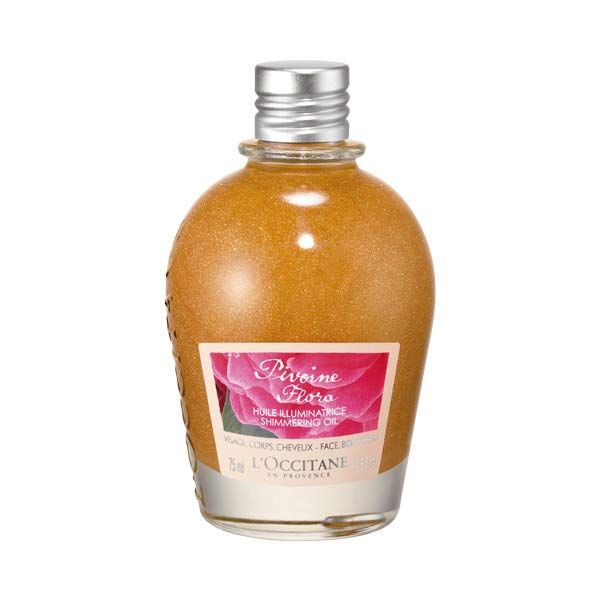 Highly Recommended
If the Nars body shimmer is the Mama Bear of the oils – a little too matte! – and the Sephora is the Papa Bear – a little too sparkly! – then the L'Occitane option is just right. Smelling faintly of rose water and reminding me of those soaps that are always too nice to ever use in your bathroom, this L'Occitane oil was actually a pleasure to put on. The little bottle says it "nourishes and beautifies" the face, body, and hair, but I kept things at body level, too scared to put oil – let alone sparkle-filled oil — any place above my neck. On my limbs, the oil gave my skin that perfect hint of sparkle. Nearly imperceptible indoors, it gives you shimmer when a tiny sparkle catches the light and delivers overall glow with its moisturizing effects. Its silky texture and balanced level of shimmer make it my absolute favorite of the bunch. L'Occitane Pivoine Flora Shimmering Oil, $38