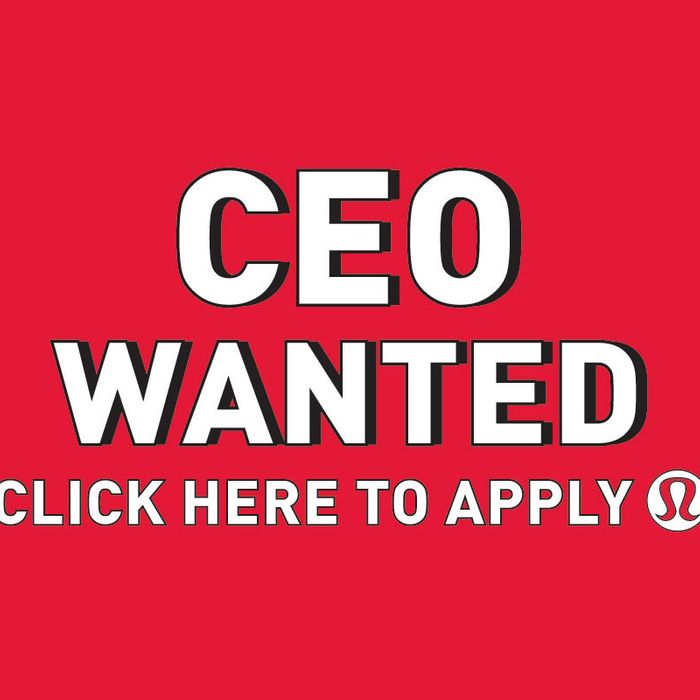 Lululemon's sheer-pants scandal is ancient history in fashion years by now, and many still believe it got way more attention than it merited to begin with. (Was it truly necessary for them to fire their CPO afterwards? We still think they should've sold that batch of see-through pants at a discount and called it a day.) However, Lululemon's announcement last week that longtime CEO Christine Day is stepping down seems a little too soon after the Luon debacle to be pure coincidence. What happened?
WWD published an article today about who might succeed Day (job requirements: wearing the Mansy to lead a companywide morning chant and kombucha ritual — no, really), but far more interesting than any of the corporate muckety-mucks in the running is why Day is leaving in the first place. Buried in the piece are a few interesting theories.
1. She just didn't feel like cleaning up messes like the sheer-pants thing anymore. One of WWD's sources says, "There was probably a contentious argument between her and the board. She made a lot of money and probably said, 'I don't need this.'"
2. She was fired. This one is very unlikely. A former Starbucks executive, Day has been with the brand since 2008 and is widely credited as the architect of Lululemon's wildly successful expansion. More from WWD's source: "I can't picture the board firing Day. There's a mystery in there."
3. She got a better offer. Considered one of the best and brightest CEOs, Day would be a catch for other major brands seeking leadership right now, like Apple, Starbucks, Gap's Athleta brand, or even the ailing J.C. Penney. And even if she hasn't been scooped up yet, she will be soon.
Meanwhile, Lululemon is still accepting online applications for Day's replacement; those who mispronounce kombucha need not apply.