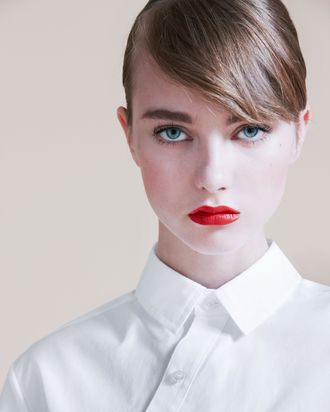 Photo: Courtesy of Mandarin & General
Designer Peggy Tan's brand, Mandarin & General, launched in early 2011 because she couldn't find the dress she wanted: a modern take on the qipao, a traditional Chinese garment. "I was always searching and I could never really find the perfect one, so I wanted to redesign the dress to bring it back to life," she told the Cut. "I needed to bring some downtown cool, so the dress would be something that people feel comfortable wearing on a daily basis, not like a costume."
The Taiwan-born artist had no formal training in design, so she extensively combed through texts and essays on the Chinese garment district, tracing the changes in style — from the loose-fitting outfits of the twenties to the more Western-influenced garb of the sixties and seventies. To further understand the formal trade of qipao-making, she spent a summer in Taipei, working as an apprentice to two masters who had spent their whole lives devoted to the craft. Eventually, she blended the styles of East and West together in a casual, more comfortable silhouette. Right now, the entire collection is produced in New York's garment district and she regularly works with her artist friends for print collaborations. The Cut spoke to the designer about her thoughts on exaggerated mandarin collars in mainstream fashion, training herself to make garments, and eventually moving her line beyond just clothes. Someday. Click through the slideshow for looks from her spring-summer 2013 collection, ranging from $100–$400, available for purchase here.

Tell me about the background of your brand. What inspired it?
It's really, really hard to find new [Mandarin dress garments] in the market that actually make me feel comfortable wearing them — aesthetically and even construction-wise. I don't feel like they're a real Mandarin dress. I think they're just dresses with some Mandarin details. I kept thinking, "How come nobody is making a Mandarin dress today that's as beautiful as the ones in the past and comfortable to wear in today's lifestyle?" The dress as we think of it today, the clichéd idea, is very different than the ones during its heyday in the thirties. Throughout history, every dynasty had its own, so I don't understand why people don't feel comfortable wearing it. I thought it'd be interesting to see how I can bring this thing back to life.

How would you describe the culture behind traditional Mandarin dress? I read that you studied under tailors?
When I decided to try [making my own line], I wanted to really know my trade and know the language I'm playing with, so I searched for some traditional qipao masters whom I could learn from. I found a pair of Chinese dress masters in Taipei who are quite well-known and they've been tailors all their lives. They start when they're little as apprentices, and they work together. They were talking about how it's a dying art and how a lot of people aren't learning it, and how it's really important because it's a national treasure. They want this art to be passed on to the next generation. I thought they'd be willing to teach me. They were sort of hesitant in the beginning because I didn't have a lot of time — they usually only accept people who can spend three or four years with them — but I kept bugging them. I told them, "I might not be a traditional qipao master, but my goal is to keep this trade alive, to continue this heritage. It needs something new to inspire the younger generation."
What's the story behind the name of your brand?
I like things that are utilitarian. I think it speaks in my design, too. I don't really like purely decadent details. I like details that have function. With the name, I wanted something very direct, something that conveys the concept. That's why there's "Mandarin" included. Then for "General," I wanted to take the original theme of the brand and take it to the next level. "General" also is like a general store because I would like to develop Mandarin & General into a lifestyle brand, where it's not just clothes in the future.
What are your thoughts on the mandarin collar being overexaggerated and overused in fashion?
I think it's an interesting style. There's one vintage photograph of my grandparents that opened my eyes — I was so surprised to see her in a Mandarin dress that she made herself. It had this tiny, teeny, mandarin collar, very cute, very dandy. I thought it'd make a very cute summer dress. I don't know when exactly a high collar got popular — it just gets higher and higher depending on the era — but it doesn't mean it has to look like that. So in my collection, I tend to use small mandarin collars. Also, I put a little bit of a gap; it's a signature detail, but also a little more breathable and comfy.
There are pieces in your collection, like the strap dress, where you can't really see the Mandarin influence.
I like to approach this idea in multiple ways instead of only focusing on one specific style. For the strap dress, the inspiration is from the graphic element of the Mandarin dress, how it opens on one side; it's like turning that into the structure of a modern dress. There's also something that's a little bit more direct. A jacket for my winter collection actually takes from the pattern of a vintage Chinese coat that I have, which I like a lot. But then I kind of give it a modern, Western-coat detailing.