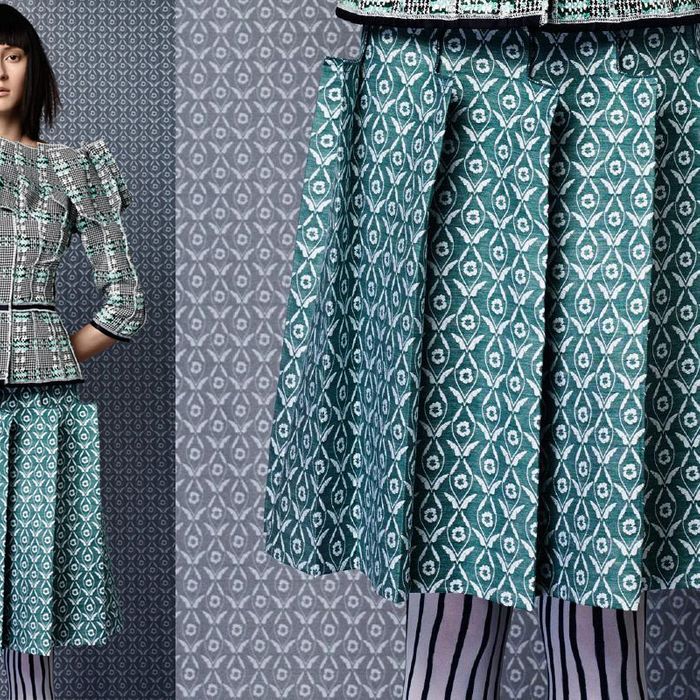 Photo: Courtesy of Thom Browne
Inspired by a coffee-table book of photographs by Malick Sidibé, who captured wealthy African teens during the sixties, Carven's resort collection featured vibrant prints, bold blocks of color, and beautiful cocktail-ready attire paired with flat sandals or chunky wedges. For those of us not fortunate enough to jaunt off to an exotic locale for the holidays, one printed dress with a lush jungle landscape was everything you would expect for a season dedicated to tropical vacations.
At Thom Browne, pieces were heavier and more fit for days spent in cold climates, with looks consisting of nubby tweeds, wools, and striped tights. The dizzying array of patterns layered over more patterns was only accentuated by the elaborate wallpapered wall behind the model. A boxy, pleated look was a toned-down version of the unusual proportions common to Browne's work and featured a skirt that could have almost blended in with the background, were it not a different color.
Peter Pilotto is best known for their kaleidoscopic digital prints, and resort does not disappoint with its explosion of florals and geometric patterns. Quieter moments included several tops with a single arranged flower, a nod to ikebana, the Japanese tradition of spare and careful arrangements. Another dress resembled a hall of mirrors, with its seemingly never-ending array of rectangles acting as a modern representation of the tokonoma,  a recessed alcove where ikebana arrangements would traditionally be displayed.
Alessandro Dell'Acqua put together a group of easy-to-wear relaxed separates for his Nº. 21 resort collection, which was punctuated by feather, lace, and leopard accents. Hazy watercolor flowers mixed in with digital prints of roses and palm trees, but it was a series of green dresses and skirts that required a closer look. Click ahead to zoom in and see his take on toile, with scenes of pastoral living — donkey included.
See the complete Carven resort 2014 collection here.
See the complete Peter Pilotto resort 2014 collection here.
See the complete Thom Browne resort 2014 collection here.
See the complete N°21 resort 2014 collection here.