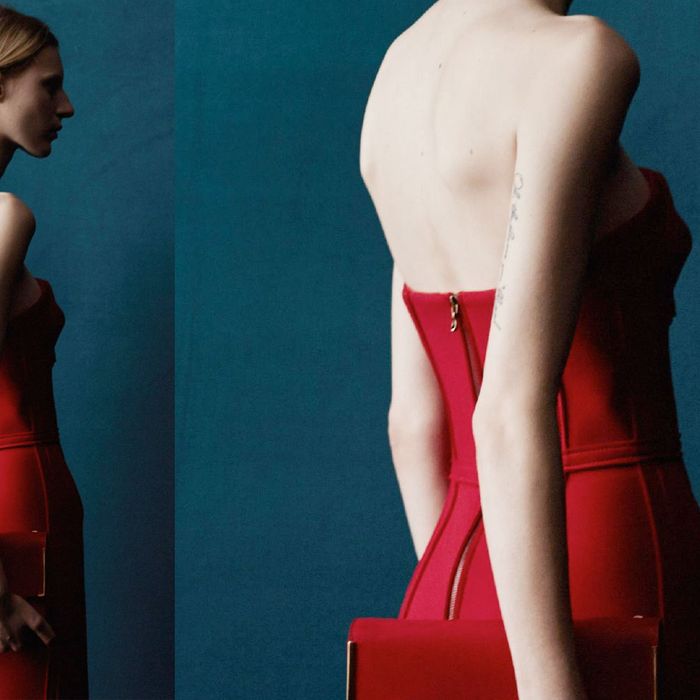 Stella McCartney threw a splashy garden party in honor of its resort collection, where models clad in blush tones, feminine florals, leopard-printed python, and silver platform clogs danced in the damp grass as onlookers sipped Champagne. Aside from the impeccable clothes, we were most excited about the vermillion red accessories and the strong, lean lines of the geometric clutches and bags.
The Row's perfect buttercup yellow looked like sunshine incarnate, especially in a satin silk that seemed to glow (for real) next to the midnight navy and umbrous alpaca fur (!) that lined vests and even a clutch or two.
Lanvin delivered a wide range of silhouettes in sumptuous fabrics like organdy, taffeta, and silk gazar — most of the pieces offered in a dependable black and white gradient. Standouts included head-to-toe saturated looks, like one blood-red cocktail dress with an embellished corseted bodice and its matching red clutch, plus a silk faille suit with a wide seventies notched collar in the brightest neon fuchsia.
A subtle nautical vibe underscored Chloé's resort collection with variations on Breton stripes and the like; lines from a Steno pad were reimagined on wide-legged and boxy cotton separates. Meanwhile, thinly striped workman's denim and canvas was offered in relaxed shapes. The sharpest look was a naval rig sailor suit with a backward-striped collar worn with a gold pendant.
Click here to see the complete Stella McCartney resort 2014 collection.
Click here to see the complete the Row 2014 collection.
Click here to see the complete Lanvin 2014 collection.