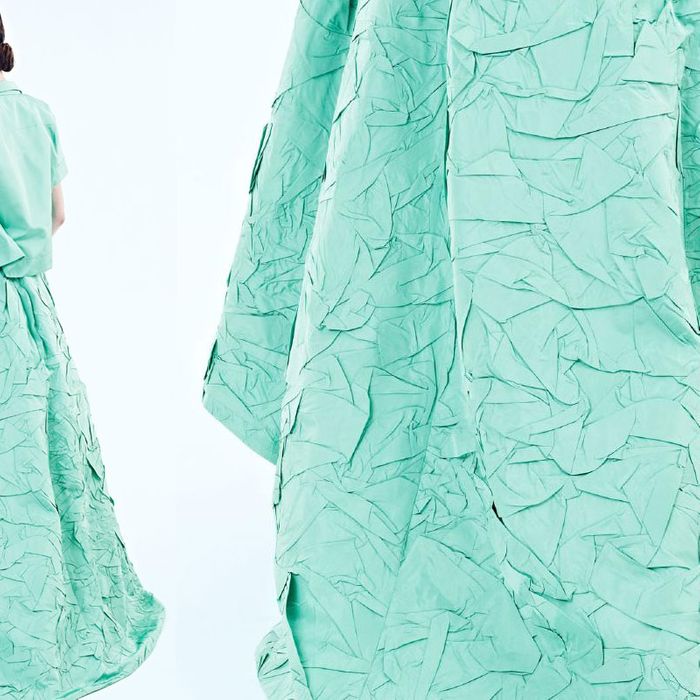 Photo: Courtesy of Rochas
Joan Smalls debuted Givenchy resort 2014 at the CFDAs, wearing a long white gown with a sheer panel at the hem. She followed up by modeling most of the collection this week, which began as a series of delicate lace pieces before seguing into the more familiar exuberant blooms first seen at the house's fall runway show. Toward the end, designer Riccardo Tisci showed a series of exaggerated paper bag waisted pieces in denim and silk, including several slouchy evening-appropriate looks. One, consisting of a strapless bodice paired with culottes, made for an unusual yet relaxed silhouette.
J.W. Anderson experimented with Japanese minimalism for his collection, drawing inspiration from clothes folded and wrapped into unusual shapes. Exaggerated pleats at the neck, bodice, and arms emphasized the weight of fabrics and drew focus to the unusual textures that included elaborate ribbing and puckered PVC. A knotted skirt paired with an asymmetric top is worth a closer look, if only to discover all of the subtle surface changes as the look progresses from ribbed to perfectly smooth.
At Rochas, Marco Zanini took inspiration in a New England fishing village by showing printed pieces featuring starfish, crabs, and stingrays along with other sea creatures. One voluminous white evening look was finished off with his high-end vision of a classic fisherman's hat, but it was a mint green version that proved to be more zoom-worthy. The billowy gown was crumpled to add a texture reminiscent of the sea at a particularly turbulent moment.
See the complete Rochas resort 2014 collection here.
See the complete J.W. Anderson resort 2014 collection here.
See the complete Givenchy resort 2014 collection here.