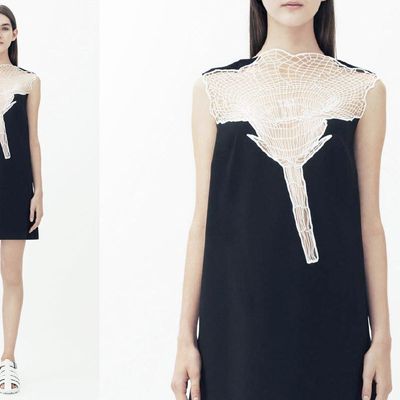 Florals for resort are expected, but Christopher Kane took a sci-fi approach to the blooms for his collection. Instead of the digital prints that have been popular for the past few seasons, Kane chose 3-D graphic renderings. The sweeping lines added a sense of delicacy to pieces, like this navy shift dress with its cobweblike bodice.
Valentino started off as a sedate collection of separates in subdued colors like navy and beige before becoming a neon scene. Incorporating technicolor camouflage, brightly hued dresses, and bold bags, the pieces were youthful and commanded attention. Toward the end, embroidered gowns were revamped by swapping normally sedate beading for eye-catching bits of hot pink, neon green, and acid yellow.
Over at Calvin Klein, Francisco Costa remained true to the house's minimalist aesthetic while turning up the sex appeal using crop tops and bralettes, revealing generous amounts of waistline. For the more practical girl, slim suede dresses in emerald, black, and navy looked incredibly soft and luxurious, while the opening ostrich coat was truly opulent. Click ahead to marvel at every last bump.
See the complete Calvin Klein resort 2014 collection here.
See the complete Valentino resort 2014 collection here.
See the complete Christopher Kane resort 2014 collection here.