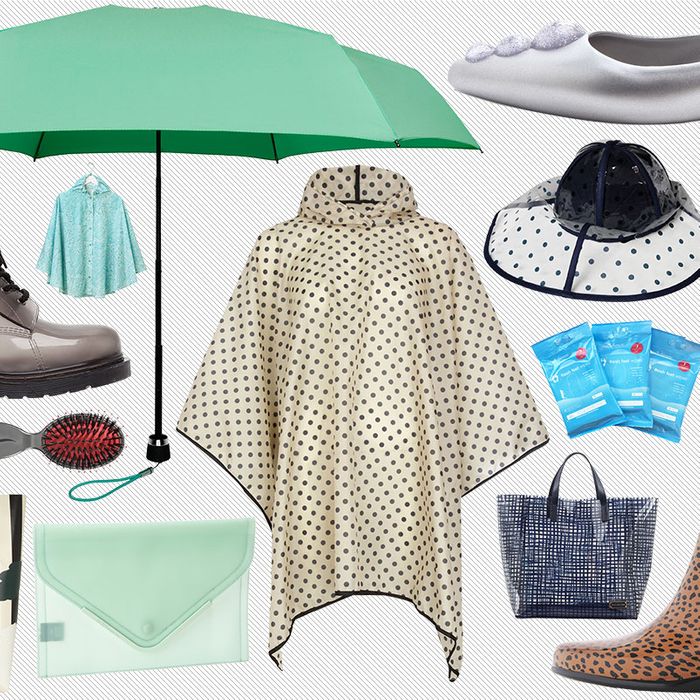 Dressing for summer has a new challenge now that we live in a time of complete weather madness: Sweltering midday heat can give way to downpours (and if you're lucky, magnificent rainbows), and then we're back to sunny skies in a matter of minutes. To keep your white jeans or bare feet from getting soaked, we gathered up some tools to keep you clean and dry: tiny umbrellas, lightweight ponchos, cute rain hats that can be stashed easily in tote bags, and a tiny towel, along with makeup remover and a compact brush to fix scraggly hair and makeup. And since the last thing you want is tall Wellies in the humidity, we've found some great ankle-skimming rain boots as alternatives. Click through to assemble your go-to kit for summer rain.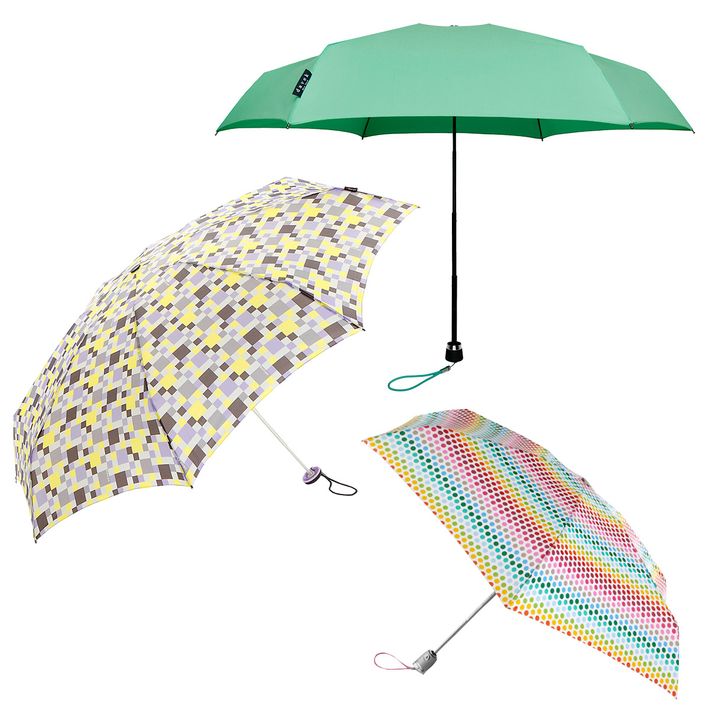 Tiny Umbrellas
Lightweight umbrellas take up minimal space. Davek's measures in at under seven inches when closed and can fit in the palm of your hand, while Totes' version folds up flat and is only an inch-and-a-half thick. Should you fear a soggy umbrella ruining the interior of your bag, Knirps's comes in a zip-around case to keep the wet separate from the dry.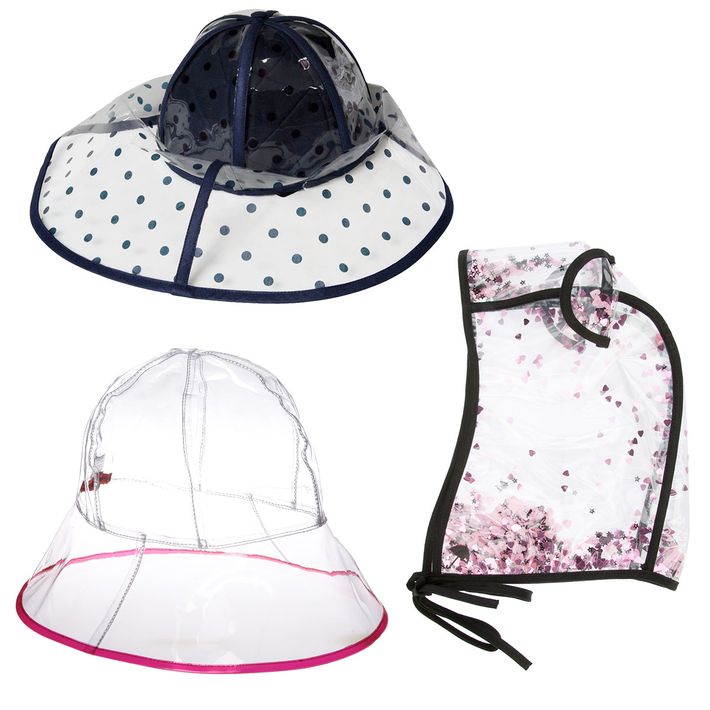 Cheerful Hats
Rain hats might evoke Paddington Bear, but you'll be grateful to whip one out when it really starts to come down. In polka dot, hot-pink trim, or sparkles, these see-through options are grown-up but still fun.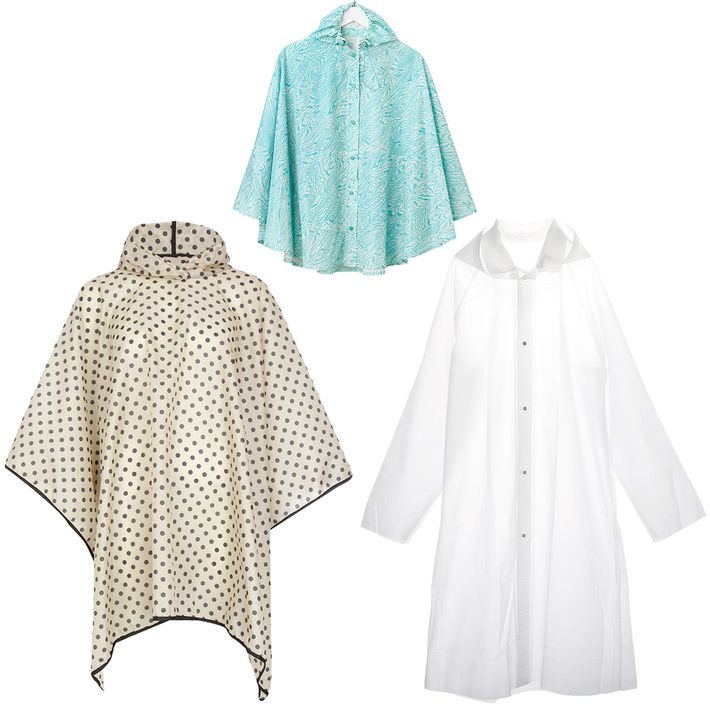 Lightweight Ponchos
No matter how big an umbrella you huddle under, your clothes will still get wet. A poncho is a handy way to protect delicate fabrics from getting damaged. Muji's version folds into a small pouch and can be trimmed to fit any height.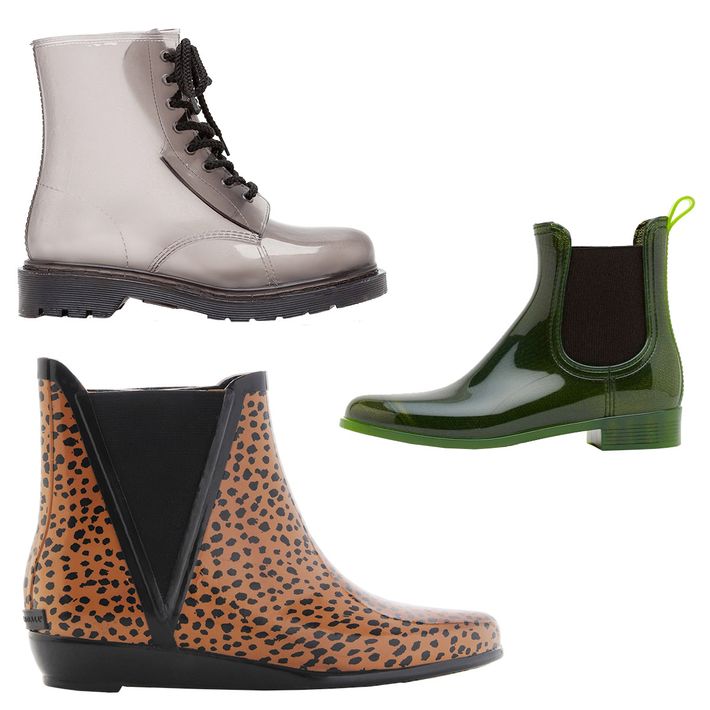 Knee-high rain boots
Opt for low versions to keep feet dry and legs cool. If you're not into traditional Wellies, Need Supply carries a PVC riff on the classic Doc Marten that is an instant conversation starter.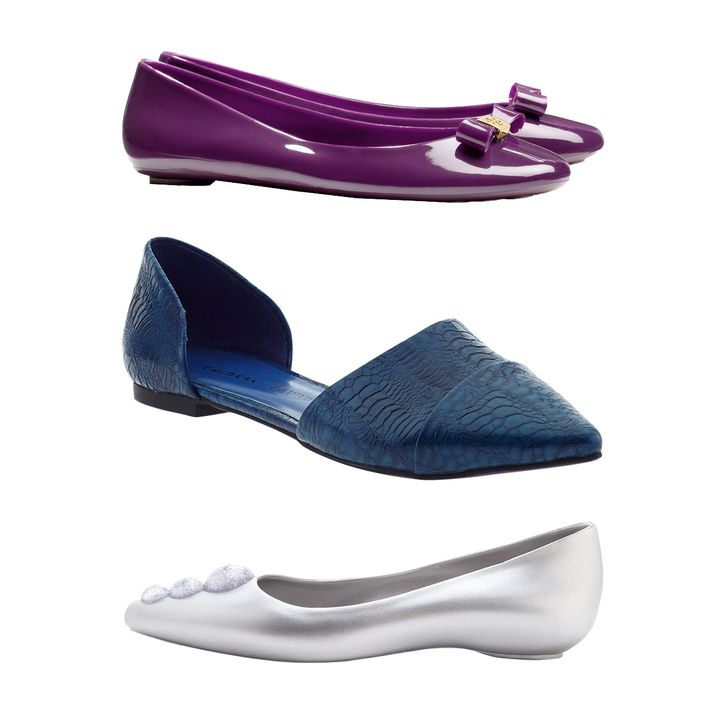 Waterproof Flats
Jellies or even faux-leather flats are a great alternative to wearing rain boots and having to drag around an extra pair of shoes to change into.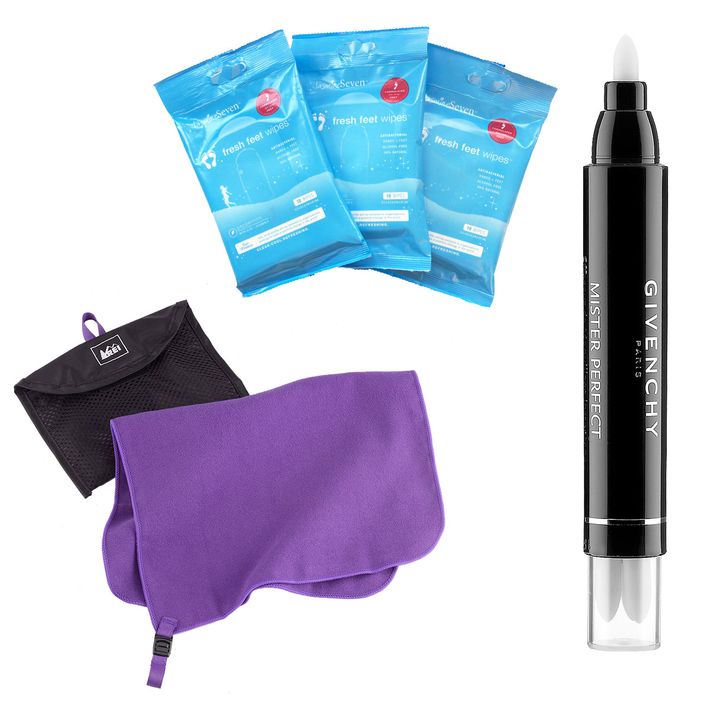 Beauty Fixes
Getting caught without an umbrella means scraggly, wet hair, makeup running down your face, and feet that feel icky. Use an absorbent tiny towel to dry off your body, and a makeup-remover pen to erase errant mascara. Wipe the grime off your toes with cooling peppermint-scented towelettes.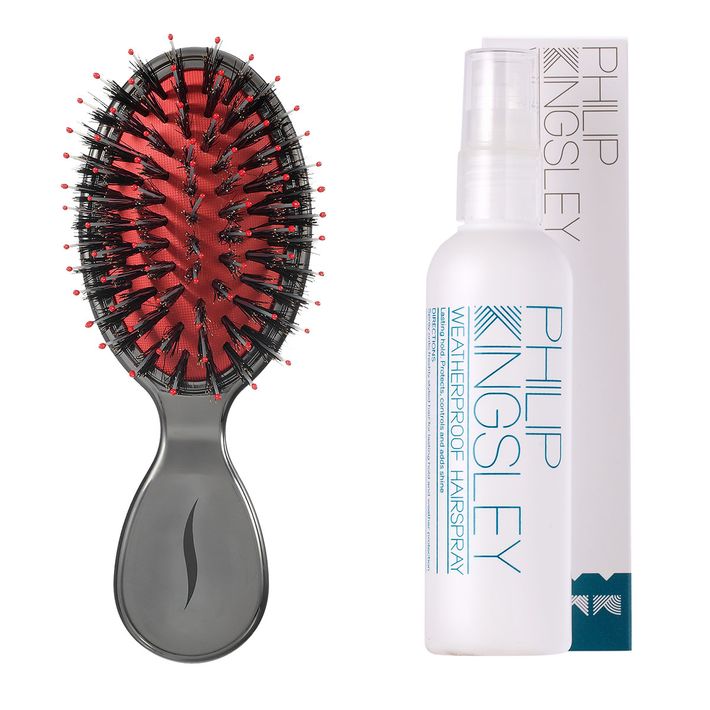 Hair Savers
A compact brush detangles humidity-ruined hair. Keep some hair spray around to refresh your style and smooth down any frizz or cowlicks that may arise.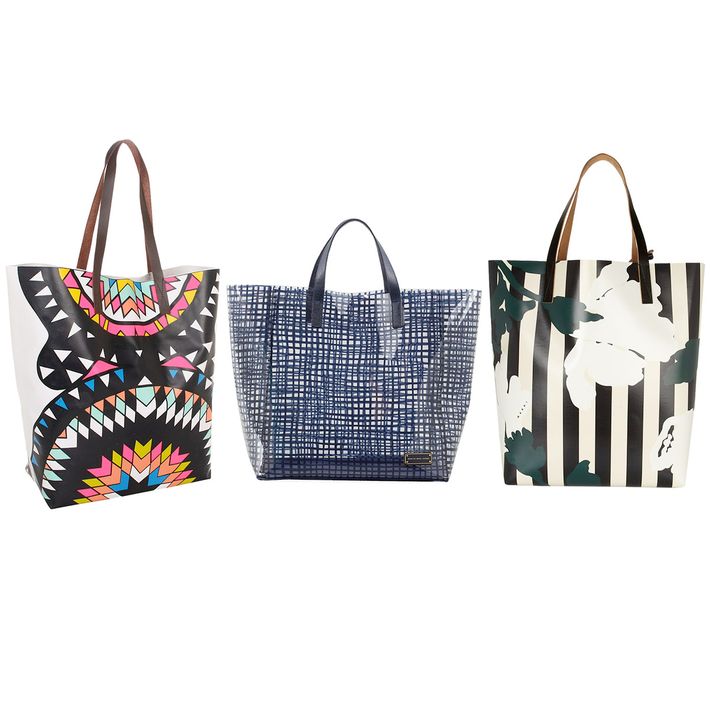 Non-Leather Tote
It's always smart to treat expensive bags with a leather protectant like Apple Garde, but it's also useful to have a bag that will stand up to wet weather. Try a chic printed-vinyl tote that has ample room for all of your daily essentials.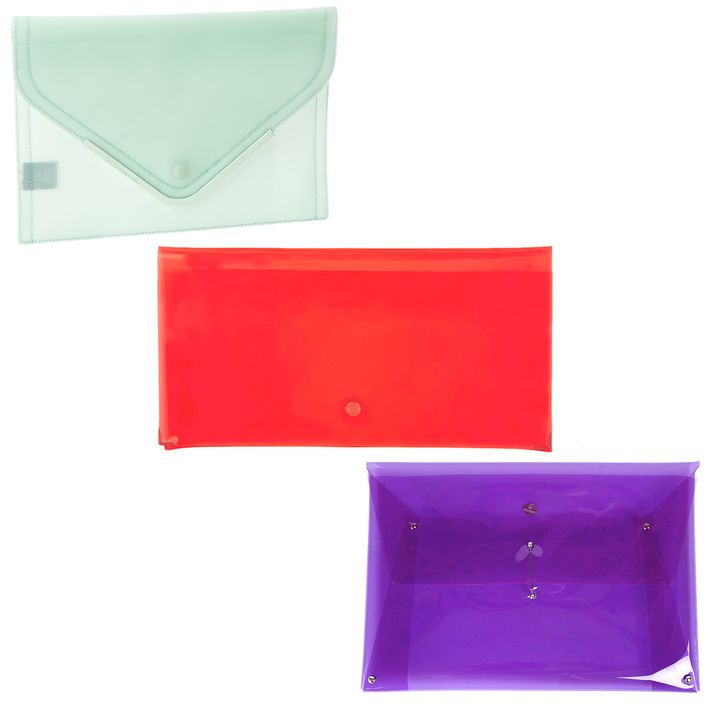 No-Leather Clutch
For times when a large tote is cumbersome, sleek jelly clutches are a fun way to brighten up your wardrobe without worrying about the color rubbing off onto clothing.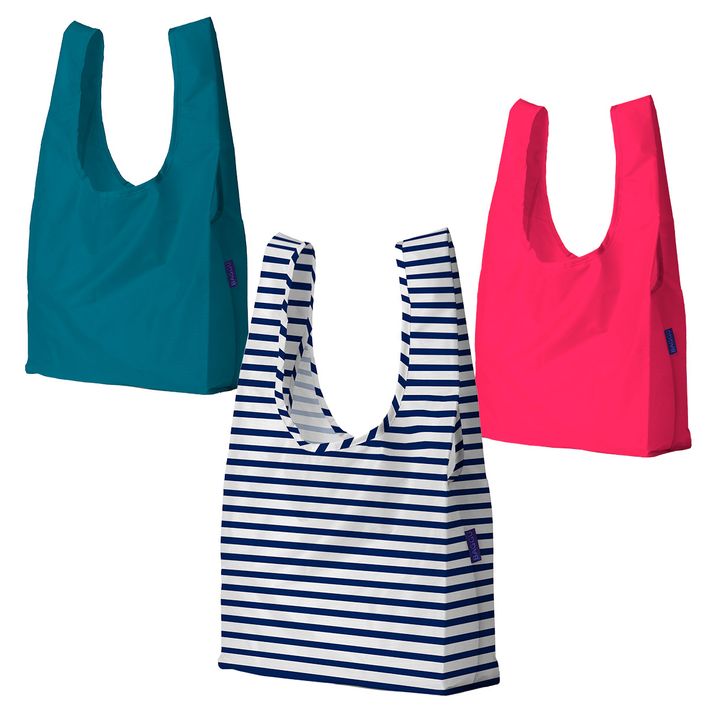 Extra Bags
Stash a nylon tote that folds down into a handy small square in your purse and whip it out when it starts to rain. It will shield the bulk of your expensive leather purse from the moisture, or you can throw your rain boots or wet umbrella in it later.