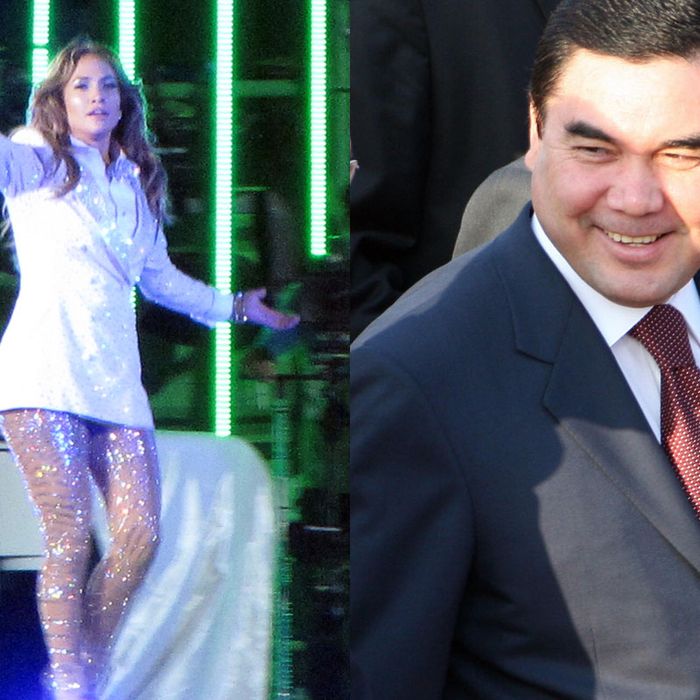 Photo: Igor Sasin/AFP/Getty Images, Atta Kenare/AFP/Getty Images
Jennifer Lopez is feeling the heat this week for singing "Happy Birthday" to the authoritarian ruler of Turkmenistan. The former Soviet state is considered "one of the world's most repressive countries"; it once shut down the entire Internet in order to stop a video of its president falling off a horse from disseminating. Lopez's publicist has said the party was a corporate event put on by China National Petroleum for its executives in oil-rich Turkmenistan — it just happened to fall on the president's birthday — and Lopez never would have attended "had there been knowledge of human right issues of any kind."
Naive as it sounds, we're inclined to believe it. Say what you will about Dennis Rodman schmoozing with Kim Jong-un or Naomi Campbell accepting "dirty-looking stones" from Charles Taylor. Who among us could have picked Turkmen president Gurbanguly Berdymukhamedov out of a lineup? Let alone named his human rights abuses?
Nor is J.Lo the first pop star to sing before googling, unwittingly bringing international human rights abuses to the attention of the Us Weekly crowd. From Sting to 50 Cent, the music industry's free speech beneficiaries are the preferred American and British export of cash-flush dictators everywhere. Rather than pile on this Fourth of July weekend, discover what pop stars can teach you about repressive states the world over.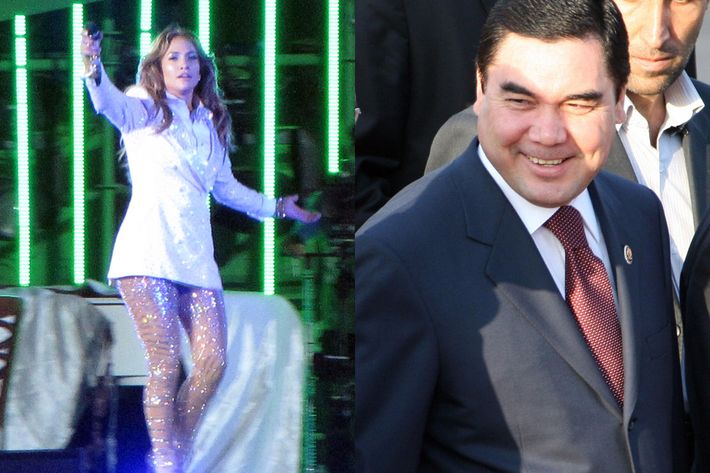 Jennifer Lopez
Criminal ties: Lopez's birthday wish for Gurbanguly Berdymukhamedov is not the singer's first brush with dicey world politics. In 2010, J.Lo reportedly canceled a $3 million birthday show in Turkish-occupied northern Cyprus after it drew protests from displaced Greek Cypriots. Forgiven? Too soon to say. Although Lopez's publicist said she would not have knowingly performed, what will become of $1.5 million in repression-and-oil money?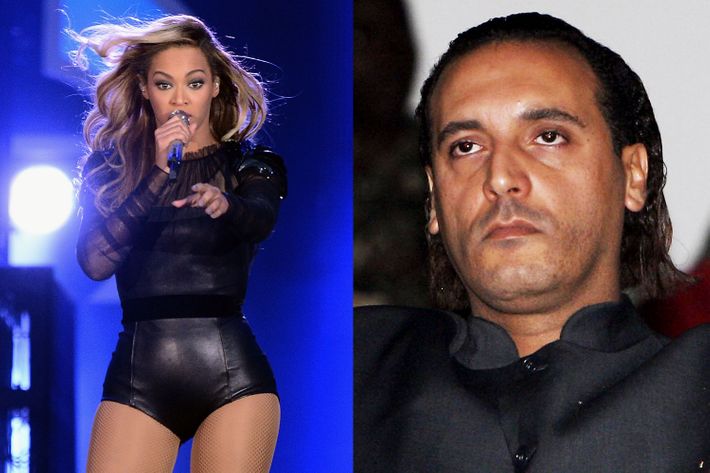 Beyoncé
Criminal ties: In 2011, diplomatic cables obtained by Wikileaks confirmed previous reports that Beyoncé (along with Usher, 50 Cent, and Mariah Carey) had been paid up to $1 million to perform at parties thrown by Muammar Qaddafi's sons Hannibal (pictured) and Mutassim in Italy and St. Barths between 2005 and 2009. Forgiven? Entirely. Through a spokesperson, Beyoncé said that she donated her fee to earthquake relief in Haiti. Usher, 50 Cent, and Carey made similar pledges.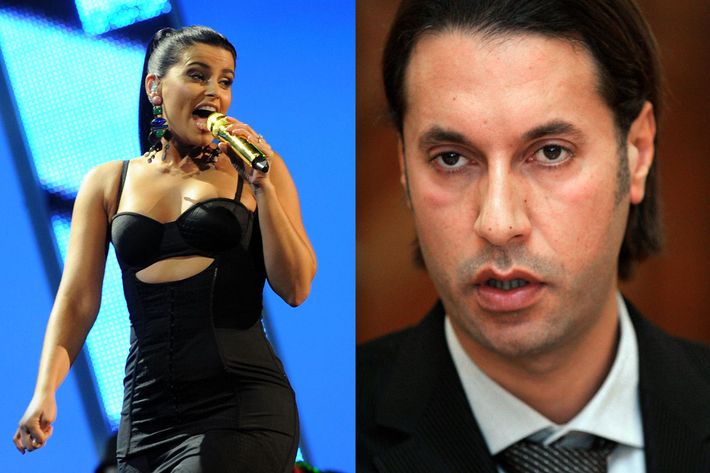 Nelly Furtado
Criminal ties: As reports about Beyoncé's show rolled out, Nelly Furtado piped up on Twitter, confessing to also having been paid $1 million by the Qaddafi clan, to perform in an Italy hotel in 2007, and pledging to donate the money to an unspecified organization. Forgiven? Mostly forgotten.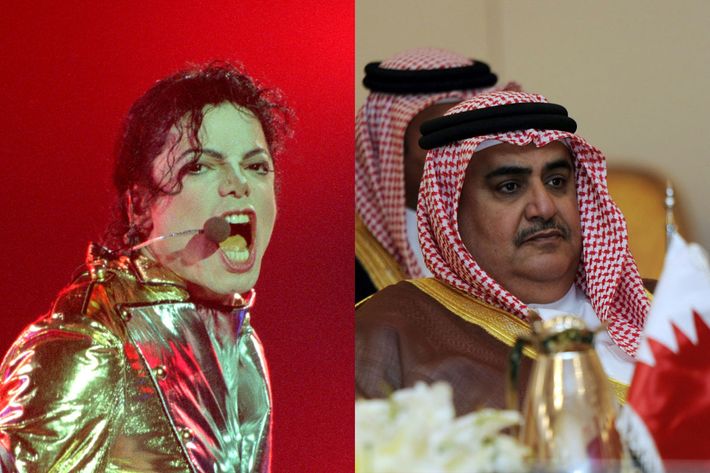 Michael Jackson
Criminal ties: After being acquitted of ten felony charges (including several counts of child molestation) in 2005, Jackson took refuge in Bahrain, befriending Sheik Abdullah bin Hamad al-Khalifa and, according to a lawsuit later filed by the prince, taking his money in exchange for a never-recorded album and a promised in-palace musical production. Forgiven? By the time Jackson and the prince settled out of court in 2008, Jackson's ties to the heir to an oppressive regime were, tragically, the least of our concerns.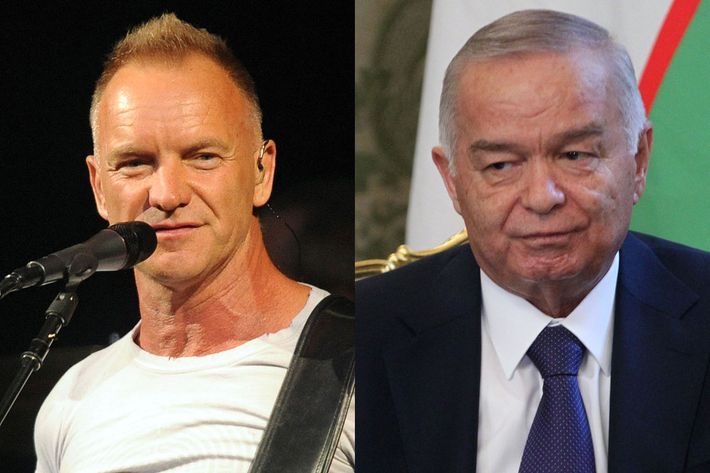 Sting
Criminal ties: In 2009, Sting performed at a regime-celebrating festival put on by Gulnara Karimova, daughter of Uzbekistan's despotic President Islam Karimov, known for boiling his enemies alive. (Julio Iglesias, father of Enrique, was also implicated, and later criticized for performing for Equatorial Guinea's corrupt Teodorin Obiang.) Tickets cost $1,000 (45 times the average Uzbek's monthly income, Mother Jones reported), and Sting made $2 million. Forgiven? Not at all. Sting's explanation — he believes boycotts only further isolate dictator-ruled countries — prompted Britain's ambassador to Uzbekistan to wonder if he'd gone "completely mad." Uzbekistan got mad, too: Sting's songs were banned from radio stations after he called Karimov a dictator.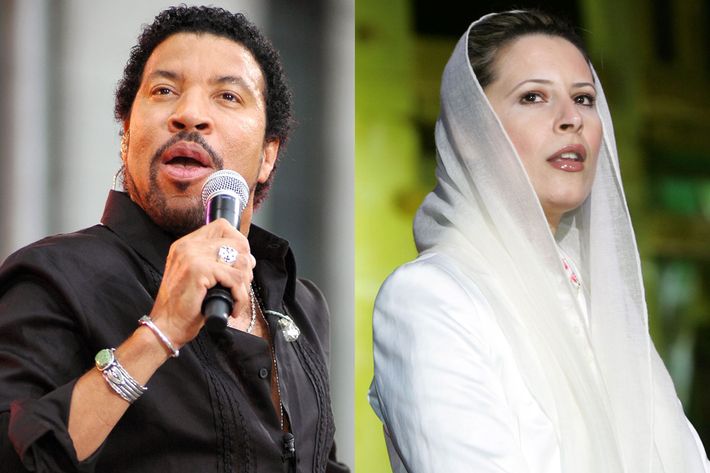 Lionel Richie
Criminal ties: In 2006, the Qaddafi clan brought Lionel Richie to Libya to perform at a celebration marking the twentieth anniversary of a U.S. attack on Tripoli and Benghazi, staged in front of the dictator's bombed-out compound, which had been preserved as a memorial. He was toasted by Aisha Qaddafi, who was rumored to have gotten married around the same time. Forgiven? Warily. Richie has never publicly addressed the concert, and his slight resemblance to Muammar makes the connection hard to forget.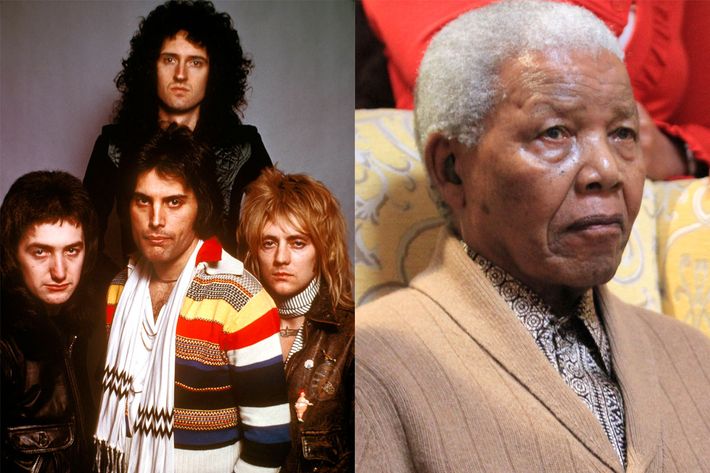 Queen
Criminal ties: In defiance of a United Nations boycott, Queen played a string of shows at Sun City, a casino resort in one of the black states of apartheid South Africa. This was in 1984, while Nelson Mandela (pictured) was still imprisoned and amid international divestment. Forgiven? Kind of. A protest song, "Sun City," featuring Bruce Springsteen, Keith Richards, Run DMC, Bob Dylan, George Clinton, and Joey Ramone, among others, made the group's decision look even worse. But almost everyone had forgotten it after the group's Live Aid performance the next year.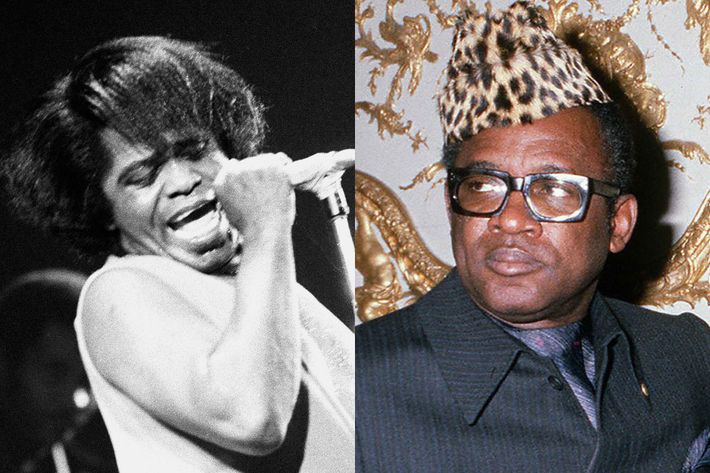 James Brown
Criminal ties: Along with B.B. King, Celia Cruz, and many more, Brown performed at a 1974 festival organized to authenticate military dictator Mobutu Sese Seko's recently founded Zaire (now the Democratic Republic of Congo), from which he would go on to embezzle $5 billion USD. Forgiven? Yes. A 2009 documentary about the concert, shot in part by Albert Maysles, is supposed to be sublime.