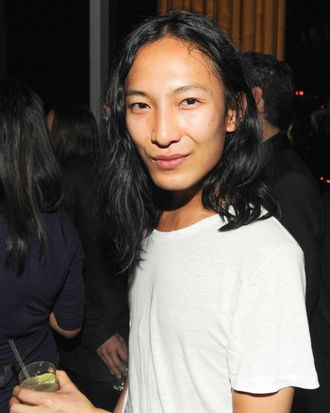 Photo: Neil Rasmus/BFAnyc.com
In the latest issue of Vogue, Mark Holgate follows the young urban designer turned creative director of Balenciaga as he fills in the enormous shoes left behind by Nicolas Ghesquière in Paris, where Wang now lives. In the piece, Wang jokes about learning French via the Rosetta Stone ("Rosetta Stone isn't teaching me about hemlines … it's teaching me about little girls swimming and little boys drinking tea") and his initial concerns about being an American designer entering an established French house.
But even more noteworthy is the story of how he was initially approached to replace Ghesquière by Francois-Henri Pinault — and how, as a man who'd grown up adoring Ghesquière's work, he initially turned it down. "My first reaction to [Pinault] was no," Wang told Vogue. "I told him that I was so preoccupied with what I am doing with my own brand in New York, and I'll be the most hated man in fashion!" He was "in turmoil" over the offer and even visited a psychic to tame those nerves before finally accepting. As for his new life as a Parisian, his bed time is now 10 p.m.