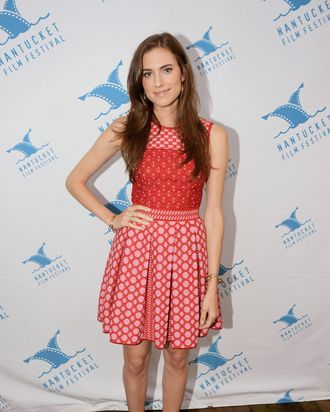 Allison Williams.
Photo: Theo Wargo/Getty Images
While reporters across the pond spent yet another night camped out in the parking lot of St. Mary's hospital, the Cut chatted comfortably with Funny or Die's answer to Kate Middleton, Allison Williams, at last night's Short Term 12 screening at the 88 Dolby Theater. Upon ranking her interest in the royal baby as "very, very high — like an 8 or 9," she went on to explain her secret kinship with Kate (sincerely), her dismay over the timing of the birth (sarcastically), and what the first couple of nights of parenthood might entail (sincerity/sarcasm indeterminable).
"It's definitely a one-way thing," said Allison of her relationship with the duchess. "The amount of time I've spent watching her means I feel pretty connected." She even flirted with the idea of resurrecting her role in honor of the impending birth, but she's got her hands full with season three of Girls. "So it's not the right time. We have to hope that, down the line, they continue to multiply and our schedules work out so we can do a part deux." Something for Kate and William to keep in mind.