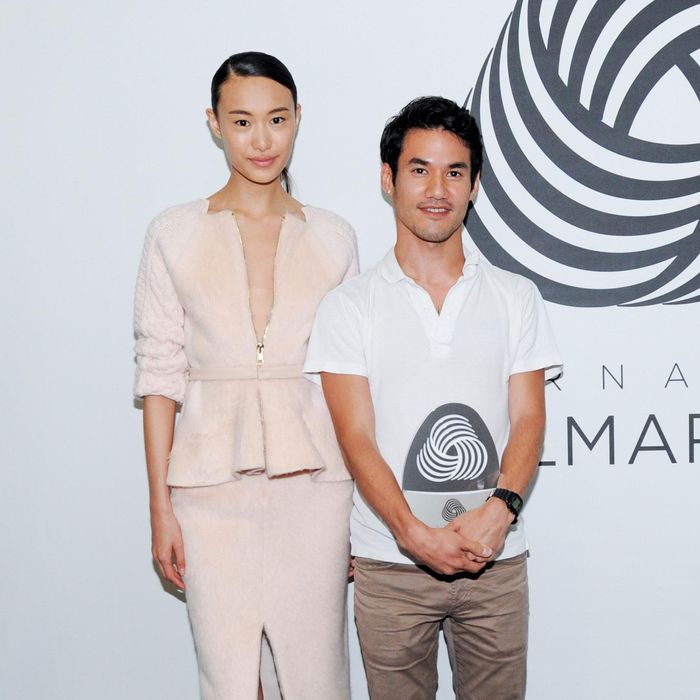 Photo: Neil Rasmus/BFANYC.com/BFA NYC
Last night, French designer and fashion darling Joseph Altuzarra was selected as the U.S. Woolmark award winner by a a panel of judges that included Alexander Wang, W's Stefano Tochi and the Australian Woolmark Company. Altuzarra, already an established jacket genius, received the award from CFDA CEO Steven Kolb. The winning suit was a gorgeous, peach, three-piece wool ensemble that displayed two different weaves and cable knit sleeves. "It was a strong look and it felt like something that was a perfect amalgamation of technique and silhouette that I wanted to work on. It felt like a really good masthead for the rest of the capsule," said Altuzarra as he received congratulatory hugs from fellow contestants Wes Gordon, Whit, and Daniel Vosovic (who nobody seemed to recall was on Project Runway) and a young fan, who said she absolutely knew he was going to win. "The whole thing was a learning experience. It was tough to find the right merino wool weight for the technique. It was a lot of trial and error," he told us. His victory was pretty much secured with the surprise addition of wool shoes — peach pumps with the same needle-punch technique.
Next, he'll spend six months designing a capsule collection for the final Woolmark competition during Milan Fashion Week in February of 2014. And then … perhaps follow in the footsteps of former winners Karl Lagerfeld and Yves Saint Laurent? We're just sayin'.