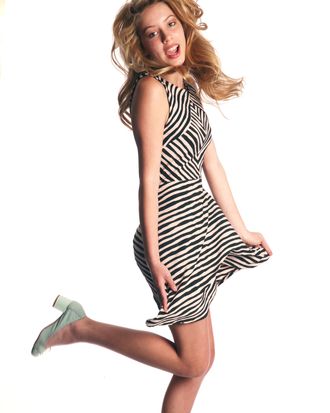 Photo: Courtesy of Model Camp
It looked like rain on Wednesday morning, which was lucky. That way no one needed to mourn the wholesome, outdoor summertime activities — bike rides, camping, swimming — forsaken by the 30-odd girls cooped up in a midtown Westin. They had convened for Modeling Camp, the $1,000, four-day boot camp that teaches girls ages 12 to 18 how to work their angles and a runway before sending them off with a portfolio of professional photos and an audience with casting directors.
It was photo-shoot day, and the girls were split among four stations in a carpeted conference room. On one side, makeup artists' brushes swallowed their tiny features. On the other, hairdressers coaxed their — basically uniform — shoulder-blade-length hair in and out of loose, wavy ringlets. In back, an acting coach fought for the attention of the rest, who played with their hair, held each other's hands, and coordinated dress swaps for their two turns in front of the photographers in a room down the hall, where they were escorted individually by counselors in T-shirts.
As Passion Pit played off a laptop, a middle-aged female photographer told Kia, 12, to place her hand on her waist — not her hip — to avoid bunching the fabric of her dress. Kia thought jeweled, flat sandals went best with the outfit she'd chosen, but she posed on tip-toes, back arched, at the photographer's suggestion. Thanks to the makeup, everyone looked like a bright-eyed college freshman. But their poses revealed the gulf between middle and high school. After Meghan, 14, nailed the over-the-face hair flip, the young male photographer ushered in Alex, who is 12. She had extracted a promise that she wouldn't have to open her mouth (braces), but she stalled when he asked her to strike a pose.
"They mostly told us what not to do," she said, thinking.
"So do the opposite of that," he replied.
Modeling Camp was founded (and is still directed) by former model and U.K. native Heather Cole in Virginia in 1996, to provide girls learning opportunities she wished she'd had before moving to New York and starting her career at age 18. She now puts on camps in seven cities. Cole said girls are more interested in modeling than ever before, something she attributes to America's Next Top Model. It's changed young women's perception of modeling from a long-shot job some girls were tapped for, unsuspectingly, at Disneyland or the airport, to a career in which women could achieve with hard work and passion, like the professionals competing on Top Chef or Project Runway.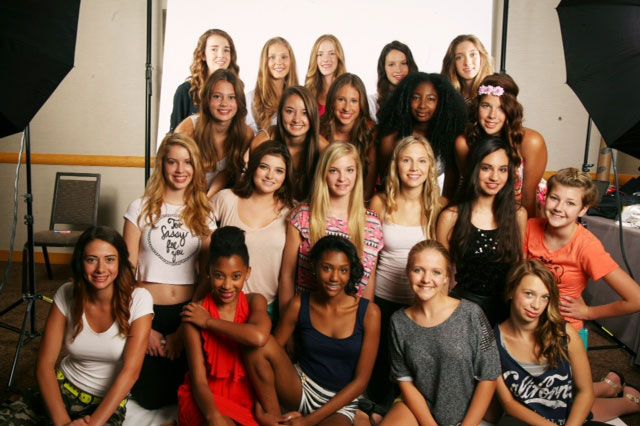 Like ANTM, Modeling Camp awards a prize based on photographs, runway walk, and a mock commercial, and puts all campers in front of casting agents from Ford, Wilhelmina, and Elite. But Cole thinks the program offers valuable lessons to young women, regardless of whether they make it in the industry, such as interview skills and self-presentation. "I always say, you can go to space camp without thinking you're going to be an astronaut," she told me.
Maybe it was just the recently acquired interview skills on display, but almost all of the girls I spoke with wanted to be professional models. Some had done some modeling already or had friends who were models. One camper candidly told me she used to have a management team, but her parents fired them because auditions weren't panning out and they'd given them a lot of money.
"I love the concept of modeling — just being in front of the camera" said another, Victoria, 15, who came to the camp because there are no modeling agencies in her hometown in Canada. "Even though I'm only five feet, taking pictures makes me feel more confident," said Natasha, 14, from Westchester. "I like glam and stuff." She wants to be a commercial print advertising model.
For many, a visit from ANTM alumna Bianca Golden was the week's unparalleled highlight. "I started crying," Natasha admitted. "I didn't look my best." Alex said Golden was an inspiration because she had pursued modeling even though "a lot of people made fun of her."
The cliché of the young girl bullied for being a dateless, gawky string bean is a standard model-origin myth by now. But girls at Modeling Camp described feeling ostracized for a different reason — wanting to be models. Fifteen-year-old Taylor's classmates in the Detroit suburbs give her a hard time for the DIY photo shoots she posts on social media. "They think it's stupid," she said. A'Nasia, 14, from Atlanta, nodded in agreement. "I don't get talked about, but I don't think it's fair," she said. "It's nice to be with girls you have something in common with." Just like space camp.