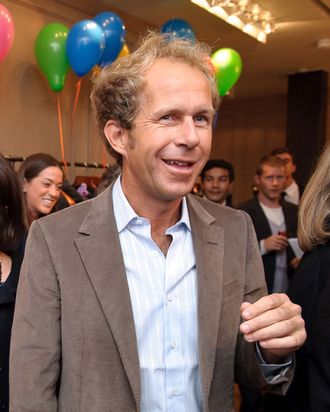 Paul Deneve.
Photo: Nick Harvey/WireImage
YSL CEO Paul Deneve, who took over in 2011 and spearheaded a monumental overhaul of the brand, including the appointment of Hedi Slimane as head designer, is leaving the fashion house for Apple. His surprising departure was announced yesterday, and the other shoe dropped last night, when Apple sent out a press release stating Deneve had been hired as vice-president of "special projects," reporting to Apple CEO Tim Cook.
It may seem like an odd move, but it isn't really: Deneve worked for Apple in Europe from 1990 to 1997 before entering the fashion industry as managing director at Courreges. And how is an Apple product all that different from a really great designer bag? They're both luxury items that look cool and should function well, but what really makes people want them is marketing and brand image, which is Deneve's obvious forte. Under his watch, YSL's revenues nearly doubled.
"Special projects" is a rather amorphous role, and murmurings around the Internet this morning suggest Deneve might help develop wearable i-Things, like an iWatch. Back in May, Cook mentioned that this was a direction Apple is exploring: "I think wearables is incredibly interesting, it could be a profound area … I see it as another very key branch of the tree." Profound. Whatever they come up with, it'll surely look cooler than Google Glass.
Deneve's position at YSL will be filled by Francesca Bellettini, who comes from Bottega Veneta and is known for her "merchandising prowess," says WWD. Both houses are owned by the same parent company, Kering, so it's not a terribly radical choice. Meanwhile, Slimane's role has been expanded to include the supervision of "all strategic projects for the brand," according to a statement. This is notable considering he already wields an unusual amount of control over the label's press and business decisions for a designer. What will an even more Hedi-centric Saint Laurent look like? And what will Deneve do with Apple? You can count on both companies to make strong moves in the near future.