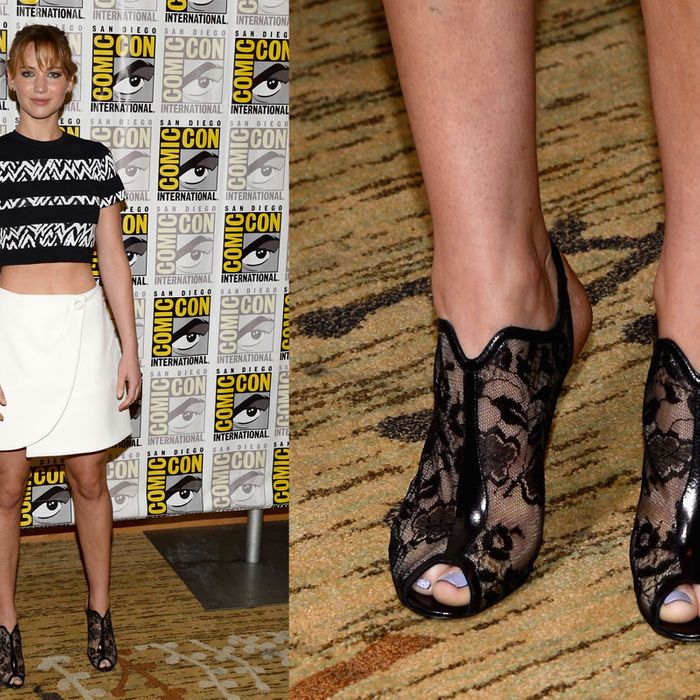 Saturday at Comic-Con, the actresses of the upcoming Hunger Games: Catching Fire movie walked the press line looking rather pretty in their own individual ways, a far cry from the cartoonish looks that would make Effie Trinket jealous. But when it came to beauty, maybe they're learning a thing or two from Cinna after all. Scroll down to see Jennifer Lawrence's pedicure, Willow Shields with a fantastic accessorized ponytail, and newcomer to the series Jena Malone's interesting, halfsie eyeliner.
Jennifer Lawrence (above): Katniss bared her midriff again, but that wasn't the only thing she revealed: Her lace Nicholas Kirkwood peep-toe shoes also show off her lavender-painted toes. From afar they appear to be a simple purple pedicure, but in fact they have a thin black outline rimming each nail (similar to this MAC look), which toughens up an otherwise ordinary pastel pedi.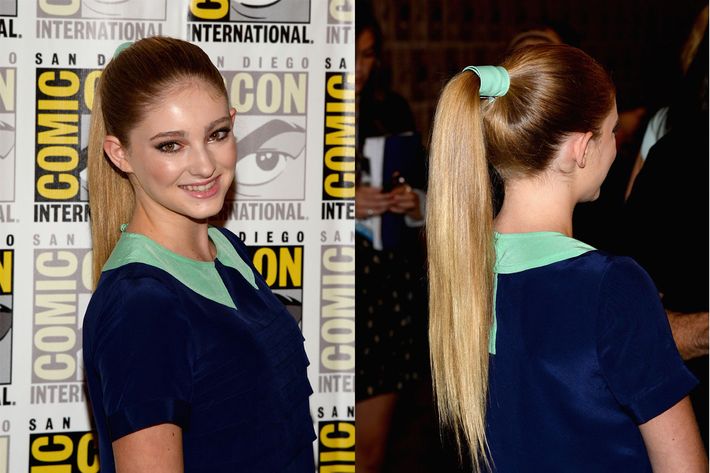 Willow Shields: A demure Peter-Pan collar is offset by her mint-green ponytail accessory (possibly used to cover up multiple extensions?), which looks like a leather-covered slap bracelet and walks the candy-coated S&M line. Anything else would've appeared too sweet, too Primrose.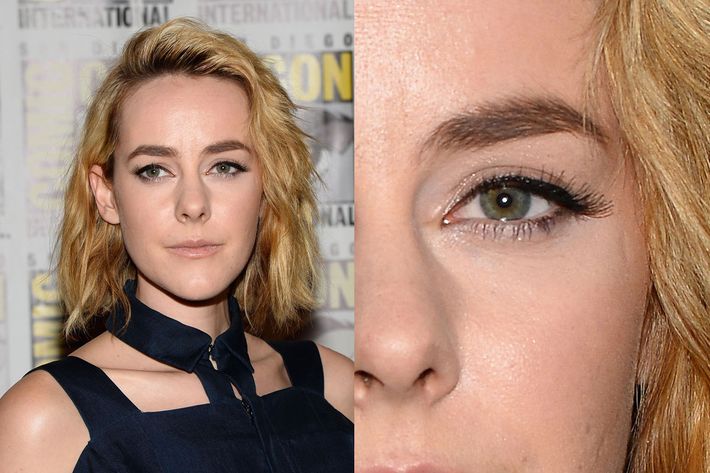 Jena Malone: With her fair skin, muted lips, and golden hair, liquid liner on top and bottom lashlines would've been too heavy, especially with her sculpted brows. Pulling the liner to the midsection of her lower lashline provides a sultry, graphic effect without overpowering her face.