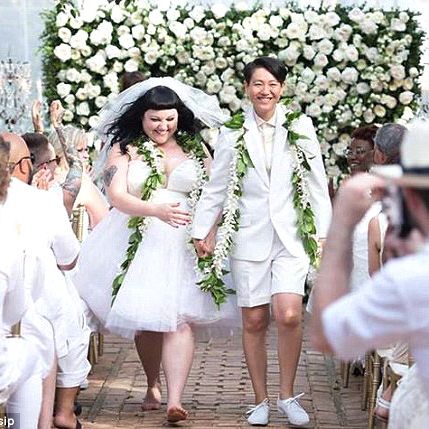 Beth Ditto and Kristin Ogata.
Photo: facebook/the gossip
Beth Ditto, a longtime friend and muse to Jean Paul Gaultier (she has performed and modeled at his runway shows), wore one of his custom-made dresses to marry her longtime girlfriend Kristin Ogata in Maui, Hawaii, over the weekend. Her band, the Gossip, posted the above photo on their Facebook page yesterday with the following message.
At long last, now that we have returned home and recovered from all the amazingness and had some time to bask in the afterglow, we are exited to share with you a pic or two from Beth and Kristin's wedding!

So much love and appreciation to all of our family and friends who celebrated with us! And a huge thank you to Jean Paul Gaultier for the dream-come-true dress!
Congrats to them both. Surely over the next few days we'll find out about even more celebrity weddings that the royal baby bumped off the tabloids' radar. Just saying, Angelina and Brad, it would've been smart timing.