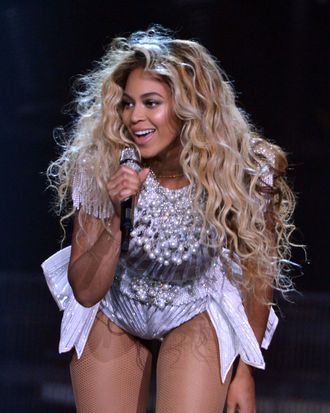 Photo: Larry Busacca/PW/Getty Images
Last night on tour, as she was crooning the lyrics to "Halo," Queen B's weave got pulled into a stage fan. This has got to be every hair-flipping performer's worst nightmare. But she kept on singing while nearby concertgoers tried to caress free her locks. Not one to be embarrassed, Mrs. Carter reclaimed the moment by uploading an Instagram video.
Later on, she posted a photo with some new lyrics for "Halo" in light of the incident. She took it one step further by adding extra letters to the words that need to be drawn out while singing, which is Beyoncé's version of texts with words like thissss.