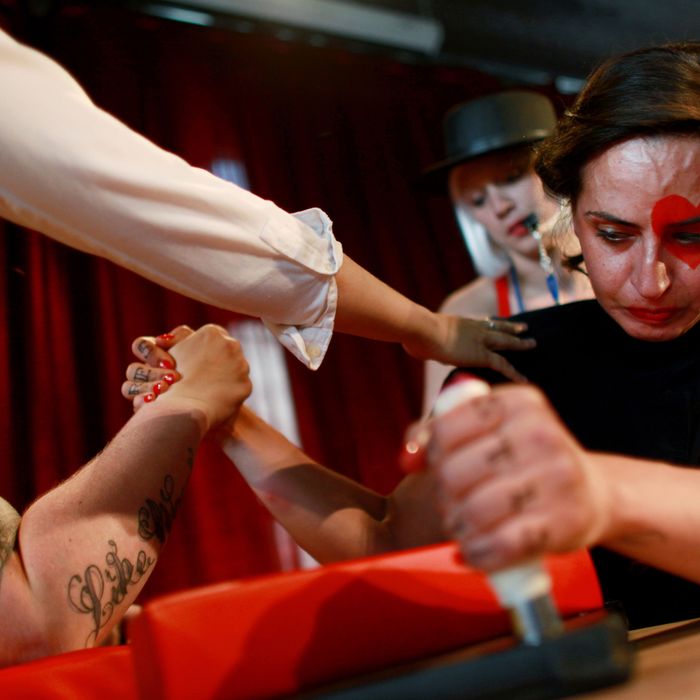 The all-women arm-wrestling collective in Brooklyn hardly has time for luncheons. That's because the group of DIY-happy, sport-obsessed ladies love to brawl, for up to seven hours at a time. Sure, arm wrestling may be novel in terms of athletics, less "typically male" than "typically school-aged" in demographic. But since 2011, the 5Borough Ladies Arm Wrestling League — part of a international chapter of arm wrestlers that extends from Charlottesville, Virginia, to Sao Paulo, Brazil — has given women a space to flex their biceps. Competitions pit eight women against each other in rounds of full-contact, strength-testing matches. In the past, arms have been broken.
"It's about allowing women to exercise strength in a way that's usually frowned upon," says Alie Cirgenski, the organizer of the most recent all-day competition at Bushwick's Third Ward. It's not an organization based on violence, she adds, but a social and theatrical space where members form a sense of a camaraderie while (very physically) working out the challenges of being a woman.
In person, it's part competition, part burlesque show — with a dash of lucha libre absurdity. Even more important than brute strength, the biggest attractions are the high-camp alter egos of the 5Blaw wrestlers, along with their handmade costumes and names like "Rosie the Reamer" or "Killah Bee." Each woman gathers her own excited entourages to gin-up bets from attendees, and all winnings go to charities. Recently, the Cut sent photographer Yana Paskova to shoot a tournament, so click through to see what it takes to win (persistence, a mean grip, and a nasty stink eye, it turns out.)
Sarah "Sickfried and Royal Beatdown" Hymanson  
Introducing herself before round one, Hymanson chose "Sickfried and Royal Beatdown" as her persona. As she walks out to a mash-up of Kelly Clarkson and twisted circus music, she explains how Siegfried and Roy escaped to a castle, became one person, and came back to dominate ladies' arm-wrestling brawls. Tiger included.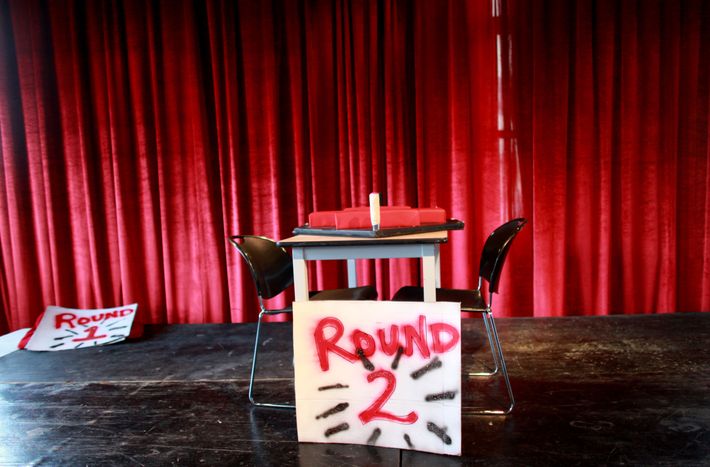 On a Stage
The brawl pits eight wrestlers against one another in three elimination rounds over seven hours at Brooklyn's Third Ward. Spectators bet on which wrestler seems more powerful.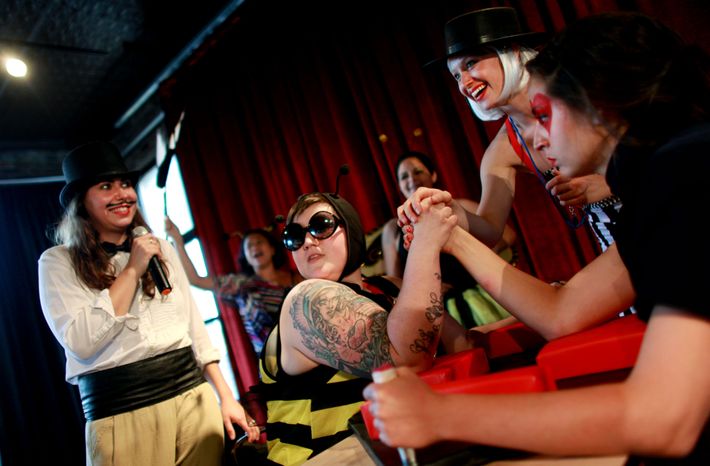 Brandi "Killah Bee" Wagner and Roni "Marina Abreakabitch" Ginach  
Host and emcee Alie Cirgenski preps Wagner and Ginach for their first match. How did you get involved with 5 Borough Ladies Arm Wrestling? " I am pretty strong and I've never been able to flex my muscles like that!" Wagner explains. "I don't lift weights or anything, but I'm a big girl who is a janitor so I am constantly lifting heavy bags of garbage and moving big pieces of furniture with my co-workers."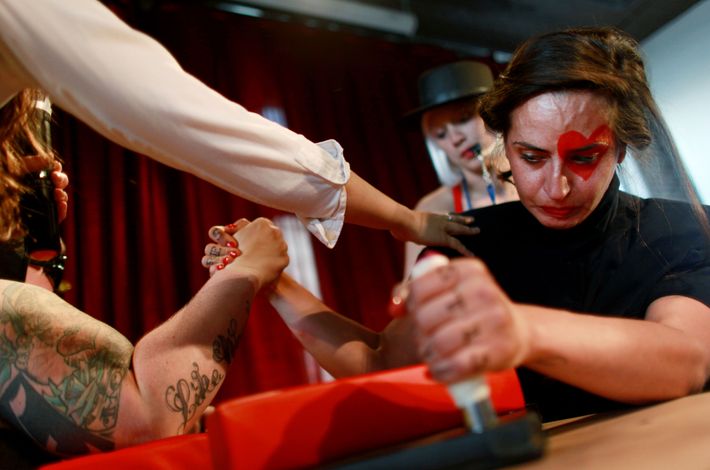 Marina Abreakabitch
What's your secret technique? "No secret," she explains. "Brute strength. Determination. Getting a good stink eye down and some leverage don't hurt, either."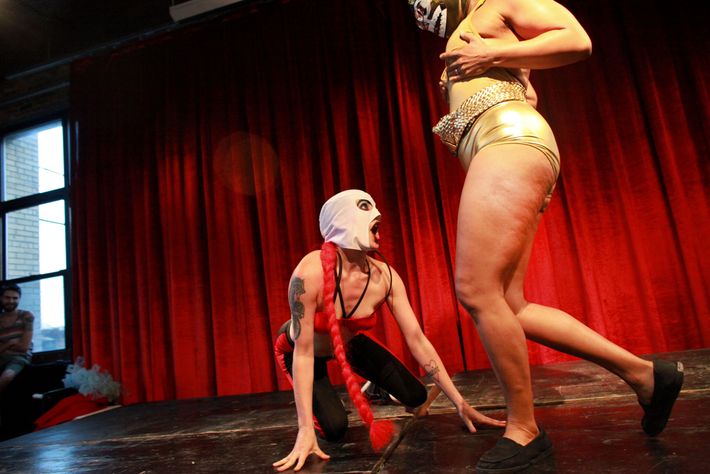 Mid-Round Entertainment
A group known as the Fly Girls performs during downtime in between the matches.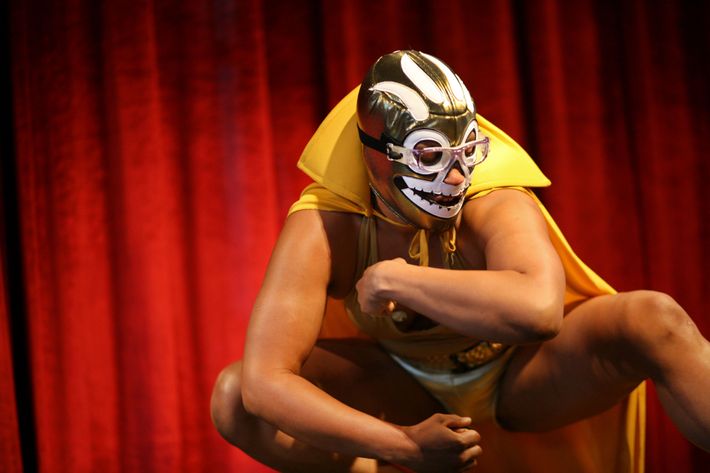 The Fly Girls Keep on Dancing 
"I don't know actually what the piece is about. I have to be honest. I think it's interpretive," says host and organizer Cirgenski of their routine.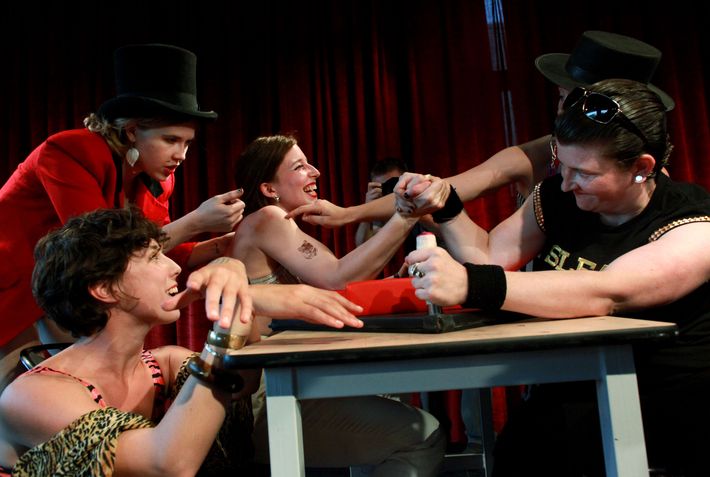 Resurrection Round
Ali "Sleaze Lightning" May bribes the audience for a second chance at victory.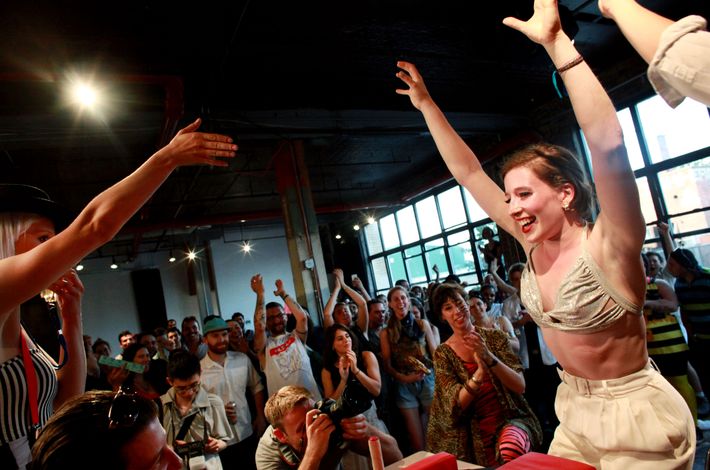 … to No Avail
After three tough rounds against the Sleaze, Sickfriend and Royal Beatdown moves onto the finals.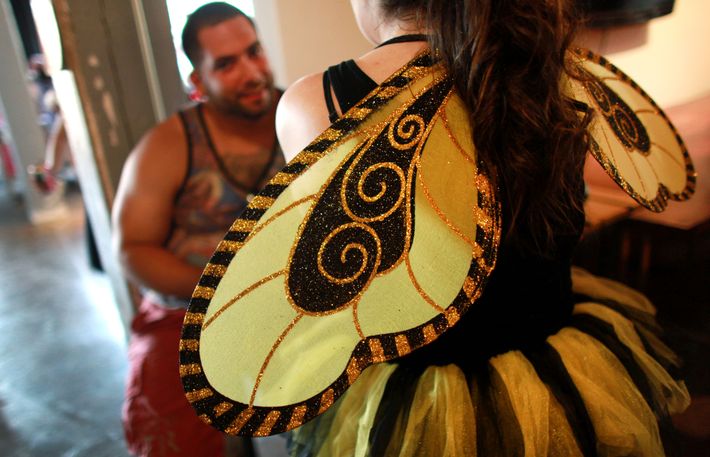 Member of the Hive
Nicole Torquato, part of Killah Bee's entourage, works the crowd to drum up bets for her wrestler.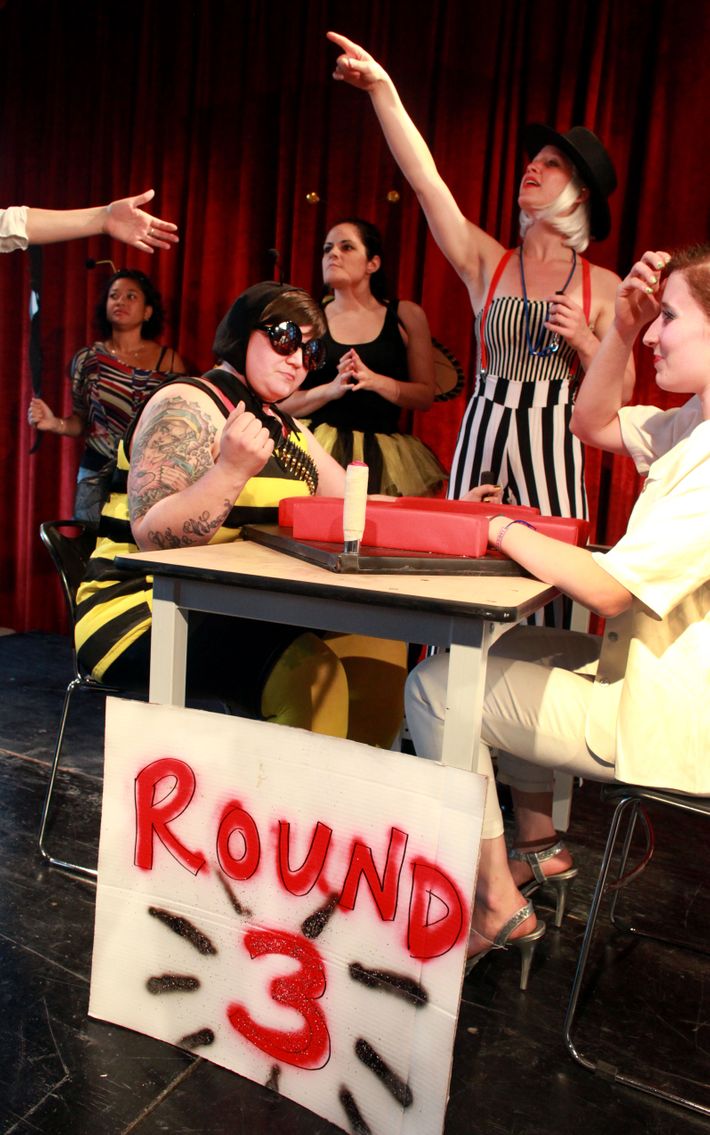 The Final Round
After wiping the floor with Sickfried and Royal Beatdown, Killah Bee goes home with a trophy of sunflowers.