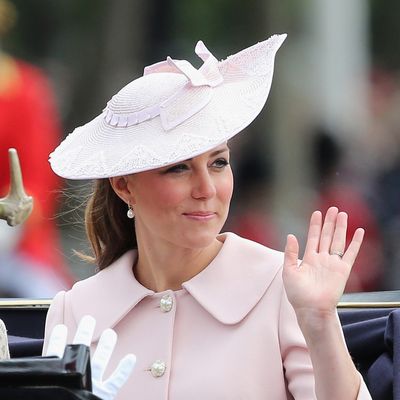 Kate Middleton.
Photo: Chris Jackson/Getty Images
Exciting tweets from London: a helicopter has reportedly been dispatched from the Middleton home in Bucklebury, where Kate has been spending the final days of her pregnancy. Meanwhile, a bunch of additional police cars have arrived at the Lindo Wing of St. Mary's Hospital, where Kate plans to give birth. IS THE ROYAL BIRTH NIGH? We'll keep you posted as the situation develops.
Update: There are conflicting reports about Kate's mode of transportation. Some say she's hospital-bound in a helicopter, while others say she and Will are en route in a car.
Update 2: There are no updates. No one seems to know where Kate is, and no one recognizable has arrived at the hospital, despite Kate's reported departure from her parents' house two hours ago. Perhaps this was a false alarm. Or… MAYBE SHE HAS DISAPPEARED.
Update 3: It's now unclear whether Kate ever left her parents' house to begin with. Police are reportedly still patrolling her parents' neighborhood, and it may be that false rumors were started by British tabloid the Sun, who also sent Kate and Will lookalikes into the hospital earlier today as a prank. Apparently we have a false alarm on our hands.