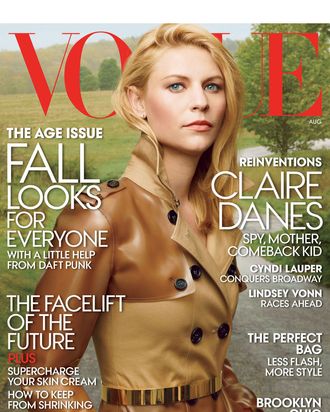 Claire Danes is on the cover of August Vogue, posing for Annie Leibovitz as a gussied-up version of her Homeland character. (Carrie Mathison looks great in Victoria Beckham.) The accompanying article, written by Elizabeth Rubin, contains a master class on getting over your teenage tormentors. Rubin writes:
She'd changed junior high schools three times because of bullying "mean girls." Then she and her mom decided to stop switching around, and she never returned to school. Danes and Morena Baccarin, who plays Sergeant Brody's wife, Jessica, on Homeland, both went to NYC Lab School for Collaborative Studies and have since spent hours off set talking about the same scary girl, also an actress. "She's actually still in the business," says Danes.

Yale was the antidote. She cultivated a group of friends. "I was in heaven," she says. They are now part of a collage drawn from Danes's various lives. […] Danes, say her friends, is a connector, always expanding her close circle. She and her girlfriends have improvised a book group — they pitch books, talk about them, create a library, borrow, gossip, and drink wine. (Recently up for discussion were Anne Enright's Making Babies: Stumbling into Motherhood and Danes's friend Michael Cunningham's By Nightfall.) "There's a lawyer, a therapist, an architect, flaky actresses who come three times a year because they're always somewhere else, a doctor. My friends say, 'We have everyone needed to make a really great nonprofit.' Oh, and we have a publicist!"
In other words:
1. Remove yourself from the situation.
2. Cultivate friends and a milieu you actually like.
3. Bond. Reminiscing about teen woes may even help this process. Morena Baccarin concurs: "We were in the same homeroom … I remember she had orange hair or pink hair at one point, after she'd got back from doing [the] 'My So-Called Life' pilot and we're just bonding over the fact that we had the same bully."
4. Book clubs and wine work, too.
5. Once you're mega-successful and impossibly over it, feel free to wink at your former tormentor in the occasional Vogue interview. No need to call out your teen bullies by name; you don't need that drama. But come on, you've got to celebrate your progress somehow.