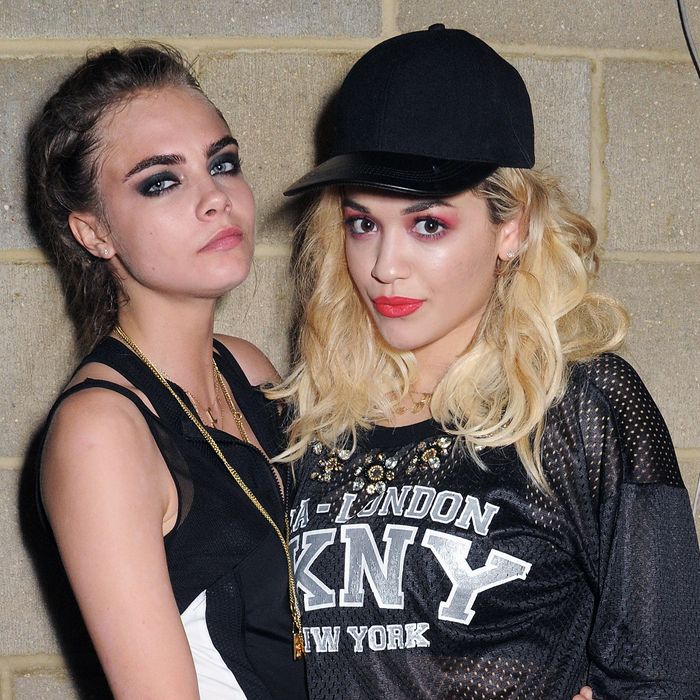 Photo: Dave M. Benett/Getty Images
It seems the supposed "wifey-ship" between Rita Ora and Cara Delevingne has ended in as spectacular a fashion as it began. It's been a whirlwind romance. For over a year, the two have been regular guest stars on each other's Instagrams: Delevingne appeared in Ora's "Facemelt" music video and wore this shirt proudly proclaiming her status as Ora's wifey — which is basically like wearing a varsity jacket, but cooler. Last month, after Delevingne stormed the stage and started grinding Ora during a performance at a DKNY event, Ora's advisers reportedly recommend she distance herself from the model. (Though, as the face of DKNY's fall campaign, one could argue that the mike was Delevingne's to bogart.) Luckily, the two never got friendship tattoos. 
While the Hollywood Gossip reports both Ora and Delevingne are nursing hurt feelings, social media says otherwise. Both women have already found replacement doppelgänger wifeys. Ora posted an Instagram with her new fashion-world wife Stella McCartney at Glastonbury. The Daily Mail has photos of Delevingne on a yacht with Ora look-alike and rumored nemesis Rihanna. The new friends are even planning for a little R&R in Rihanna's home of Barbados, says the Mail. Sounds like it's getting pretty serious.