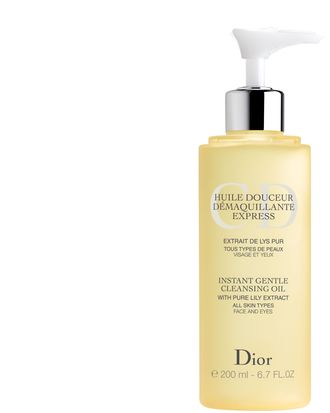 All cleansing oils require a two-step process. First, you slather the transparent liquid all over your dry face, then you wet your hands and wash the stuff off, taking care to spend extra time gently rubbing the eye area to remove stubborn makeup. However, the beauty of an oil-based formula is that it breaks down grease and dirt, so there's no need to reach for your makeup remover prior to cleansing. Dior's new Instant Gentle Cleansing Oil does all of the above, plus it smells positively divine, owing to the lily extract inside.
But don't worry: This cleanser is not overly perfumed. It smells like a freshly laundered sheet that was left out to air in an open meadow (not that I've ever done this, but the idea is nice). The scent lasts for a fleeting moment and then vanishes with water. Honestly, if Dior decided to turn this delicate lily fragrance into an actual perfume oil for purchase, I'd buy vats of it.
The consistency of the cleanser is a bit thinner and more liquid than most, meaning that one pump can go the distance on your face. It'll slip over your complexion nicely, without too much friction, and emulsifies into a milky formula with water. Then it washes off clean, taking away all traces of eye makeup and foundation. Your skin is left feeling soft, fresh (not dry), and without a trace of oily residue.