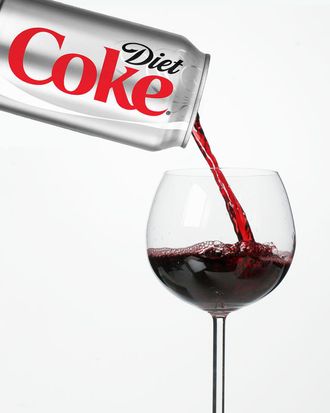 Exciting news on the Crazy Diet Coke Girl beat: A French winemaker is introducing a cola-flavored wine. Rouge Sucette, which translates to "Red Lollipop," is "75 percent wine with the balance in sugar, water, and cola flavoring. It's about 9 percent ABV, is best drunk straight out of the fridge, and will be rolled out across France next month."
So yes, technically this wine is more like Coca-Cola than Diet Coke, but c'mon, the only people crazy enough to drink this are Crazy Diet Coke Girls. For when we want something more robust than SkinnyGirl White Wine Blend, but not as intense as Diet Coke with vodka.
France's wine industry is struggling to capture a younger generation "more attracted to beer and spirits," The Los Angeles Times explains. In her bold defense of Rouge Sucette, Telegraph wine critic Victoria Moore notes that flavored wine "is something the French have already embraced":
Last summer in Arcachon, a friend pointed out the grapefruit-flavoured rosés, somewhere between wine and fruit juice, looking mouth-watering on the supermarket shelves. You can also buy passion-fruit flavoured white wines; in France they drank 15 million bottles of flavoured wine last year, and that figure is expected to double in 2013.
"After all," Moore adds, "we already sanction the addition of flavour to wine — in the form of oak." So shut up about our ketchup, you tacky French people, and hand over the Rouge Sucette. American sorority girls are ready to get wasted.
Update: The Cut's friends at Grub Street point out that a cola-wine hybrid already exists: "Kalimotxo, also known as cocavino, is a drink consisting of equal parts red wine and cola-based soft drink. Although recently developed, it has become an icon of Basque culture," says Wikipedia. And it's actually made with Coca-Cola, which means Diet Kalimotxo is a real possibility.