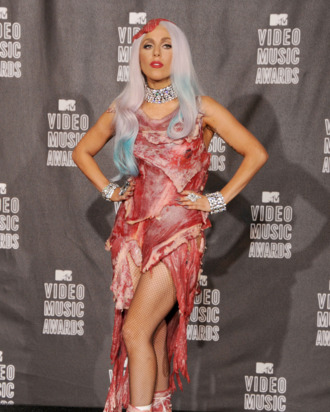 After more than a year of living under some egg-shaped rock, Lady Gaga finally emerged today to reveal when she'll make her grand return to our lives with a new album. November 11 is the official release date for ARTPOP and its accompanying app, which will combine music, art, fashion, and a social media experience, which the singer says will bring "ARTculture into Pop in a reverse Warholian expedition." (Because who doesn't want to watch a music video and play pin the ham hock on the Gaga while he waits for the subway?)
But what it really means is that starting August 19 when the album's first single is released, and well past what she's calling her "BIG BANG!" on November 11, Gaga will be out and about promoting her new work in a lot of interesting, and what we can only hope will be themed, getups. Since the album is all about her passage "through the mediums of each mediums of each artist she collaborates with," we can only assume we're going to see some Inez & Vinoodh, Jeff Koons, and Marina Abramović-inspired outfits. Will she bring back the whole three-headed Gaga thing? Will she dress as a human balloon dog? Or will she go with her over-arching theme and just show up as a different color-blocked Marilyn Monroe for each appearance?
To tide you over until her latest rebirth, check out some of the more outrageous outfits Lady Gaga has worn so far.