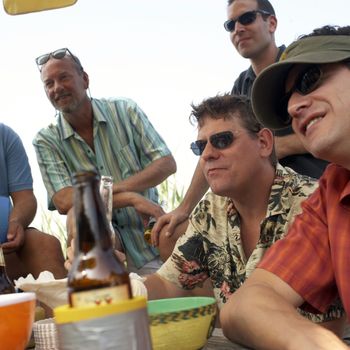 One of my big complaints about the existing literature on so-called "hookup culture" — including last weekend's New York Times article — is that it excludes men entirely. Men never write articles or books on the topic, and they're not interviewed for them either. They are only described anecdotally as the coldhearted exploiters of a system designed to keep women slutty and sad. Like the guy one woman from the Times story had "been making out with … not sure how far she wanted to go," until he stood up and said, "Get down on your knees." Our heroine acquiesces, figuring "it will be over soon enough." I'd love to know how her male peers feel about that exchange, but for now I'm settling for what a father of three girls, education-reform blogger, and Kase Capital hedge-fund manager Whitney Tilson (not pictured) has to say. He thinks girls who get drunk and/or hook up are "massively stupid" and he spelled out a five-point action plan for his daughters on his blog.
I certainly hope that my daughters would never spend a second with a guy who would ever dare say "get down on your knees" — but if that happened, they would:

a) walk away
b) better yet, punch him in the mouth and walk away
c) better yet, kick him in the balls and walk away
d) better yet, pretend to go along with it, but when he pulls it out, squint, laugh, and walk away
e) better yet, bite it!

Lastly, after doing any of a-e, come home and tell me his name so I can buy my first gun and … well, you get the idea! ;-)

It's good to see that at least some women have some good sense — and very interesting that it's more likely to be those from "modest" (i.e., low income) backgrounds
Tilson tells the Post that the feedback he's received has been mostly "parents agreeing with my reaction" to the Times story.