To Discuss: Jennifer Lawrence's Dior Skirt-Pants
Today, two of Dior's biggest celebrity guests, Leelee Sobieski and Jennifer Lawrence, arrived at the label's couture show in asymmetrical-legged half-skirts, half-pants. On the left side, they resemble practical tapered trousers, but on the right they had all the swishy drama of a big ball gown. Both are from Raf Simons's latest resort collection.
So, it's official — asymmetrical-legged pants are really happening now. Like all of the best trends, this one had an inauspicious beginning: Miley Cyrus debuted a pair of half-jeans, half-sweatpants at a red-carpet event for MySpace, of all things. Her "jweats," as they have been named, were made by British designer Ashish Gupta, who also made this mesmerizing sequined jumpsuit.
But back to Dior: Jennifer Lawrence got the splashier of the two skirt-pants, which she wore with a colorful crop-top and her new blonde haircut. Her left pant leg had a patterned stripe at the seam, which matched a similar design in her shirt. She looked like a rainbow with a belly button at the end instead of a pot of gold.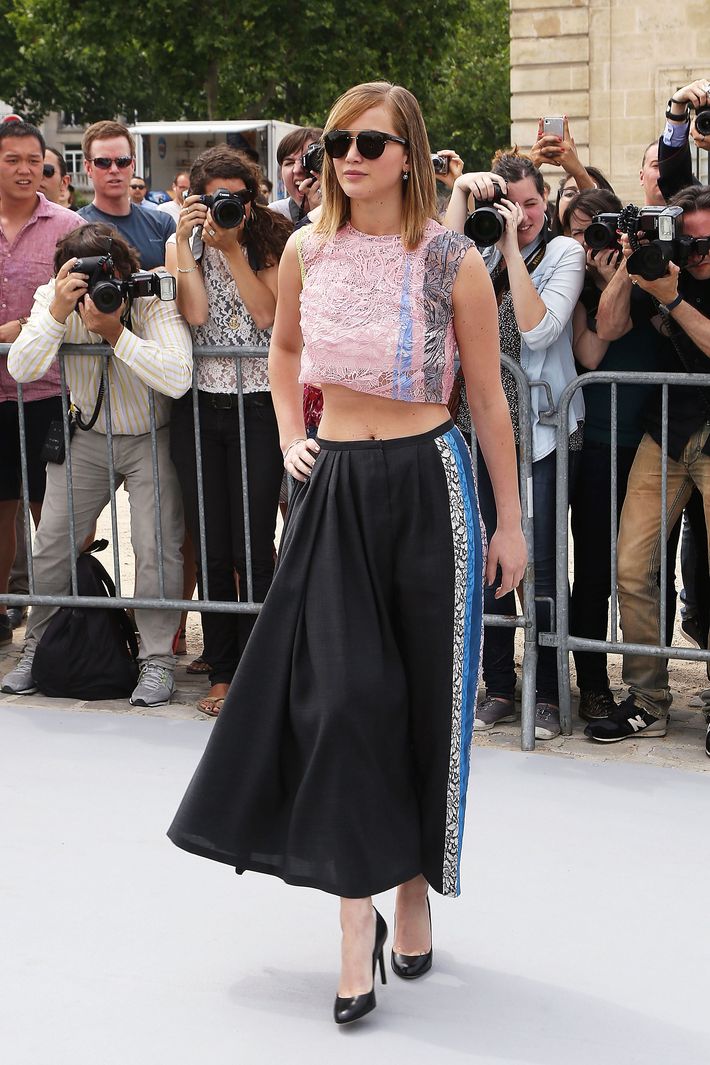 The side-stripe provided more fun photo ops when she was sitting down with her legs crossed.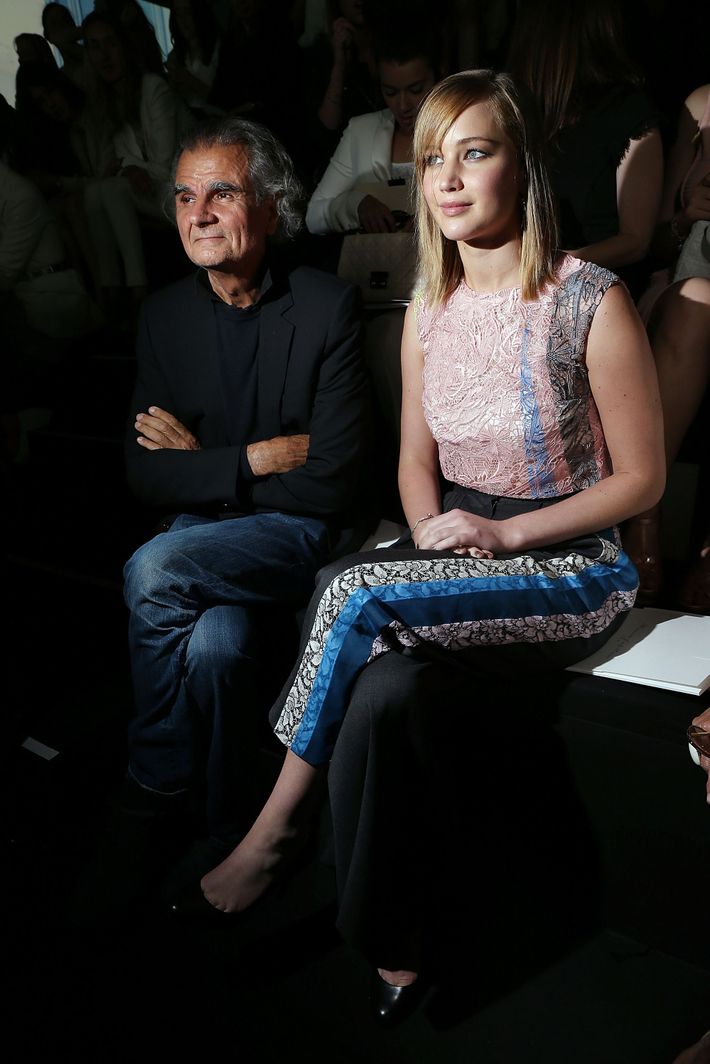 Meanwhile, Leelee Sobieski's pant-skirt-jumpsuit was more somber, consisting of tailored navy wool with short sleeves and nice pockets — always a plus for awkward red-carpet situations where you've no idea what to do with your hands.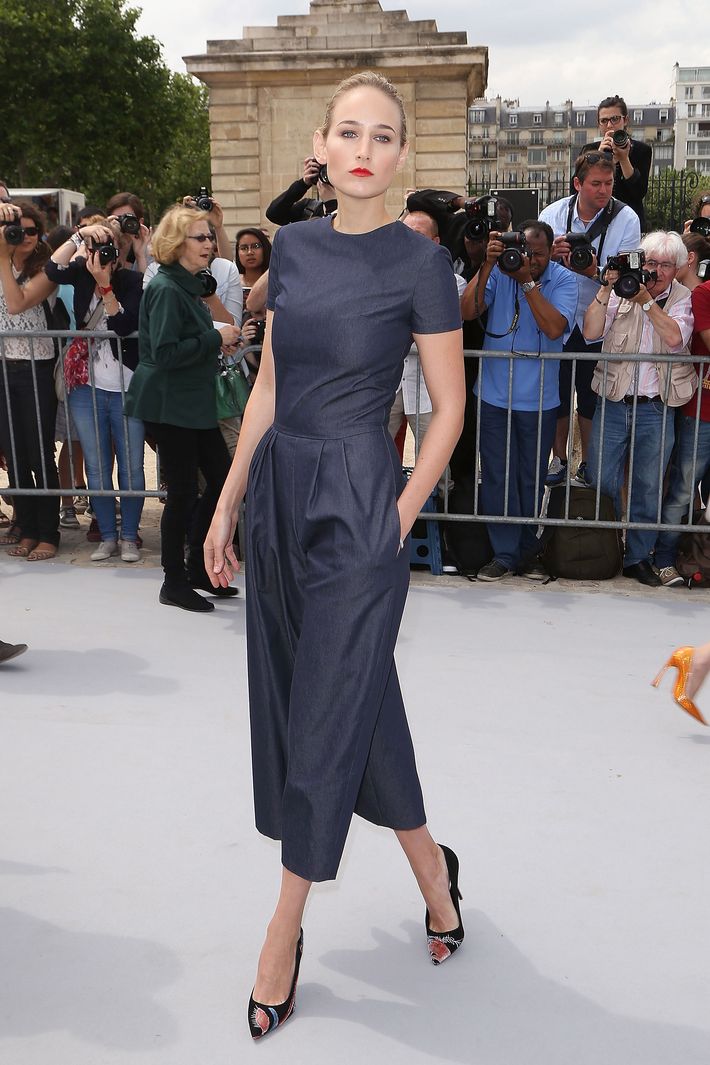 As her outfit was quite spare, aside from its unusual silhouette, she wore fun Dior shoes with little patterns on the toes. She also demonstrated another advantage of flowy skirt-pants: the ability to do a matador-type swirl with one's right leg.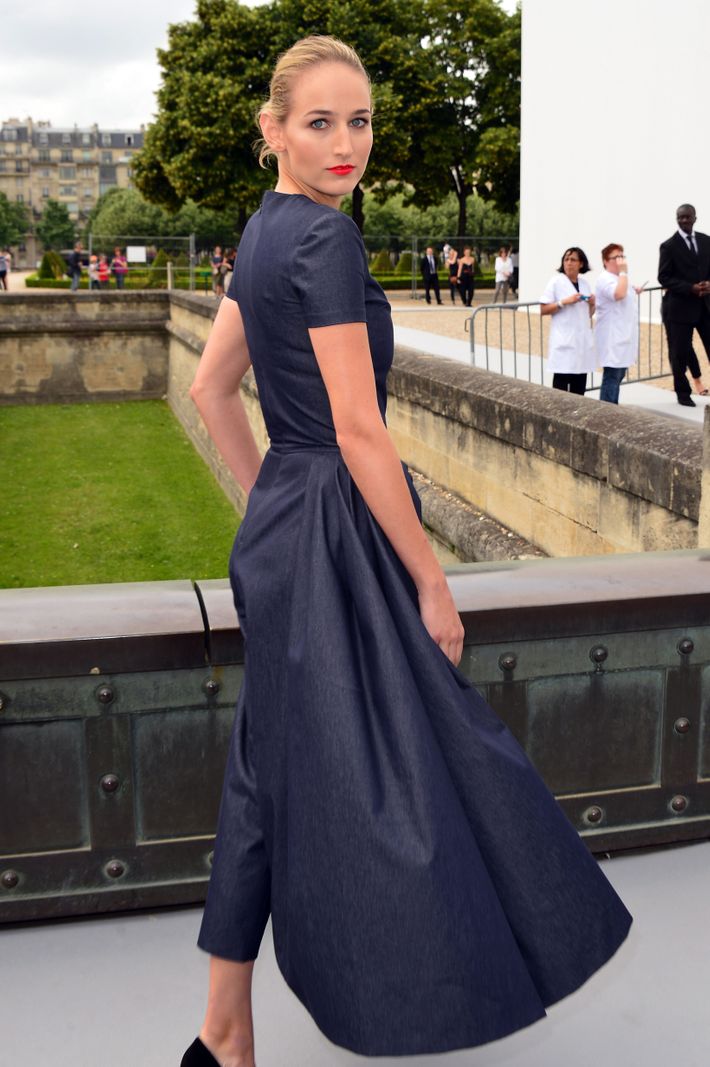 Will one-legged skirts be the one-shoulder dresses of 2013? There are several advantages to this trend that we can think of. Like only shaving one leg or only pedicuring one foot (if the skirt-y side is long, that is). Hopefully this is just the beginning.