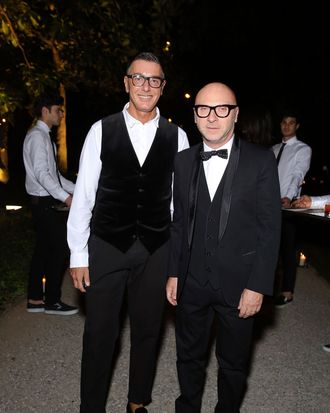 Photo: Victor Boyko/Getty Images
Stefano Gabbana and Domenico Dolce have just shown us all that some tax evaders live in a world of nonstop flair and unanticipated drama, just like their most recent runway show. According to Reuters, the partners in crime (and fashion) shut down their nine shops in Milan on Friday, with the words "Closed for Indignation" plastered onto the stores' windows. After being charged with tax evasion last month, the duo is working on appealing those convictions.
Their reasoning for the sudden albeit temporary closures: "We are no longer willing to suffer undeservedly the accusations of the financial police and the income revenue authority, attacks from public ministers and the media pillory we have already been subjected to for years," they said in a statement. And just like that, they've created their own moment of silence. But only for three days, mind you, because business shouldn't suffer too much.