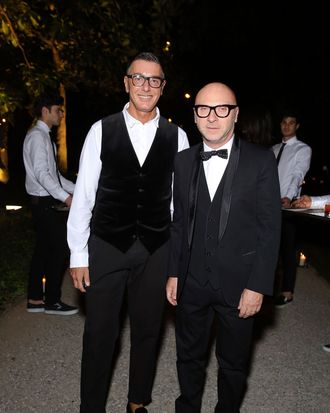 Dolce & Gabbana.
Photo: Victor Boyko/Getty Images
Dolce & Gabbana's tax-evasion trial is currently in limbo. Their lawyers are appealing the court's sentence, which requires the designers to pay €343 million, but no progress has been made yet. Meanwhile, Milan's mayor ordered the designers to close their nine boutiques around the city because of their crimes. And just a few days ago, Peter Fonda sued them for printing his face on T-shirts without his permission. In short, the label has seen better days, and now the designers are even threatening closure. According to the Telegraph, the fines will destroy them entirely:
"We will close," said Dolce. "What do you want us to do? We will close. We will not be able to deal with it. (It's) impossible."

"If we deserved the sentence, there would be nothing to say," added Gabbana. "But we do not deserve it, and so unfortunately we would have to close."
The legitimacy of this threat is tough to gauge. The company is privately owned, so there's no way to tell how financially strapped it is. But while the Italian government might be making an example out of the label as a warning against other high-profile tax-shirkers, it's not in anyone's best interest for Dolce & Gabbana to go belly-up. The designers are still significant taxpayers, no matter how much they've squirmed out of paying.
Gabbana added:
We are not going to give in to being crucified like thieves, because we are not… How could we accept being branded tax evaders? We are good people, we live in Italy and we pay taxes in Italy. We don't pretend to live abroad.
But what's this in today's Post about the pair shopping for a $60 million apartment in New York's Mark Hotel? Maybe they're already making retirement plans.