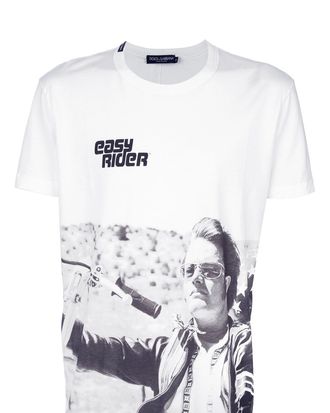 Thanks to the Italian court system's long summer break, Dolce & Gabbana haven't even finished appealing their tax evasion sentence yet, but their lawyers already have to contend with yet another case: Peter Fonda has sued the designers for using film stills from his 1969 movie Easy Rider on a $295 T-shirt ($295!) without his permission. Nordstrom, who sold the shirts, is also named in the suit. From WWD:
As a result of the manufacture and sale of these Ts, Fonda alleges in the suit that he has "suffered injuries to his peace, happiness, feelings, goodwill, reputation, image, loss of fair market value of his services, and dilution of his current and future publicity value." 
Did people learn nothing from the Carla Bruni vs. Pardon debacle, or Hailey Clauson vs. Urban Outfitters, or Rihanna vs. Topshop? Fonda seeks compensatory damages of $6 million; meanwhile, both Nordstrom and Dolce & Gabbana have pulled the offending T-shirts, although you can still find them on other retail websites (at a 50 percent discount, no less).