The Ecstatic Scene From Alexander Wang's Surprise Clothing Giveaway
Press was not allowed any special access to Alexander Wang's "Undisclosed Special Event" at two in the afternoon on Saturday. But that was the genius of it — a surprise free-for-all of T by Alexander Wang clothing for the first 150 people in line. It was squarely not intended for the jaded fashion tribe that flees for Montauk come summertime. The winners were those who were enthusiastic, resilient, and game enough to stake out 15th Street on a sweltering summer Saturday. No eye rolling allowed.
My friend and I arrived after lunch to find a line of the youngest and most diverse people I have ever seen at a fashion event. Flat sandals, statement Nikes, mesh panels, and cat-eye sunglasses seemed to be the only unifying themes. We stationed ourselves at the end of the line close to 1 p.m., where we were soon followed by a pair who exchanged declarations like, "Nina Garcia's assistant lives in my building," and "Stefano Tonchi from W magazine hates bloggers."
That was hours after freelance publicist Michael Shane, who was the first person in line, had arrived on the scene at 7 a.m. "I got here before even the PR people were here," he said, hiding tired eyes behind dark sunglasses. "They were like, 'If you want to go to Starbucks, for like, an hour and a half, come back, like, 8:30-9.'" Michael said when he was allowed to return to his spot at 9:10, there were already twenty people in line.
A moment after we met Michael, a black-shirted official followed by a cameraman appeared. "All right guys, listen up, please," the official shouted. "So, what's happening is that you're anticipating going inside. You don't know what's inside. We need to show everybody with anticipation. No cheering. Just anticipation. That's the shot." The crowd easily followed this direction, since no one knew what was inside and everyone actually was waiting with anticipation.
Michael said the shoot had been going on for an hour or so, and that Alexander Wang himself had arrived just moments before. "But no one else seemed to recognize him except me," he said. "I shouted his name and then people noticed him. He came inside and then he turned around and was like, 'Is everyone excited?' and you know, we cheered and then he went inside."
Back at our end of the line, the crowd was starting to wilt in the humidity. One man predicted Diplo would be spinning inside, and we would all be in a music video. Another anticipated a scavenger hunt — or a "sample-sale-slash-fashion-show." Shortly after a guy in a floral Supreme bucket hat and camouflage Nikes finished a joint he'd been savoring, the line advanced about ten steps. Then, an official voice yelled they'd reached capacity. When I ran up to investigate, Tanja Ruhnke, who does press for Alexander Wang, told me again this wasn't a press event, I wouldn't be allowed inside, and people would soon be leaving through the 14th Street exit.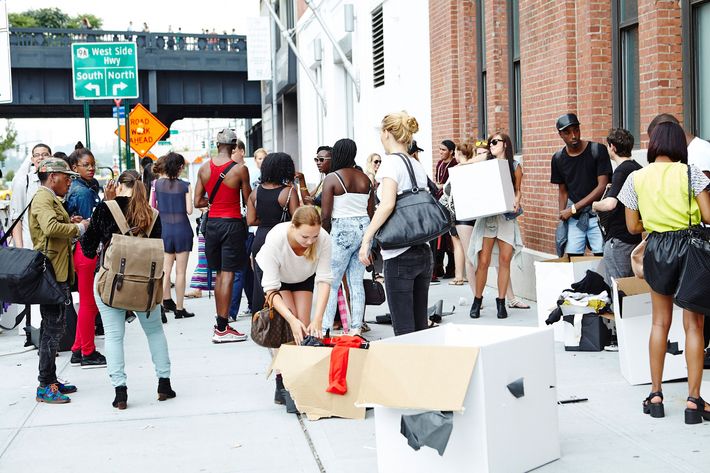 As soon as we turned the corner onto 14th, we ran into two young women hugging armfuls of clothing on hangers. They were Bridget Jarecki and Miranda Fogel, summer interns at Harper's Bazaar. Bridget appeared to be crying into her cell phone, so Miranda told us what went down. "We stood in line from like, eleven to two, and they let the first 100 or so people inside a room and we were waiting. They showed this video of Alexander Wang and he was like: 'I hope you enjoy everything in the next room. It's part of a sample sale, and it's all free.' So, then they opened the doors and everyone pushed through. It was like a herd of people and it was racks of clothes on one side of the room, and boxes and stuff with merchandise in the middle, and it was chaotic, obviously. Everyone was just grabbing things. There were, like, racks falling down. I literally just grabbed whatever I could find. People were pushing and shoving and kicking over boxes to see what was underneath, until the racks were empty. It lasted all of about five minutes — maybe, at that."
Bridget, now off the phone, was trembling. "I just told my dad I experienced ecstasy for the first time and he thought I took the drug!" She explained. "I was like, no. Not the actual drug. I almost died getting trampled on. I was really scared. My dad didn't even care. He's like, 'Cool.'"
Near the curb, Brooke Helmer, an assistant at a hedge fund, and Brendan Montima, a PR associate, hovered around a dilapidated white cardboard box with hangers and garments sticking out of the top. The pair said they met in line, and agreed to be a team. (Brooke's roommate works for Wang, and said to bring shopping bags.) "They opened the doors and everyone ran in," Brooke said. "Then boxes were thrown in the middle and people opened them. I think everyone thought there was something in them, like shoes or bags, but they were empty, so that's where we put all of our clothes."
A small swap meet had now formed by the event's exit. A 14-year-old Park Slope resident named Noah, who said he'd been a Wang fan "since I was born," was lobbying for a tweedy zip-up hoody that had been nabbed by Travis, a leather-capped Alexander Wang intern. Omar Abreu, a 17-year-old high-school student, approached in hopes of trading multiples of the same shirtdress.
"I thought I was taking all the men's stuff," said Omar. "But then I checked, and it was all white tags, which means it was women's. I didn't know, because I'm new to this whole fashion thing." He didn't seem that bummed. He had come to the event alone, and made a few friends in line with whom he planned to stay in touch with via Instagram. "I think that was honestly one of the best parts, just meeting people," he said. Plus, he had plans for his women's swag. "At least my sister can go back to college with a whole bunch of Alexander Wang."