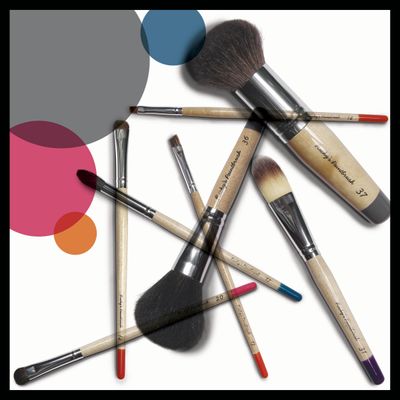 Ricky Kenig, founder of New York City's ubiquitous Ricky's beauty stores, just introduced a collection of twenty makeup brushes. That seems like a lot — only really necessary if you're a makeup artist with hundreds of products in tow. Mere mortals don't need that many brushes. So Kenig went around town and asked all of his makeup-artist friends to select the brush they would never leave home without. Out of his collecton of twenty, here are the eight brushes they regularly reach for, so you can start a collection of your own.

No. 12  Blending ($10): A great blending brush will help you buff out and disperse eye shadow that's gone awry. Particularly useful when creating smoky eyes. 
No. 13 Angled Brow ($10): Not everyone is born with Cara Delevingne–esque brows. But they can be mimicked with a great brow filler-inner and brush. 
No. 14 Angled Liner ($10): Use this thin-tipped brush in gel or wet-dry shadow for precise eyeliner application. If you're in a hurry, the angled brow brush will quicken the application process.
No. 17 Eyeshadow Crease ($10): A overly dome-shaped brush will create an exaggerated shadowed effect that suggests a socked-in-the face look. Instead, this perfectly narrow brush fits right in your lid's defining crease.
No. 20 Paddle Shadow ($10): Use this daily to sweep on a base layer of shadow. One swoop will lightly dust your entire lid.
No. 31 Flat Paddle Foundation ($12): Some people like using their hands to apply foundation; for a really perfected look, opt for a brush, especially when targeting the under-eye region.
No. 36 Large Powder ($16): With bristles that are a little more densely packed than the No. 37 brush, this one is perfect for more concentrated application of loose powders, like bronzer or blush.
No. 37 Rounded Powder ($24): The loosely bounded bristles in this brush make it optimal for finishing powder touches and sweeping away excess makeup without removing too much of your careful work. Denser brushes pick up and impart more product, but lift away preexisting makeup, too.