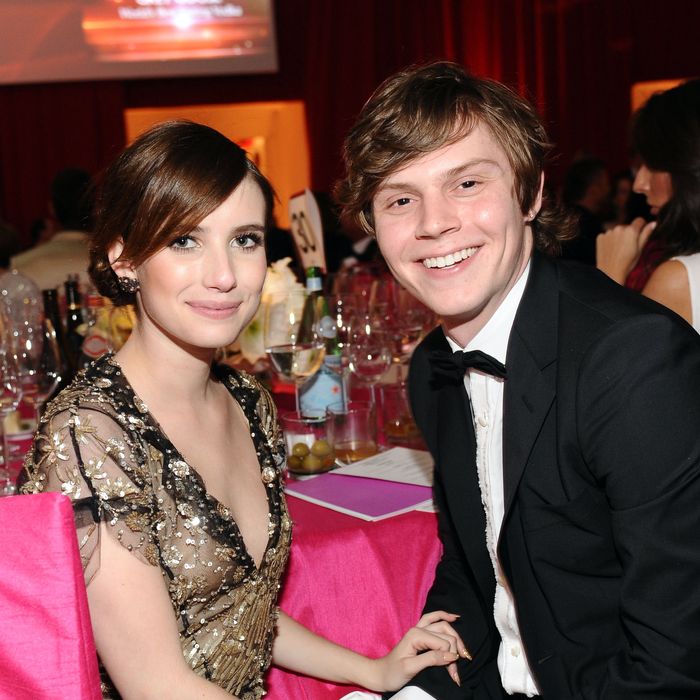 Photo: Stefanie Keenan/Getty Images
Emma Roberts, Nancy Drew star and 22-year-old niece of Julia Roberts, was arrested last week after a hotel-room brawl that left her American Horror Story actor boyfriend, Evan Peters, bleeding from the face. Are we going to talk about female-on-male domestic violence now? Or is something else going on?
The duo were staying at a hotel in Montreal last week when someone reported a fight in their room. TMZ cites police sources who say reporting officers "observed Evan with a bloody nose" and "a bite mark," possibly on his ear. "Sources close to Emma" deny the bite and say, "Emma and Evan were hitting each other." Nonetheless, only 26-year-old Evan had "obvious physical injuries," so only Emma was arrested — but was released "several hours later" because Evan didn't want to press charges, "Page Six" reports.
The pair are still together. Shortly after the news broke, Emma was photographed in shorts that revealed bruises on her knees and thighs. Then she embraced Evan Peters while sobbing outside a studio in New Orleans, where he "consoled" her. (Obvious caveat: Neither photo proves anything. Feeling compelled to comfort a repentant abuser is an unfortunately common phenomenon, as is attempting to comfort a victim.) "Sources close to the couple tell us not only are they still together," TMZ reports, "but they're working together on American Horror Story." Roberts's publicist told Us Weekly, "It was an unfortunate incident and misunderstanding. Ms. Roberts was released after questioning and the couple are working together to move past it."
Will the press follow this story? It's unclear who the aggressor is (or if both are) but so far the only legal intervention has been against the tiny, pretty female — the kind of person usually cast as the victim in domestic violence PSAs and Lifetime movies. And it's still possible that Emma is the victim, or simultaneously aggressor and victim. The inability to tell the difference — the feeling of looking at a potentially mutually violent situation with confused dread — is perhaps the most uncomfortable onlooker experience of all.