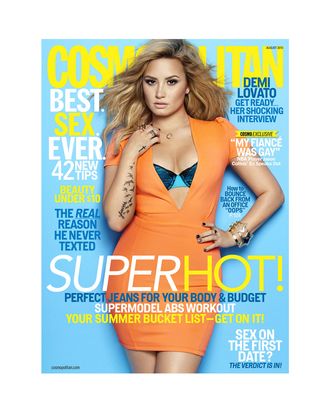 Demi Lovato appears on Cosmopolitan's August cover in a plunging orange dress that reveals the underwire-buttressed center of an ornate teal bra. When it comes to bra-flaunting, center-bra is notoriously difficult since wearers basically end up naked from neck to sternum. But in our modern era of midriff exposure and ribcage cutouts, exposed center-bra is on the rise. (And perhaps approaching its peak.) Come, let us explore this bra-exposure variant more overt than side-bra, more daring than back-bra, and more come-hither than bra-strap.
Demi's Cosmo center-bra seems to be an outgrowth of the midriff peephole trend. A plunging V-neck with bandeau-style breast coverage is a common and less focus-pulling strategy. (See Alina Cho's dress here.) Her lacy bra is both unmistakable as lingerie and has been styled with a sharply contrasting dress. The bra is frilly and has two colors; the dress is one color, solid, and unadorned. The resulting image is a declaration of décolletage: Look at the center of my bra, and at the boobs that reside there.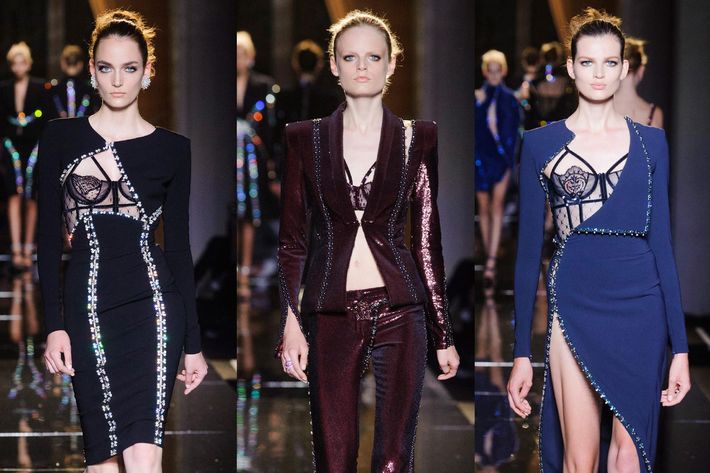 Yesterday, Versace's Fall 2013 Couture show took a similar approach to lingerie. Ornate, romantic underwire foundations were front and center.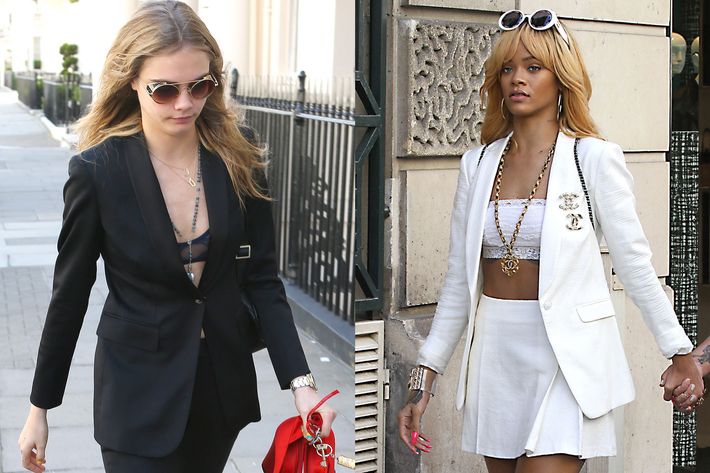 Versace also featured the archetypal form of center-bra exposure, bras worn under suit jackets without shirts. Bra-under-jacket is a staple in magazine photo shoots; in men's magazines, it signals disrobing. As a regular outfit, however, bra-under-jacket is merely a variation on exposed center-bra and other torso-baring trends. Above, Cara Delevingne and Rihanna demonstrate bra-under-jacket as streetwear.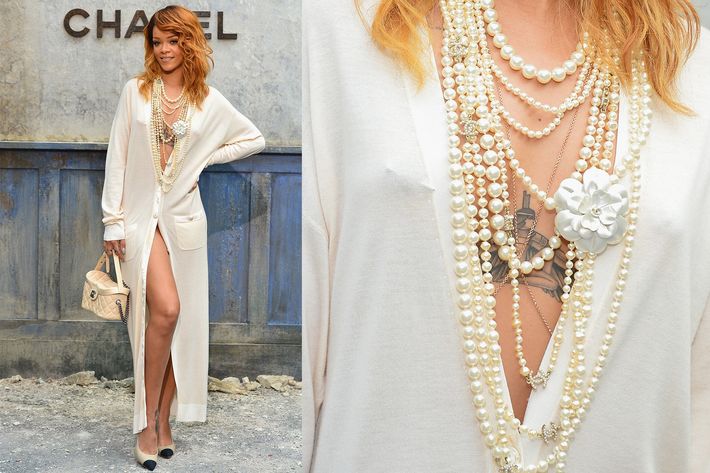 Even when Rihanna goes braless, her chest tattoo creates the illusion of center-bra, as it did when she attended today's Chanel Haute Couture show in a skimpy cardigan-dress. As the nexus of all bra- and boob-related trends, Rihanna's tattoo is probably the strongest argument for the rise of center-bra. For who lack the commitment necessary for a chest tattoo, a filigreed bra will do.