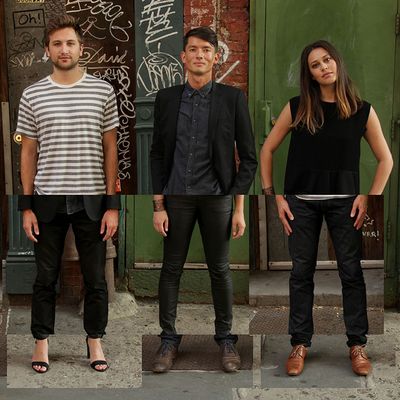 To everyone who once coveted Cher Horowitz's closet after seeing its tech-fueled outfit-making glory in the nineties, there's now an app that will let you get a taste of that rush — except the virtual "closet" will exist in the palm of your hand and consist only of high-end items pulled straight from the runway and street-style blogs.
FIGR, an iPhone app launched in May, allows its 11,000 (and growing) users to tinker around with sleek looks culled from a database of images from brands like Alexander Wang, Acne, Kenzo, and the Row, bloggers including the ManRepeller and Style Bubble, and photographers such as Streetpeeper and Downtown From Behind. With just a swipe of a finger, the user possesses the power to mix-and-match recognizable heads, tops, bottoms, and shoes snapped from street-style blogs — which means everyone from Kate Lanphear and Leandra Medine to Miroslava Duma can get styled into a whole new outfit with the user's imagination and creativity.

It might sound like the game of paper dolls in phone form. But for Byron Parr, Chris Parcel, and Lauren Levinger — the founding trio behind this app — the roots of inspiration dig even further back in time. "FIGR came from essentially the explosion of street-style photography, bloggers, that whole culture," Parr, the chief creative officer explained. "I'd been in the editorial fashion world [as an art director at MAC Cosmetics and as a creative consultant] and I had this sense of print collages. I just thought there was an opportunity for Exquisite Corpse — the [Surrealist] game where you make the head, pass it on — there was an opportunity to do something with mobile as well."  The minute they noticed that fashion's presence in the mobile world was lacking, they immediately acted to fill in the gap in the market. FIGR was their answer. "With Instagram, everyone's a photographer now. With FIGR, we've introduced a way to style," Parr concluded. While it's not yet possible for users to upload their own heads or closets into the app, it might be a new possibility introduced in future renditions. For now, the app is feeding into the fantasy of fashion — dressing up models on the catwalk and street-style celebrities in clothing from the sleekest, high-brow brands. The Cut visited FIGR's office to talk to the team about their inspirations, thoughts about fashion, and their goals for FIGR.
You mentioned that you feel fashion isn't best represented on mobile devices? Could you expand?
Parr: We're making mobile fashion. What that means is if you look at the current landscape of fashion, it's all about aspiration or desire. It's the unattainable. They tell that story through these experiences — through runway shows, brick-and-mortar stores, very controlled environments. How do you translate all that richness and that heritage of fashion onto a four-inch screen? I think, with everyone having a mobile phone, fashion's struggling to find a way to translate that.
Parcel: We were really trying to build bridges between the fashion industry and mobile. It's not just kind of forcing fashion images onto a mobile screen. It's: How do they feel good about being on mobile? How do they want to be on mobile? It's ubiquitous, it's inescapable, really, at this point.
Levinger: I feel like that's where the aesthetic of our app comes in. It was a really attractive brand for these fashion brands based on the aesthetic. They wanted their images to be on our app because it was so beautiful. We joke about it, but it's like when you go into a dressing room and they serve you Champagne, rather than you going into a Forever 21 and scrambling. There's all those kinds of apps and then there's our app, and it kind of sets them apart that way.
There have been a lot of comparisons to paper dolls. Was this what you were going for?
Parr: As an image-maker and art director, you do this kind of collaging and it was just kind of fun. A lot of times, their arms don't line up and we've embraced that as well. A lot of products focus on clean-cut backgrounds, which is great for the mood board, but the context of whether a person is in a festival, in the street and it's snowing, or it's the summer, that's almost kind of part of the outfit — to give it that artistic license to create this fun figure. You feel less precious about it, as well. You never start from a blank canvas.
Who would you say is your ideal user?
Parr: Teenagers who are developing their own point of view around fashion and young professionals who are earning more cash and are realizing that they have to start dressing more professionally now. We don't have time to go on style.com and stay up to date. For younger people, it might be a game. But then it turns into a tool for people in the industry. It speaks to the fact that our user is super young, as well as people who have been in the industry.