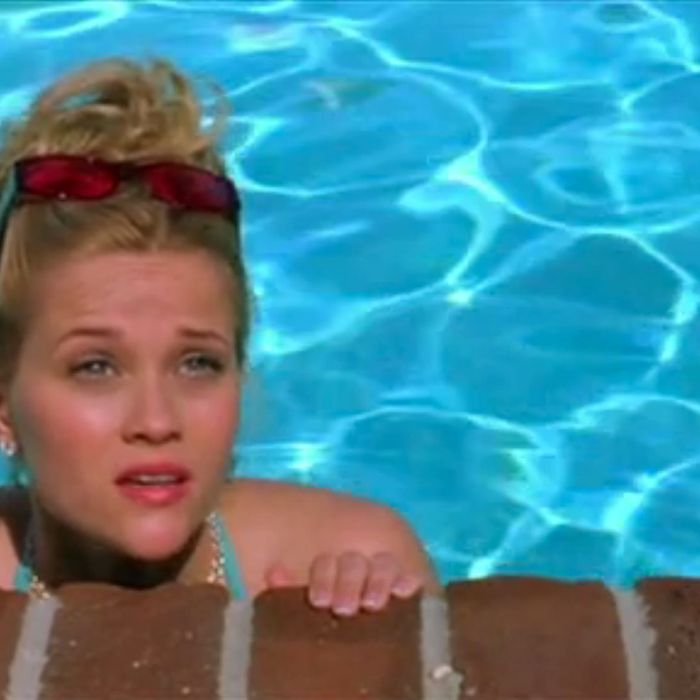 When you or I get out of the pool, it's a sight to behold: Chlorine-irritated red eyes, slimy sunscreen skin, and George Washington hair (when your hair gets flipped underwater and you look like our first president). In the movies, they get it right: Regardless how the actresses enter the pool or how long they've made out underwater, hair and beauty teams ensure leading ladies exit looking like Botticelli's Venus. Then there are those who sidestep the drowned rat possibility, of course, and never submerge themselves. It's a near-cheat, but they look good despite the sun and sweat.
In light of the upcoming Fourth of July festivities, here are some of the most memorably beautiful poolside beauty moments — whether underwater or casually lounging near it. (Share your own suggestions in the comments below.) Don't forget to wear sunscreen and happy early Independence Day, everyone!
5. Cruel Intentions: Reese Witherspoon
Annette Hargrove didn't actually go underwater. But how pretty does she look with the water's reflection dancing on her visage? It's no wonder Sebastian was all over that jam. Beauty trick: Don't get your hair wet.
4. National Lampoon's Vacation: Christie Brinkley
The eighties were all about aggressive makeup and boatloads of hairspray, so much so that even Christie Brinkley's fine hair could withstand the wind forces of a convertible Corvette. But while one skinny dip in a motel pool deflated her feathered 'do, her pink frosted lips and shadowy eyes remained intact. Beauty trick: Hang out with Chevy Chase, preferably in motel pools.
3. Fast Times of Ridgemont High: Phoebe Cates
Pre-pool entry: Perfectly arched brows. Long, swishy brown hair. Bee sting lips. Post-perfect dive: All of the aforementioned, just wetter. Beauty trick: Youth. Also, the eighties.
2. Legally Blonde: Reese Witherspoon
Here we see Elle Woods displaying the classic messy knot/sunglasses-as-headband combo. But again! No underwater action. This is clearly Witherspoon's signature pool beauty move. Beauty trick: Set your mind on getting into Harvard Law.
1. Romeo + Juliet: Claire Danes and Leonardo DiCaprio
First, she swims around in a tiny tank with hundreds of crew members watching her. And she's simultaneously making out with Leo underwater. That's how to ensure a true beauty moment upon surfacing. Beauty trick: It's in his kiss. That's where it is.